A glass-roofed veranda with powder-coated aluminium frames from the Outdoor Living Group is a gorgeous way to enjoy indoor/outdoor living. They are often attached to the side of buildings or open up as designated spaces in front or back of structures, and they're places you'll want to spend relaxing time on an afternoon off!
The Outdoor Living Group can customise these designs depending on the client's needs, as well as build them right into your home or business!
Verandas are loved for their ability to provide shade, weather protection, and easy access to the outdoors. When you have a lovely glass-covered veranda with sturdy aluminium frames over a patio it's a great place for entertaining guests, dining on summer evenings or just relaxing with a good book.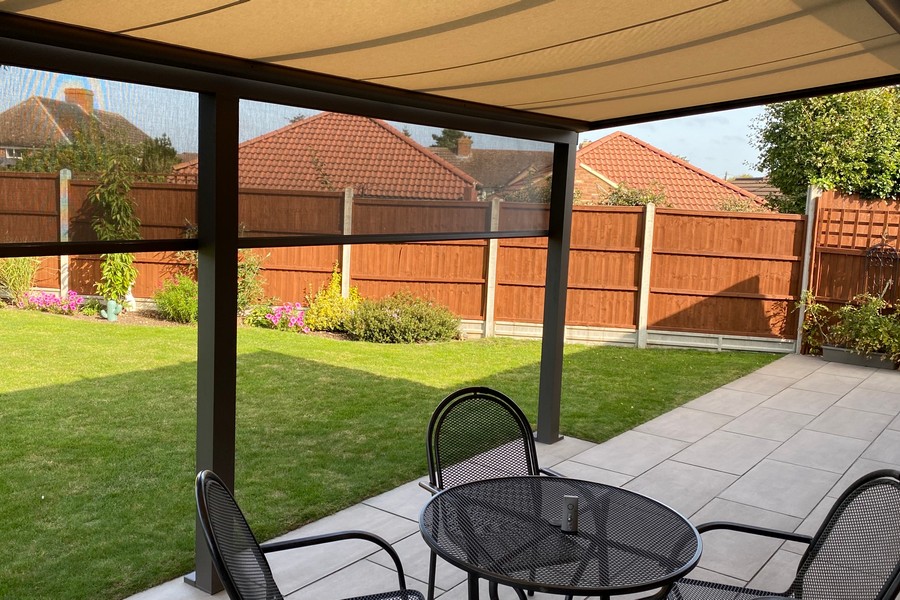 The Outdoor Living Group Collection of Verandas
Looking for a beautiful, reliable and premium veranda for your home in South East England? The Outdoor Living Group has the perfect glass-roofed veranda with powder-coated aluminium frames for your home or business space. A great choice that combines beauty and quality, the veranda provides an elegant look without a high price tag. With hundreds of colour, texture and design configuration options to choose from, you will love our collection of quality verandas.
Our verandas are designed with glass and powder-coated aluminium to be beautiful, reliable and offer a convenient, comfortable, charming outdoor space. Looking to customise that space? Don't worry, our design experts can help you every step of the way. Contact us today to learn more about our beautiful veranda and patio solutions.
The Outdoor Living Group Verandas Features
Frameless Side Glazing
Each of our frameless veranda enclosures features a tight-sealed, easy to clean frameless side glazing that is available in clear or tinted glass. Our clear glass walls offer privacy when closed up and allow for a clear unobstructed view through the glass when they are opened up into a huge window.
They install directly on top of the extruded aluminium frame that makes up the structural support of our rooms, creating an incredibly strong bond.
Glass End-Wall Options
Whether it is a large or small veranda, regardless of style and construction – the possibilities are almost limitless. The Outdoor Living Group will provide you with a highly efficient veranda element to almost any residential or commercial space.
Our versatile design team will help you select the right glass end-wall options, so you can create the veranda of your dreams. There's something for everyone to suit any taste.
Integral Rainwater System
Whether you're hosting a barbecue, a birthday or Christmas party, or an unforgettable family event, there's plenty of room for everyone at the Outdoor Living Group veranda.
Thanks to integrated rain drainage and hidden roof rain spouts, we've designed the Outdoor Living Group verandas to make outside entertaining effortless — creating a beautiful space for your next get-together!
Vertical Screens (side screens & privacy screens)
Side screens are an economical choice for enclosing your glass veranda or room. With our range of vertical screens, we can provide privacy, security and wind protection, whilst making the most of the sun's energy.
Add optional ceiling fans and you have a microclimate where you can comfortably dine, relax and enjoy the great outdoors.
Under Glass Sun Blind
Open up to a whole new view with The Outdoor Living Group Verandas as they allow you to integrate your home and outdoor lifestyle seamlessly, bringing nature and family time inside.
The glass verandas offer a choice of advanced-technology fabrics – subtle plain-shades or vibrant colour patterns for optional sun blocking, with easy self-cleaning glass panels to enjoy year-round comfort. Available in a range of fabric colours, it slides under the verandas to protect them from weathering, bird droppings or pooling rainwater.
BiConnect Radio Control System
The button-activated remote control allows you to enjoy your glass verandas at the touch of a button, even when on the couch or enjoying a game of pool.
Whether you're inside relaxing or outside entertaining, switch from conventional blinds to vertical screens and control them all from one remote control. The BiConnect radio control system makes it incredibly easy to operate all the electrically operated components from just one hand transmitter, with the lights and Tempura heating system almost endlessly dimmable.
What Makes The Outdoor Living Group Different?
We Put Customers First
The Outdoor Living Group verandas are one of the leaders in the market, not by chance but because we believe in putting customers before anything else and ensuring we exceed their expectations.
We're an actual family business that believes our customers deserve the highest quality service possible, so if you're looking for high-quality verandas in South East England, look no further than The Outdoor Living Group. Work with us and sign up for premium service.
Professional Service
At The Outdoor Living Group, our aim is to create a glass-roofed veranda with powder-coated aluminium frames that would meet the demands of every customer who want a warm and welcoming extension of their home. With The Outdoor Living Group, you get the finest workmanship – every time!
Our team of designers and craftsmen will help you select materials, floor plans, style, and finishes that will add beauty and value to your home. We take great pride in our work and pay attention to every detail.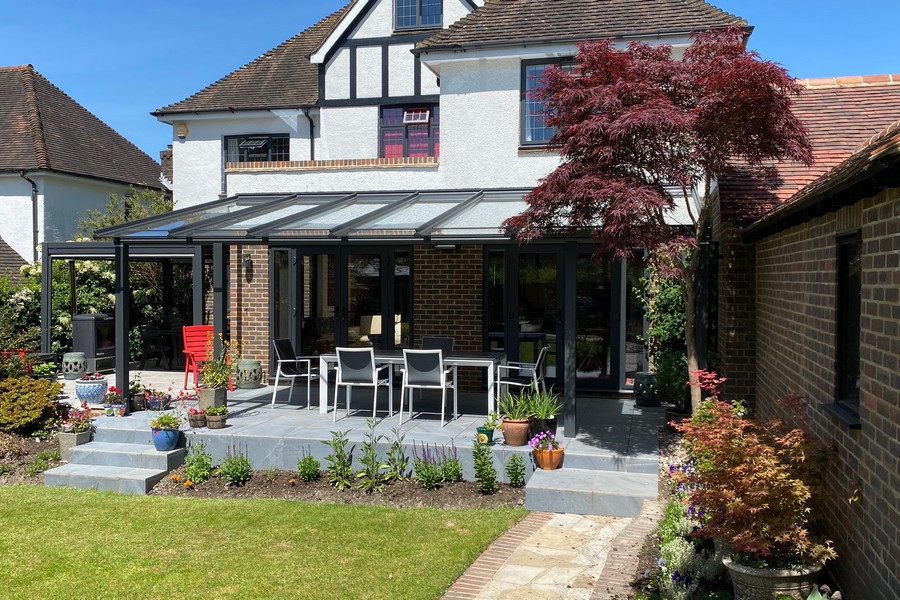 Custom Veranda That Suit Your Needs
Our custom veranda design consultants will work with you to analyse your home for sun, shade and wind exposure so your veranda will maximise your enjoyment. Whether you are looking for maximum sun or protection from the elements, we can help you find the perfect solution.
It may be an extension built around a stunning grill island, a pergola with hanging plants and flowers for pleasant shade in the hot summer months, or an entertainment area for family and friends to get together, The Outdoor Living Group can help you.
Quality Materials
When it comes to quality, we spare no expense. All of our verandas are fabricated using only the finest materials available on the market. Our verandas are built for long-lasting enjoyment, using only high-quality materials from the best suppliers in the industry.
This means that your veranda will look great for years to come, and stand the test of time. We custom build each structure to ensure the highest quality of workmanship and attention to detail.
Wide Range of Veranda to choose From
Choose from our endless selection of veranda. Whether for your home or office, our collection of glass-roofed verandas with powder-coated aluminium frames is perfect for almost any occasion.
Whether you need privacy for a dinner with a few friends or a casual get together or the privacy of your own home, we offer a wide variety of options to help you find what you need. We will make you glad that you chose the Outdoor Living Group as your veranda provider.
Why Do You Need A Veranda?
Serves As An Additional Room
There are so many ways to use your veranda. Simply put, it's an extension to your home, giving you extra space for activities and hobbies.
Conversations and meals in the sun, comfortable seats, shelving for storage – it doesn't matter if you want to relax all day or create a great spot to work on projects, you can be sure that your Veranda will be a valuable addition.
It fits a variety of functions into one pleasant outdoor room.
Offer a Space for Entertainment
The veranda space is fantastic for entertaining friends and family in a more intimate setting, a place where they can enjoy food and drinks outdoors without the need for bulky outdoor furniture, whilst still remaining protected from the elements on those inclement days.
Whether you're entertaining a guest or just enjoying a bit of peace and quiet, there is space for everyone when you have a beautiful and functional glass-covered veranda with sturdy aluminium frames. Enjoy al-fresco dining or cosy evenings in front of the fire.
Adds Aesthetics to Your Home
Think your house is complete without a veranda? Think again! A glass-roofed veranda with powder-coated aluminium frames gives your home a whole new look.
It is much more than just an extension to your home, it's strategically designed to enhance the total appeal.
Not only is there added enjoyment for you–both from entertaining guests or just curling up with a good book–but your house will be more attractive to potential buyers.
Increase the Value of Your Home
A premium veranda installation is a great investment for any homeowner. Not only does it improve the aesthetics of your house, but also adds value to your property.
It is a smart way to extend the living space of your home by transforming your spare outdoor space into a relaxing retreat.
By adding a Veranda, you can also increase the market value of your home as the demand for outdoor living rises.
Offer Protection and Privacy
With a quality glass-roofed veranda, come rain or shine, you can keep your home cosy and inviting while enjoying the great outdoors. In winter, a veranda provides protection from the elements, keeping your home warmer inside and helping it last longer.
Come summer, verandas shade and cool your home by blocking the hot sun's rays from entering. In this way, you don't need to run the air-conditioning as much. This means that you can enjoy fresh air without breaking the bank on electricity bills in summer or being uncomfortably hot in winter with some level of privacy.
Provides Pure Ambience
A Veranda helps to create the ideal outdoor space: one that allows you to unwind with the people and activities that you love, in a place where you're surrounded by natural beauty. When you choose a Veranda, you're adding more than just elegant good looks and luxury features to your outdoor space. You're getting clean, pure, and healthy air.
A Conducive Home Office
A glass-roofed veranda with powder-coated aluminium frames can be a unique outside workstation area for when the weather is better; stay connected with your home life, while working in the fresh air. Just bring along your favourite beverage and snacks and make it your own personal outdoor office.
You get the advantage of working outdoors and enjoying the fresh air while being protected from the rain. Most importantly, computer equipment is safe from rain and moisture.
What is the Difference Between a Veranda, Balcony and Patio?
Each level offers stunning views and can be a more private space. However, the most convenient area will differ depending on your needs because each space is different.
Veranda
Simply put, a veranda is a covered space directly attached to the front, side or back of your property. Any porch or covered balcony is a veranda. Verandas are used to extend the living area of your home and allow you to entertain outdoors even when the weather doesn't allow for an open-air venue.
It is an extension of your living space. It's the perfect place to start the day with a magazine over coffee, take in the evening with friends or family at the end of a tiring day, or just escape from the chaos of daily life.
Balcony
A 'balcony' is a structure built onto the side of a building. It is an area that typically has a railing or bar to prevent people from falling off. These are often attached to high-rise buildings that have multiple floors in a single unit.
Some balconies connect to an apartment over one level, while others have access to different apartments or units on different floors via stairs.
Patio
A patio is an area outside a house or building that is usually paved. A patio can be part or all of your front or back garden as well as a focal point, a place to gather, or simply a place to enjoy the lighting and view.
It may be open with no walls, have a brick wall, wood wall or glass block wall around it. Patios are a great place to gather with family and friends during the day or on a warm evening with a cold drink or glass of wine.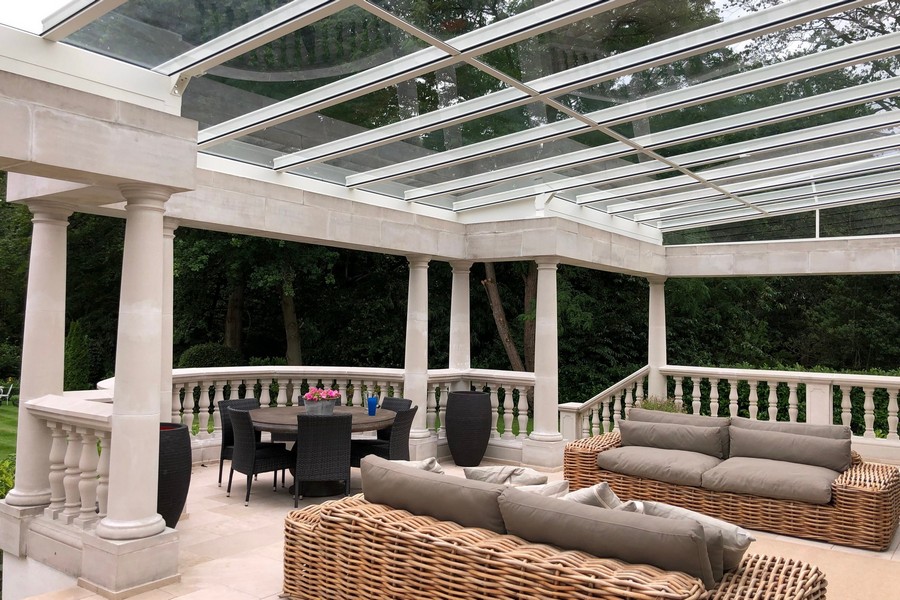 Is a Veranda Right for My Home?
A veranda is an ideal choice for any home looking to maximise energy savings while providing the highest level of protection from the elements. Veranda offers many options that will enhance your home's curb appeal and provide you with many years of enjoyment.
Made of the best materials and designed by professionals for exceptional energy efficiency, durability and performance, The Outdoor Living Group offers homeowners and commercial property owners glass-roofed verandas with powder-coated aluminium frames that exude beauty, strength and value – all in one package. With fast efficient service, we will take care of all your glass veranda needs. Contact us today to find out how we can help you with all of your glass veranda needs.
Is This the Right Time to Install a Veranda in my Home?
There are many things to consider prior to building a veranda on your home, but The Outdoor Living Group will walk you through each step of the process. Glass-covered verandas are usable all year round, especially if you have outdoor heating. There is never a bad time to install a veranda.
All we would suggest is that you are sure of the place you are going to put it for maximum functionality. That normally means off the back door, but sometimes it may be over a patio at a different spot. We can show you different features and options, designs, and styles of veranda that may suit your needs and lifestyle.
We Offer a Professional Veranda Service
If you are looking for the best quality glass verandas in South East England, including Surrey, Kent, East Sussex, West Sussex, Hampshire, Berkshire, Greater London and the surrounding areas. look no further than The Outdoor Living Group. We understand that your time is precious, so we aim to provide a fast and professional solution.
When installing a glass veranda, it's not just the design, but how well it fits into its surroundings and what performance levels can be expected. We ensure that your new glass veranda offers the desired privacy and protection you deserve while enjoying outdoor living.
Ready to Upgrade Your Home With a Quality Glass Veranda?
We make it simple to find the perfect glass veranda for your South East England home. With valuable years of combined experience, we understand how to work with you to achieve your vision for your outdoor space. Our goal is to help you create a beautiful home addition that meets your needs perfectly! The Outdoor Living Group verandas are fitted by our trained and experienced experts who follow a procedure of precision to provide the best product.
For a quote, expert design advice, or further information about our service, contact us and enjoy premium service today! Call us on 01737 570020 or email info@theoutdoorlivinggroup.com. Fill the form below to book a free site survey, request a free brochure or a callback.
FAQ's
Can a veranda be used all year round?
A veranda is a unique design element that allows you to have a relaxing space separate from the main structure. Because it opens up to the outdoors, a veranda will allow you to enjoy your space year-round. When the weather is colder you may need outdoor heating, but you will certainly be protected from the rain.
What guarantee and warranty do you offer?
What the warranty covers: The 10-year limited warranty covers all structural parts on your veranda when purchased from The Outdoor Living Group.
It also includes the finish and all labour provided by our team of professionals. Our goal is that you are completely satisfied with your veranda investment.
Do I need a building permit?
In most cases, No. Local authorities or licensing bodies may or may not require the owner to apply for a building permit depending on the size and location of the veranda.
We understand that when you have a new veranda installed, you want to enjoy it without worrying if it complies with any local regulations. This is why it is recommended you speak to your local authorities in charge of building permits. Alternatively, we can take the hassle out of this process by checking for any building consents and regulations you will need to meet.
How long does it take The Outdoor Living Group to get my Veranda installed?
It is important to us that you have the perfect glass veranda – the one that you desire – designed, built and installed to fit your home architecture and enhance your lifestyle.
Any glass veranda created by us has been designed to maximise your garden space and only once you are happy with our initial drawings we will begin fabrication.
Each job is bespoke, with an approximate turnaround time of 4 – 6 weeks. Installation itself is normally completed in a day.