Our extensive experience and expertise have made us an industry leader, with every design custom-made for your specific requirements. Whether you want a glass veranda for your manor house or apartment, our team of specialists can create and install something to function as either a relaxation spot or a viewing platform.
As of the UK's leading experts in bespoke outdoor living environments, we offer highly creative designs, value for money, unrivalled bespoke design that comes with a full integral drainage system, and integrated heating and lighting options. All of these and more set us apart from the competition. Looking for ways to enhance your garden, porch, or patio? Our glass veranda which starts at an affordable price of £7,000 will enable you to create an elegant and highly functional extension to your home.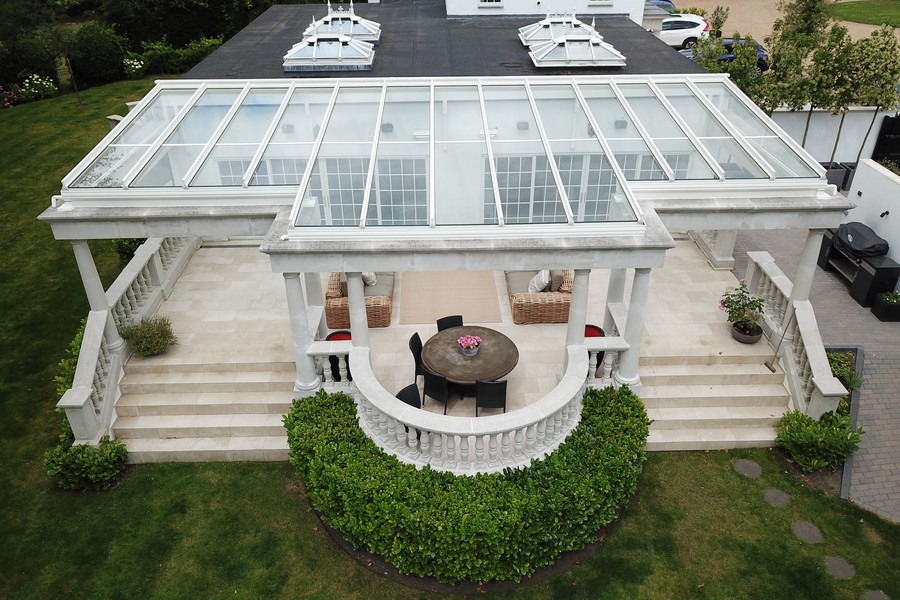 What Is a Veranda?
A veranda is a roofed architectural structure or an outer patio attached to a house. Incorporating this into the design of your house shows off your elegant style.
A glass veranda from the Outdoor Living Group enhances the use of high-quality natural light throughout the house, creating the perfect environment for entertaining friends during those special gatherings in your home.
A glass veranda is a great way to enjoy the fresh air and unbeatable views of your garden, landscape, or outdoor surroundings. Glass verandas can be installed on a balcony/deck and even on the roof for spectacular views of your surroundings, while enjoying the comfort inside your home. Bulky types of furniture can be added – increasing the veranda as a functional living space.
A glass veranda is elegant in every sense of the word. While most of the balcony/ front or back garden additions are exposed to the elements, a glass veranda provides shelter against rain or direct sunlight.
Stylishly designed and highly functional glass roof verandas from the Outdoor Living Group are ready for installation in your home at a great price by our expert team.
Request a free, friendly quote today or fill our online form for a callback.
Why You Should Order Our High Quality & Functional Veranda at a Great Price Today
If you're searching for a beautifully modern addition to your home, look no further than our cost-effective and extremely affordable Glass Veranda units – starting at a great price of £7,000 only.
Our glass veranda offers unbeatable value for money and is full of thoughtful details. Its full integral drainage system, integrated heating, integrated LED lighting options, and all-weather protection ensure it will never let you down when the weather turns sour.
This veranda can be used as an optional extra room, a style statement, or an integral part of your home.
A Wide Range of Best Value Glass Veranda Types Is Available From The Outdoor Living Group
Our glass patio verandas are available in many sizes and designs to suit your personal needs and requirements. Your installed veranda unit from the Outdoor Living Group will serve as a durable, stylish foundation for your garden for years to come.
Here are our variety of premium styles glass veranda units to choose from.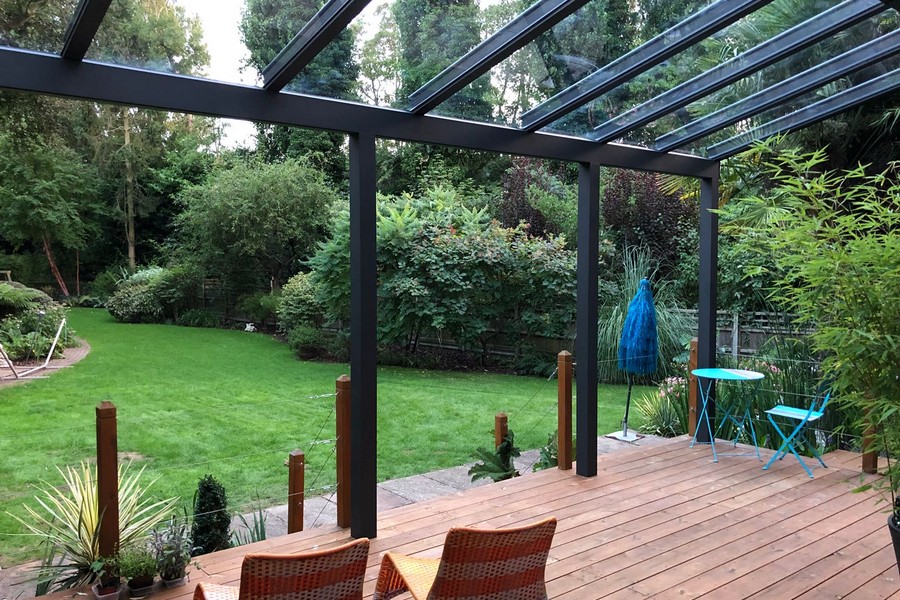 Terrazza Pure
Featuring a square roof design, this glass veranda unit offers modern features and a unique design that works well with most home designs. The square roof makes a great addition to any garden.
The strong glass panels will allow natural light to filter through from above, creating a pleasant patio experience for you, your family and guests.
Terrazza Sempra
The simple, straight-lined design and traditional roof pitch make the Terrazza Sempra a timeless addition to any outdoor setting.
Designed with only the highest quality materials, the Terrazza Sempra looks stunning from the inside and out.
The 20mm thick glass roofing, heat and UV protection on both sides of the glass, and the integrated standing poles provide years of enjoyment. Individually tested and certified to ensure safety during transportation, the units deliver years of enjoyment.
Terrazza Originale
Essentially, the Terrazza Originale roof system enables you to improve the overall comfort and energy efficiency of your home. It consists of a large, glass section combined with an actual, flexible roof to form a single roof.
Designed by our expert in-house architects and engineers, every element of our units has been considered to give you an elegant and affordable veranda – no matter the shape of your home or garden.
And although it is a bit difficult to estimate the price of our bespoke veranda collection which is tailored to meet the needs and taste of the individual homeowner without first conducting a site survey to assess the requirements, our fully installed verandas start at an affordable price of £7,000 only.
Give us a call today on 01737 570020 or email info@theoutdoorlivinggroup.com for your free no-obligation quote and site survey, and let us make your outdoor living experience a wonderful reality.
Benefits of Installing Our Friendly-Priced Glass Verandas
Glass veranda units from The Outdoor Living Group is an elegant, versatile space that can be used year-round in any climate. It will bring a new dimension to your living space, and enhance every area of indoor-outdoor living.
A glass veranda – available at amazingly great rates – from our expert, certified and highly experienced installation team is also a highly durable structure that is designed to stand the test of time. Here are other great reasons why glass room installation by the Outdoor Living Group is a smart choice.
Made from high-quality materials
The Outdoor Living Group offers a wide range of products to fit your outdoor decor. Our glass veranda series is made from high-quality materials to give you an elegant design that fits most any home's modern style.
The glass veranda is also highly durable, allowing you to enjoy the outdoors for many years. This collection comes in a variety of sizes to fit any outdoor space.
Weather and element resistant
By choosing our affordable veranda solutions, you receive high-quality materials that are designed to be durable and weather, and element-resistant. Our glass Veranda collection combines the benefits of low-maintenance materials with the exquisite beauty of custom glass.
Providing outdoor protection against the elements, we believe our collection of glass verandas provides complete comfort. These contemporary outdoor living spaces are constructed to withstand snow, ice, and rain while still providing a comfortable place to relax in the great outdoors. Also, the indoor/outdoor lighting and internal heating options make it suitable for use during extremely cold climates.
Highly versatile and durable
These custom-designed, top-quality products do far more than just add a touch of beauty to your home. Their strength and durability also make them ideal for commercial applications, such as restaurants and hotels.
Our glass veranda offers the ultimate in style—a welcoming place to entertain, dine, or simply relax with friends and family. It's the perfect complement to any outdoor space.
It helps maximize your space and brings out the full potential of your home
Glass verandas created by The Outdoor Living Group, are designed to help maximize your space and bring out the full potential of your home.
Our glass veranda is easy to install, locking together to offer an unbroken line of sight, strengthening the attachment of the structure to any existing deck or patio. Its stylish design will match whatever outdoor setting you choose, and transform it into an outdoor haven you can enjoy all year round.
Great customer service and support
We know there are many options to choose from when it comes to purchasing your outdoor living products and accessories. However, with multiple distribution centres across the country and an impressive price rate, we deliver exceptional products quickly, efficiently, and offer great customer service and support.
We are committed to providing you with the best quality products available and our selection of elegantly designed glass verandas, glass rooms, and other decorative solutions, allows you to take full advantage of our product's versatility, affordability, and exceptional durability.
We are passionate about producing high-quality products with elegant and functional designs that will last for years. Our superior customer service and support team are eager to assist you with any questions or concerns you may have regarding our products or your order.
We eliminate the stress of installing the veranda yourself
The secret to a beautiful outdoor living area is in the details. High-quality materials paired with thoughtful design planning produce the weightless look of a glass veranda that will last for decades.
Our premium quality components are meticulously hand-measured and pre-assembled, then factory sealed and delivered ready to install. With an integrated rigid roof covering to protect against rain and snow, and integrated drainage for any excess moisture, you can be sure that your new veranda will withstand the changing seasons with grace.
The Outdoor Living Group glass veranda is lightweight yet built to withstand the elements. Made from the highest quality materials, and invisibly integrated drainage, it's also easy to clean with just a wipe of a cloth. It includes LED lighting and rigid aluminium construction for durability and rigidity. With our innovative design and highly dedicated team of professionals, we eliminate the stress of installing the veranda yourself.
Cost of Our Glass Verandas
Glass verandas add beauty and value to any home. Our glass verandas are custom fabricated to meet your specifications.
Because each glass veranda is suited to meet the specifications of your home and your design needs, it is quite difficult to estimate the price before performing an on-site assessment/survey. Verandas that are fully pre-installed, on the other hand, begin at a price range of £7,000.
Therefore, to develop a quote that is suited to your specific needs, our certified and skilled surveyor will visit the property in question to take measurements and observe the requirements.
Not to worry, our on-site assessments are completely free and non-obligatory, as they are aimed to provide our professionals with the necessary information required to start a design and see the project through completion.
Give us a call today on 01737 570020 or email info@theoutdoorlivinggroup.com to book a free no-obligation quote and on-site property survey.
You can also fill the form below to book a free site survey, request a free brochure or a callback.
FAQ's
How long will the Veranda last?
One of the best products of The Outdoor Living Group is our glass verandas. These verandas are strong, durable, and long-lasting. And with their beautiful design, they will make your backyard look more beautiful than ever.
Our glass veranda is an elegant, durable choice for any outdoor living space. It's constructed with a rigid and strong aluminium frame that holds up to the elements, ensuring you decades of enjoyment from corrosion, and harsh weather conditions.
Also, our glass verandas come with a 10-year guarantee on its framework which commences from the date of its installation.
Is a glass veranda easy to use?
Our outdoor veranda system makes for an elegant, year-round place to enjoy the outdoors with family and friends.
Designed to be quick and easy to install, it is available in a variety of sizes and shapes. It combines a glass veranda with a rigid roof covering, invisibly integrated drainage, rigid aluminium construction, and integrated LED lighting.
Our glass veranda is durable, corrosion-resistant, and easy to use. Plus, with its clean appearance, elegant design, heating and lighting options, and maintenance-free finish, it's easy to keep looking great year after year.
With tempered glass panels that offer protection from the snow and rain, it's ideal for enjoying an evening outdoor meal or relaxing outdoors in comfort. Its fully wired interior makes it easy to install indoor/outdoor lighting and heating options. Plus, its elegant design blends well with most home styles.
Can I choose other colours for my veranda?
Yes, you can! To create a statement in your garden or on your decking, choose one of the 56 different colours we've made available for the glass panels.
Our expert designers are also happy to work with you to select a custom colour that will fit perfectly with your outdoor space, or help you coordinate your choice with the rest of your home.
To make use of a custom colour that is not included in our available array, all you need to do is provide a RAL code and our designers will take over from there. Do note that there is a surcharge for this service.