It's a new way to elevate your outdoor living. Designed around the things people want in an outdoor space, an overhang veranda delivers fresh air, natural light, innovative design and above all, protection from the elements.
Built to withstand a lifetime of unforgiving weather, the overhang glass veranda from The Outdoor Living Group is the ideal protection solution for those who demand top quality and long-lasting outdoor glass-roofed veranda.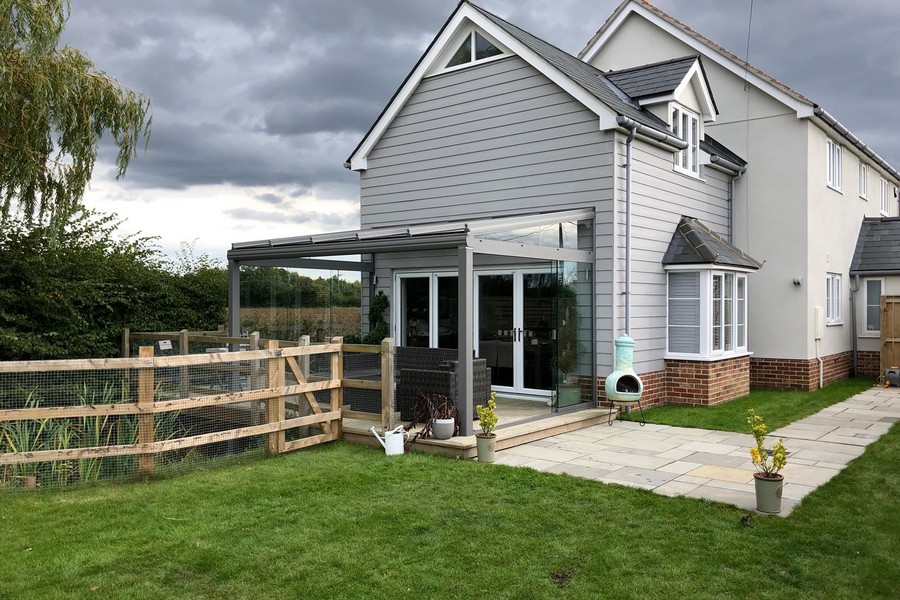 What is an Overhang glass veranda
An overhang glass veranda is a roofed, open-air structure attached to the front, side, or back of your house or apartment building. The roof of the veranda is made of glass and supported by aluminium columns.
Overhangs have been around since the early 1900s with Queen Victoria popularising them for country homes including Balmoral Castle in Scotland. As simple as that sounds, an overhang glass veranda is one of the most popular ways to expand the living space in your home or cottage.
The Outdoor Living Group overhang glass verandas come in different types, with different railing styles to choose from. All can be customised upon request. Whatever your style or choice is, The Outdoor Living Group is there to help. Book a free site survey with us today.
What makes our Overhang glass veranda different?
When it comes to investing in an overhang glass veranda that is distinct and durable, you can count on The Outdoor Living Group to deliver. Our overhang glass verandas combine sunny, designer quality glass on the inside and durable aluminium on the outside. Top features of our overhang glass veranda include:
Elegant design and seamless looks
Our Overhang glass verandas not only maintain the seamless look of your home but also provide you with extraordinary views and a convenient way to use the additional space around your home. The non-obtrusive design blends with the existing facade of your property and gives a natural feel to your home. Every single component is carefully chosen to create a look that is as clean and seamless as possible. We can custom design your veranda to suit your home, adding a beautiful architectural feature in any location you desire.
Tempered Low-E glass
The Outdoor Living Group takes pride in its uncompromising quality. Our overhang verandas are roofed with Tempered Low-E glass. This is one of the strongest types of glass on the market today. They withstand the elements and offer a clear view of the outside, brightening up your interior while adding a touch of sophistication.
Integrated rain gutter system
Our overhang glass verandas feature a custom-designed rain gutter system that captures and channels water under the patio floor. The system is integrated into our aluminium framing allowing every component to be easily cleaned.
As our rain gutter system is hidden from view, these glass verandas allow you to fully enjoy your outdoor area without any intrusions. The gutter system far exceeds any rain screen requirements, requiring only an occasional power spray wash to keep it operating at peak performance. No dams or water diversion are required.
Modular construction
Our verandas are designed specifically with expansion in mind. Their modular, expendable construction makes it simple to add extensions and extra panels. You can even remove sections of the roof for added light and ventilation.
Not only are they constructed to expand but we also offer the option to purchase additional components from us for any future expansions you may choose to make.
LED lighting for aesthetic view
LED lighting illuminates the glass veranda from its underside, giving either a diffused glow or a more defined light as you prefer. This option is also suitable for conservatory lighting.
Whether it was for entertaining friends or just relaxing, the blue hue of the lighting provided a pleasing atmosphere and added an extra touch of class to our units. Lights can be turned off if so desired.
Built-in awning attached
Our overhang verandas have a built-in awning attached for more living space. The overhanging roof maximizes the use of the canopy without obstructing views of the garden, sky or nearby hills.
Powder-coated anodized aluminium frames
We design and build our verandas using structural grade aluminium that has been engineered to resist cold-flow cracking. Our powder-coated anodized frames are corrosion-resistant and UV resistant for a long product life without requiring costly maintenance.
Proprietary flange profile
Our proprietary flange profile eliminates leak points and minimizes wind uplift. The rounded sill design adds a graceful scale to the overhang and allows for maximum glass area without causing water pooling.
What is our overhang glass veranda made from?
Interested in our overhang glass veranda system? Every veranda is made out of a sturdy powder-coated aluminium frame and multiple layers of tempered glass. Our team at The Outdoor Living Group work hard to ensure that our products can withstand anything mother nature can throw at it. This combination will outlast both your home and the manufacturer's lifetime warranty.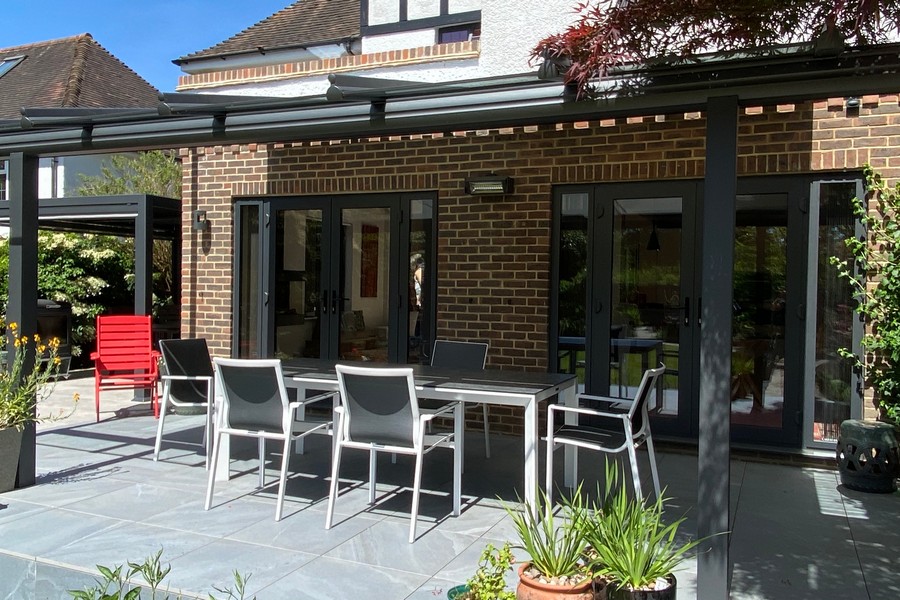 What is our overhang glass veranda made from?
Interested in our overhang glass veranda system? It's made out of a sturdy powder-coated aluminium frame and multiple layers of tempered glass. Our team at The Outdoor Living Group have been working overtime to ensure this thing will withstand anything mother nature can throw at it. This combination will outlast both your home and the manufacturer's lifetime warranty.
Our different types of overhang glass veranda
The Outdoor Living Group has multiple overhang glass veranda categories. This allows you to choose the right products for your needs. There are three types – projecting, recessed and cantilevered.
Projecting overhang
A projecting overhang is as its name suggests; a veranda that protrudes out from the building. Projecting overhangs sometimes have a symmetrical and spare design with proper architectural solutions, so you can hide the supporting construction under the floor of your balcony and receive only clean lines, after which the glass will be attached by special brackets.
Recessed overhang
The recessed type of overhang is created by building a deck or balcony directly off the structural glass wall. The section that overhangs is the one that remains exposed to the outside.
This type of overhang can be used for homes with elevations on uneven terrain, in areas where greater exposure is desired for the flood of natural light or when there are no restrictions in the building code regarding floor area ratio (FAR) when working with curved facades.
Cantilevered overhang
A cantilevered overhang is a projection from the roof or upper floor of a building, supported primarily by the structure below. It can be used as an architectural feature especially when it extends towards the outside and creates an arc, rather than being fully enclosed.
What are the benefits of an overhang glass veranda?
How can a veranda help you? A glass overhang is more than just a patio enclosure; it's a multifunctional addition that not only enhances your exterior but also gives you additional space for relaxing and entertaining. Why not transform your outdoor living space with an overhang veranda? Below are a few benefits you stand to gain when you install an overhang glass veranda.
Improves the aesthetics of your property
The appearance of your home is the first thing that catches people's attention. An overhang glass veranda has the ability to change the look and feel of any property. Being able to enjoy an outdoor area without bugs and pests is priceless! Overhang Glass Verandas are a new way of enjoying your home in a unique, modern way.
Extends your living space
It gives you a bigger outdoor living area. Some people also use it as their dining room so they can enjoy their food and meals in the outdoor garden or balcony.
With an overhang glass veranda, you get the benefit of more natural light and views, protected from the elements but still allowing the breeze to flow through.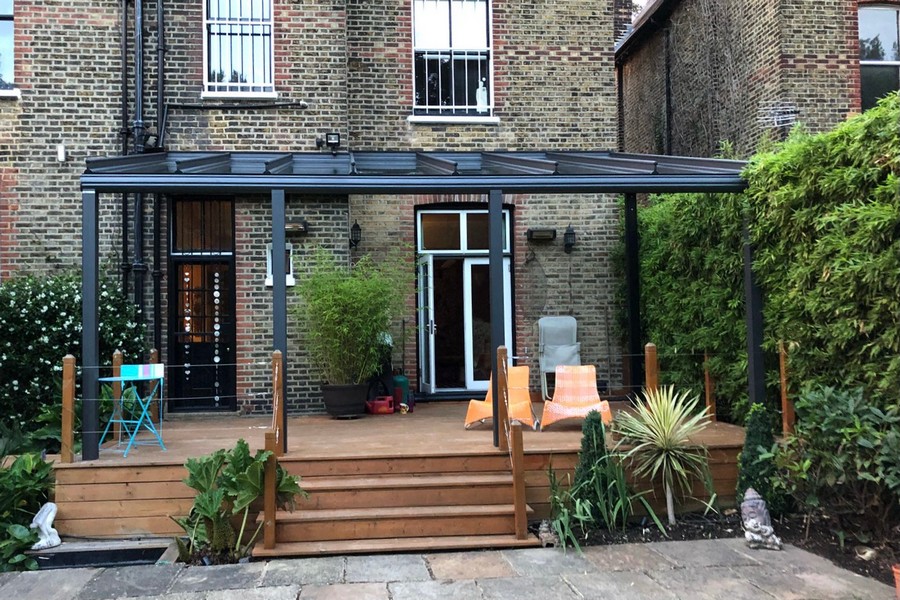 Serves as a roof over your patio
Everyone loves to enjoy a nice sunny afternoon on the patio, but that's not always possible. The summer sun can be brutal but with an overhang glass veranda, you will be able to shade off every inch of your outdoor space.
Overhang verandas provide more shade than a regular patio umbrella.
They also allow for airflow and extend the outdoor living season by providing a cooler area for you to relax.
Allows you to enjoy your garden and the view of nature above
Allowing you to enjoy your garden and the natural view over the top of your property is a key benefit of installing an overhang glass veranda. A glass overhang gives people a connection to the sky, whether that's a bird-watching area or an area for them to relax and enjoy their garden while they look up.
Provides protection from weather
An overhang glass veranda is a good way to create a covered area on your outdoor patio that offers shelter from the elements, with its aluminium frame and tempered glass panels.
Adds value to your property
Overhangs are a great way to add value to your property. You can create an outdoor area that is safe from the sun and rain, but still lets in plenty of natural light. This adds not only safety but also comfort for your family and guests.
Low maintenance
Low maintenance is one of the obvious benefits of an overhang veranda. The cover and integrated gutters help divert water away from the roof, ensuring that the roof system can last for many years without any repairs.
Safe and secure
Overhang glass veranda is designed to be safe and secure even in the event of high winds. The system's unique design accommodates wind velocities of up to 200 km/hr (124 mph), more than four times the UK building code requirement for balconies, without allowing water penetration.
Why should I buy from you?
The reason for us is simple. Experience, prompt and local service with quality workmanship. We guarantee your satisfaction. We are committed to providing the best possible solution at a great price. With 15+ years in the business and thousands of installations, we've done everything that can be done to ensure product quality, service speed, and customer satisfaction.
We deliver great experiences, from your first meeting with the sales team right through to installation and beyond. We use a unique building method to create an overhang glass veranda that maximises the space on your property and provides maximum protection for your family.
Because the customer experience is so important to us, we've put together 100+ pages of product knowledge to help you decide what is right for you while keeping things organised.  We're committed to delivering the best selection of stylish overhang glass veranda for you at the right price.
We can cover any part of your home that would not otherwise be usable, such as your back garden, garage roof, or patio. It's never too late to improve the curb appeal of your property. Call The Outdoor Living Group at 01737 570020 and learn how overhang glass can enhance your living space. Alternatively, you can request a brochure to see what we can do for your home.
How much is our Overhang glass veranda?
Each one of our overhang glass verandas is custom made to meet your exact specifications, as a result, there is no fixed price. A certified surveyor will come to your home to take measurements as well as discuss your needs.
It is entirely free, and it will give our team the information they need to create a template and provide you with a no-obligation quote. Give us a call today on 01737 570020.
Our customers' testimonials
"We installed this glass veranda onto a residential home in the Chelsea area back in December of 2017. We are extremely happy with it and have had no issues at all. The overhang itself is some of the best quality I've ever seen on a pre-fabricated overhang and we're more than willing to recommend other clients to use this product for their verandas." Jane
"I would like to thank everyone at The Outdoor Living Group for the outstanding service and quality workmanship for the new glass veranda installation at my home. It's truly amazing to see an idea become a reality right before your eyes. My wife and I can't stop marvelling at how much we enjoy our new space!" —Steve
"We installed the veranda roof from the Outdoor Living Group in June of 2019 and we love it! The product is super well built, there are lots of options available for different design ideas. It's easy to install, especially with all the info on their website. Highly recommended. Thank you The Outdoor Living Group!" —Vera
"The Outdoor Living Group customer service is impeccable, efficient and professional. We highly recommend their high-quality services to people who are looking for veranda installation in South East England, including Surrey, Kent, East Sussex, West Sussex, Hampshire, Berkshire, Greater London and the surrounding areas?" —James
Ready to buy from us?
Call 01737 570020 now to learn more about how The Outdoor Living Group's overhang glass veranda can transform your outdoor living space. We offer a few discounts on installation when you sign up for The Outdoor Living Group Goods today!
FAQ's
Are overhang glass verandas good?
Yes. Overhang glass verandas help make a strong first impression and are great for real estate photography. They attract positive attention from passersby and can help increase the value of the property.
Do you need planning permission for an overhang glass veranda?
Planning permissions for overhangs are totally dependent on the local council where your property is situated. The best way to establish whether or not planning permission will be required is to consult with the planning department of your local council. The Outdoor Living Group is ready to assist you. Call 01737 570020 now!
What is the difference between a balcony porch and a veranda?
A balcony porch is a balcony with a roof supported by columns, over the sidewalk of a street or in front of a house while a veranda is a porch or open gallery along the outside walls of a building and surrounded by a roof supported by columns.
What is a veranda used for?
There are several uses of the veranda. It can be used to cover an outdoor patio, or it can be used as a balcony surrounded by a railing.
How long does it last?
The lifespan of an overhang glass veranda depends on the number of external elements and the use of the house. Generally, overhang is extremely low maintenance and if not exposed to harsh environmental conditions, can last for decades.
How long does it take to install?
The installation of the overhang glass veranda can be completed in a few hours and is straightforward for a professional to install with the correct supporting structure.