Veranda and patios serve as outdoor spaces that can be just as inviting and valuable as any interior space in the home. Adding a glass-roofed veranda over a patio can give you a great looking outdoor living space where you can enjoy the fresh air and spend quality time with family or friends.
Whether you are looking for a veranda covered patio, or glass room, you will find what you're looking for at our Glass Room Company. Over the years, we've grown to become one of the best in class when it comes to building elegant and highly functional glass-roofed verandas around your home.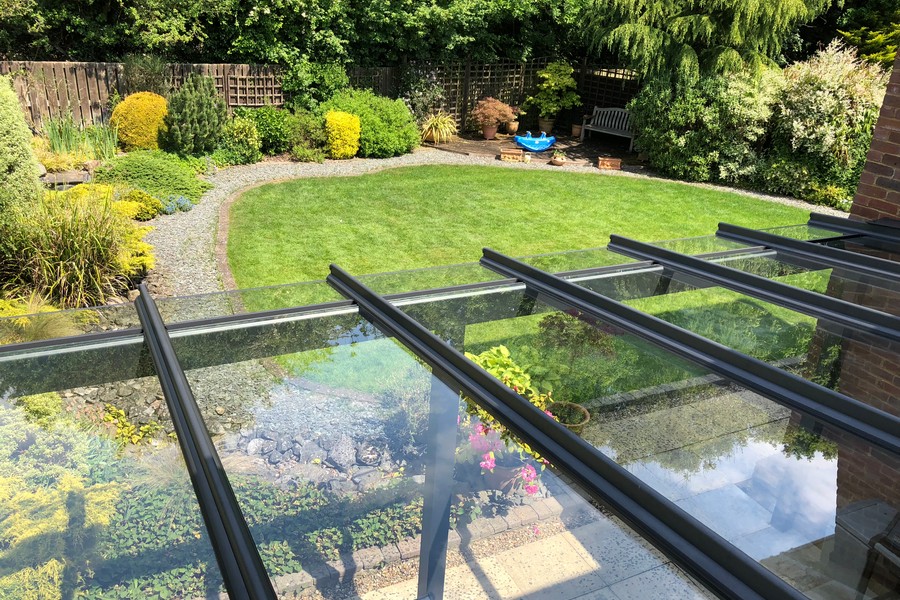 What is Veranda?
A veranda is a covered outdoor living space that acts as an extension of your home and designed to create a sense of outdoor living. With quality, comfort and style in mind, our veranda units at the Outdoor Living Group – designed solidly with high-quality laminated safety glass roofing and powder-coated aluminium frames – fuse traditional outdoor furniture with innovative features.
Our design options allow you to express your own personality while creating a fully connected and functional outdoor space that is uniquely your own.
Whether you choose to sit and listen to the breeze tickle through the leaves or love to stand with a glass of wine and absorb the sights and sounds that the environment so beautifully provides; a stylish and highly functional glass veranda from the Outdoor Living Group is not just another addition but a premium outdoor living. An elegant glass-roofed veranda opens doors to possibilities you never dreamed of: breakfast outdoors, dinner under the stars and glorious al fresco dining in cooler months.
The Outdoor Living Group Offers a Range of Customised Patio Veranda Types
At the Outdoor Living Group, we offer a wide range of glass verandas to meet your individual needs and conditions. The gardens you create with our patios will provide a lasting, stylish foundation for future additions that will last for years to come.
Terrazza Pure
This square roof design offers modern features and unique design while blending in well with your home's architecture. It offers a great style addition to any garden.
With the strong glass panels, natural light will filter through from above creating an enjoyable patio experience.
Terrazza Sempra
A simple, straight-lined design and traditional roof pitch make the Terrazza Sempra a timeless addition to any outdoor environment. A beautiful all-glass roof makes your garden or patio a pleasure to enjoy in any weather. Made with only the highest quality materials, the Terrazza Sempra looks amazing from the inside as well as the outside. Each glass veranda unit is individually tested and certified to ensure safety during transportation. The 20mm thick glass wall, heat and UV protected on either side of the glass, and the integrated standing poles deliver years of enjoyment.
Terrazza Originale
The Terrazza Originale roof system improves the overall comfort and energy efficiency of your home. It comprises a large, glass section that joins up with an actual, flexible roof to form a single roof.
You can reach us by calling on 01737 570020 or email info@theoutdoorlivinggroup.com to discuss your veranda project with the Outdoor Living Group veranda experts.
What is a Patio?
A patio is an outdoor area attached to the outside of your house where entertaining or just relaxing can be done in style. It's a relatively new home design concept as recently as ten years ago but is now becoming commonplace.
Patios are built separately from the house to allow for a great view of the outdoors, and even with closed doors, it can give the impression of being outdoors without the elements ruining your good time.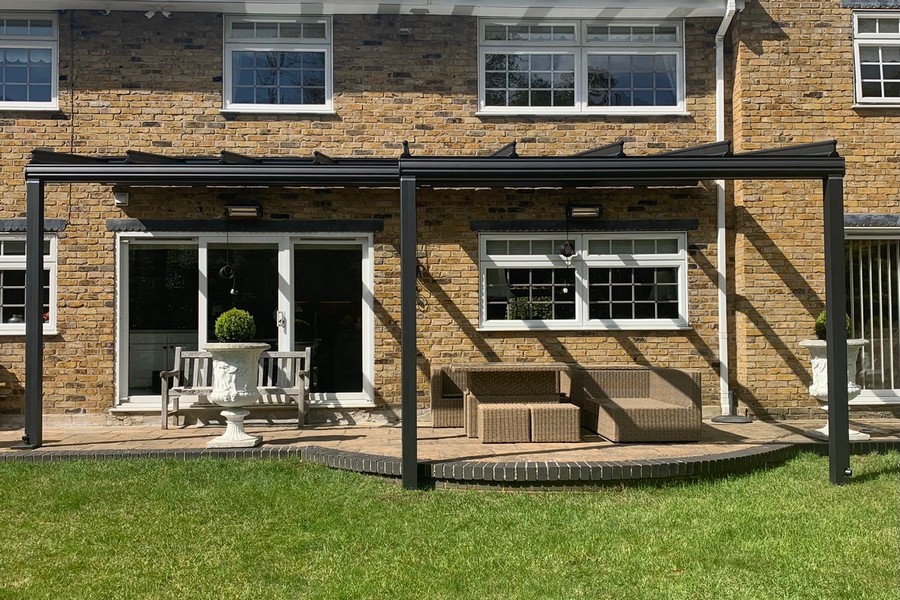 They are made of brick, stone, concrete, wood or some other material that will withstand a lot of wear and tear such as fading and cracking. A patio will work best if you have a small yard, garden or large space at the front of your home.
A new patio can be the focal point of a great garden design, offering possibilities for outdoor entertaining or just quiet relaxation. Don't be fooled into thinking that a patio should just be for looks. A patio will make use of an area you might otherwise neglect and it can add to the value of your home, making it more attractive to potential buyers.
What Are the Different Types of Patios?
Paver Patios
Pavers are easy to install, low maintenance landscape materials, and can be installed in patios either with or without the use of mortar.
The best part is that you are able to choose from a wide variety of pavers, colour, patterns and textures, which gives you the ultimate freedom to choose what appeals the most to your taste.
From modern to traditional, you can find an array of pavers to fit your taste and style.
Brick Patios
Brick patios have been around for hundreds of years and look especially attractive when they are designed for a specific architectural style.
They usually require a greater time and effort investment than other types of patios, but the end results are often worth it.
These patios add beauty and value to your house while updating its look and feel. It can be created in a variety of styles, but using bricks makes it unique from all other types of patios. Brick is an extremely durable material so these types of patios will usually last for ages.
Flagstone Patios
Flagstone patios are beautiful and long-lasting, and their complex textures allow you to create a truly unique back garden oasis.
Whether you want to create an elegant, complex pattern or a more simple design, flagstone patios can be installed in almost any shape or size with the many different materials available today.
Flagstone patio surfaces look irregular in shape but are generally patterned with some sort of symmetry. The joints between the stones are completely random which creates an interesting design.
Gravel Patios
Gravel patios have an earthy, rustic quality to them. They are composed of stones that may vary in size. These natural products lend the patio an attractive, weathered look. Gravel patios are also very durable and easy to keep clean.
The main goal of this patio type is to create a functional area in your back garden that serves as an outdoor living area, a place where guests can come together to enjoy the outdoors or just relax in the shade of trees.
Slate Patios
Slate patios are a natural option for patios with the slate placed like flagstone steps. The slabs are easily laid out and offer a solid surface that's great for walking on in bare feet or covered with chairs and tables for entertaining.
Slate fits nicely in a variety of patio settings, from beautiful highlands to seaside cottages.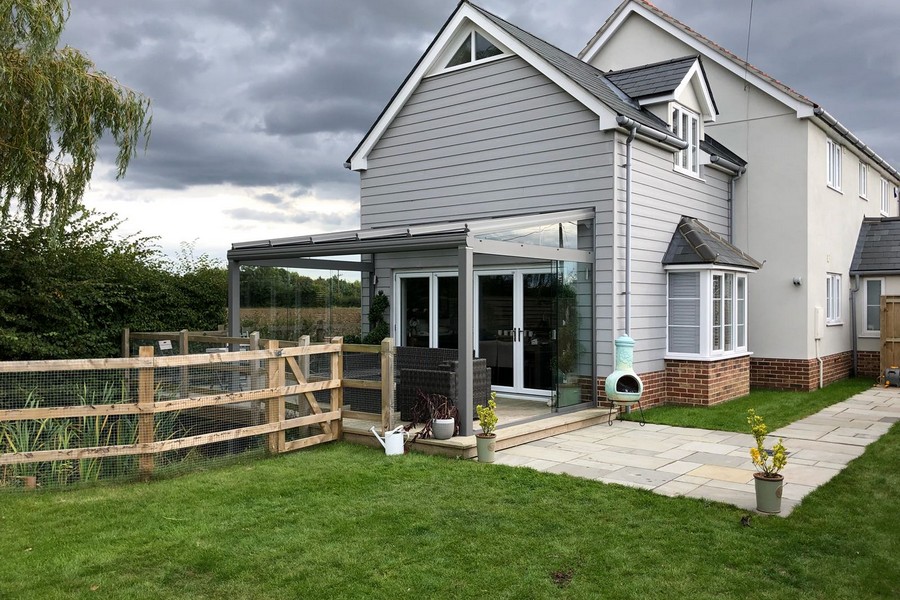 What Is The Difference Between a Veranda and a Patio?
A patio is a type of outdoor living space that can be used for entertainment or relaxation. The most common materials for patios are concrete, stone, brick, and tile. A veranda is an enclosed porch with one or more walls made from lattice work, typically aluminium frame to allow air circulation.
Verandas typically provide protection from the sun during the day but still allow the evening breeze to flow through them. Verandas can be found in many different climates because they offer protection from rain and sun whereas patios are only used in warmer climates.
Patios may also have furniture set up around them to provide additional seating options. Patios often include plants, furniture, fire pits, table tops or grills so that you can enjoy outdoor living year-round.
Verandas usually have more architectural detail than patios because they are often considered an extension of the interior space of your home. A veranda can be used for cooking, entertaining guests, or just relaxing in the sun. The main difference between a patio and a veranda is that patios tend to be designed for use year-round, whereas many people use their veranda only during warmer months when it's too hot outside without any protection from the sun.
Are you dreaming of Veranda with a glass roof?
Verandas with a glass roof allow more light in throughout your home because there is no fabric shade. Sunlight floods into the space, creating a comfortable feeling. It offers a contemporary design that is sleek and stylish. They give you the option of an open or enclosed feel; all while enjoying fresh airflow during the warmer months.
Our Veranda's feature an all-glass roof, which delivers seamless integration of the absolute best outdoor environment with an indoor living space. The result is the ultimate outdoor lounge or glass room. Whether you want additional heat retention for your outdoor room or just a place to enjoy the view, we have options that will fit your needs. You can reach us by calling on 01737 570020 or email info@theoutdoorlivinggroup.com. We'll be glad to make your dream a reality.
What Are the Advantages of a Veranda Over a Patio?
Sheltering from the Weather
Are you tired of getting wet when it rains? Maybe the sun is making your patio too hot. Whatever the reason, a glass veranda from the Outdoor Living Group brings the outdoors in with greater ease and less work. On a sunny day, you can enjoy shade, privacy, or just protection from the elements.
Verandas are designed to provide protection from the harsh, damaging weather that can ruin a perfect outdoor moment.
With a veranda, you'll be able to entertain guests rain or shine, enjoy cookouts that you won't need to end early and much more.
Additional Home Storage
There are many advantages to a Veranda over a patio. Especially if you need more ideal living space and storage space for your household items. A veranda serves as a good use of space.
It provides additional outdoor living in the form of an outdoor room. It also offers additional storage for bikes, patio furniture and other devices. It adds comfort and value to your home.
Keep Home Flooring
A veranda is a great way to add additional outdoor living space to your home. And they're perfect for wet or humid climates because the cover keeps outside moisture, dust and other pollutants away from your home flooring and carpets.
The Outdoor Living Group veranda covers also double as a patio cover, providing an extra layer of protection from the elements for your patio furniture cushions.
Work from Home Outdoors
A veranda provides you with a great spacious porch that is perfect for entertaining as well as work. You can have large tables and chairs on your veranda so you can use them to do work and study.
If you are an artist, you can arrange them in such a way that you don't have to go into your house if you want to paint outside. With the glass veranda from the Outdoor Living Group, you can set up your home office or study outdoors without fading sunlight, rain or bugs interfering.
Extended Living Space
A Veranda provides the perfect complement to your current outdoor living area. This extension of your home's living space is a perfect place to relax or entertain friends and family for hours without being disturbed by any harsh weather.
It offers a great alternative for year-round entertaining, recreation and relaxation. With the Outdoor Living Group verandas, you can choose from dozens of designs and colours to create a stylish addition to your home.
Our expert team will visit your home to provide top-of-the-line service, from design consultations to finished product. Call 01737 570020 or email info@theoutdoorlivinggroup.com and let's help you with your dream outdoor living space.
Why Should I Buy From the Outdoor Living Group?
A Full Installation Service
The Veranda is your gateway to a world of exciting possibilities. Whether you need a solution for entertaining, storage or simply relaxing outdoors, let our expert design team help you achieve the space you've envisioned.
When you purchase a Veranda from the Outdoor Living Group, you also get a full installation service from experienced professionals who understand the value of attention to detail.
Excellent Customer Service
Whether it's your first veranda or if you need help with a replacement part, we are here to help. We specialise in verandas and treat your order as if it were for our own back garden.
Our customer service team is ready to help you with every step of your project. With us, you'll receive expert advice from an experienced team.
Bespoke Designs
The Outdoor Living Group carries a collection of elegant veranda designs, giving you access to custom mix and match pieces. Giving you the freedom to create your dream outdoor living area.
There's no better way to add elegance and style to your home than with our Veranda. We are able to design and craft a custom solution for every room of your home.
Quality Products
Have you ever invested in a quality product that may have cost a little more but was well worth it in the long run? Our Verandas fit this description. That's because they are built to last and look great for years to come!.
We know high quality is only judged by how a product performs, not by its price tag. So with the Outdoor Living Group, get ready to ENJOY your outdoor space all season long!
Let us work with you to create the space you have always wanted
We have everything you need to transform your back garden into a relaxing space that all your friends and family will love to enjoy all year round.  Our customers have rated our Verandas very high, with many saying they will recommend us to anyone in need of a veranda. Call us today on 01737 570020 or email info@theoutdoorlivinggroup.com and enjoy a premium outdoor living our Verandas offer.
FAQ's
Can the Outdoor Living Group build a veranda on a deck?
Yes, we can design and install a new veranda on an existing decking. Our skilled team will work with you to create the perfect setup that adds value to your abode.
Do you provide a guarantee or warranty?
Yes. We provide a 10-year guarantee on all of our veranda. Needless to say, we stand behind all of the products that we sell and that our clients receive from us.
Veranda or Patio, which require planning permission?
It depends on where you are building the veranda/patio and whether it breaches any conservation or flood prevention constraints. If in doubt, check with the local council before you embark on any building work.
What is the cost of a Veranda?
It depends on the size and design of your veranda. You can find out how much a veranda will cost and what options are available in terms of sizing, setup and design by contacting our team.
Please call us on 01737 570020 or email info@theoutdoorlivinggroup.com., we'll be glad to answer all your questions.