Louvered Roofs
Sun or shade? With a louvered roof it's your choice.
Although you can't control the weather you can now be in charge of how much time you spend outside thanks to our Italian designed louvered roofs. Being fully automated allows you to twist the louvers in the roof to allow as much light, or as much shade, as you want, covering your outdoor space at the press of a button.
Book a free survey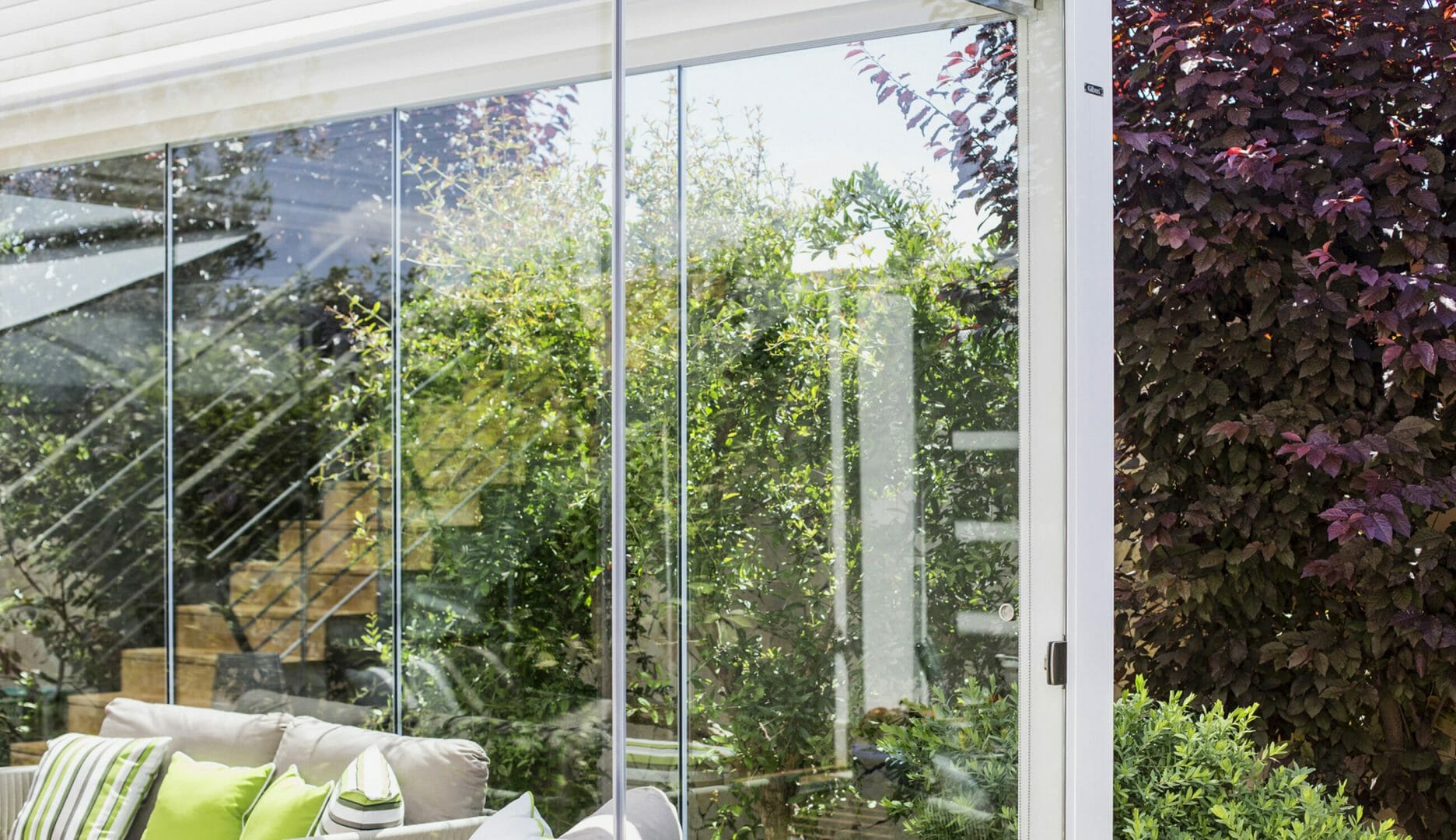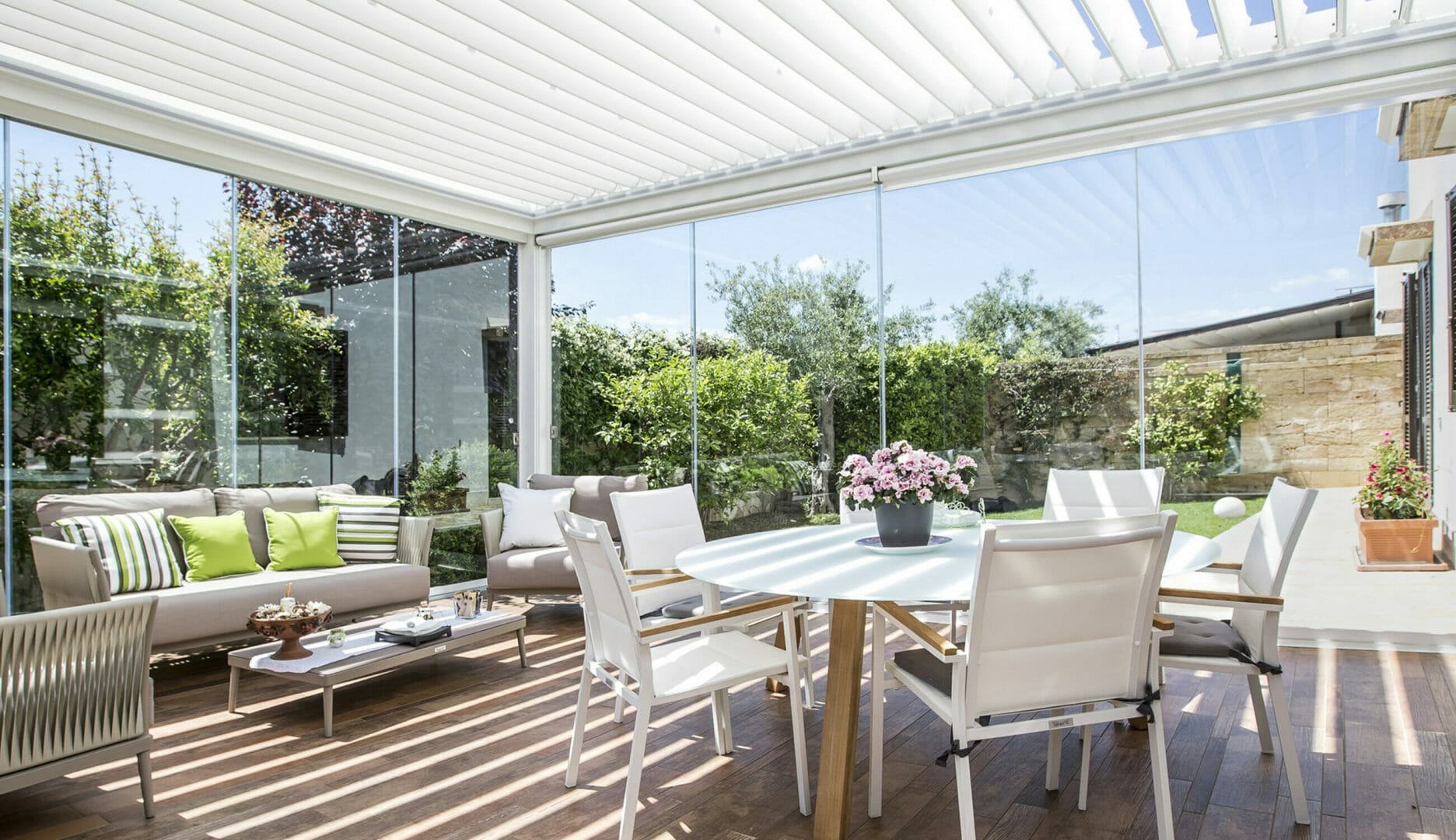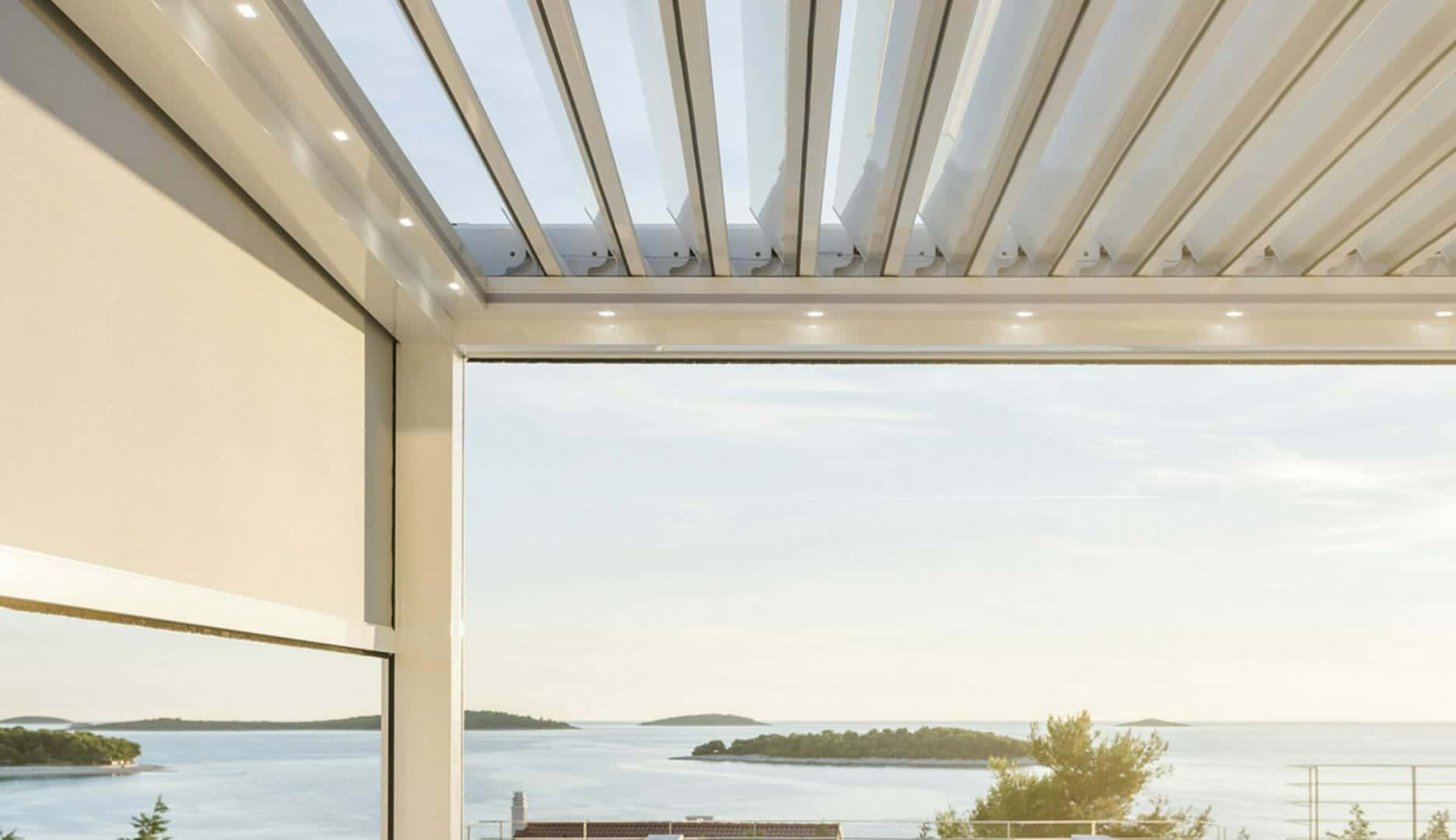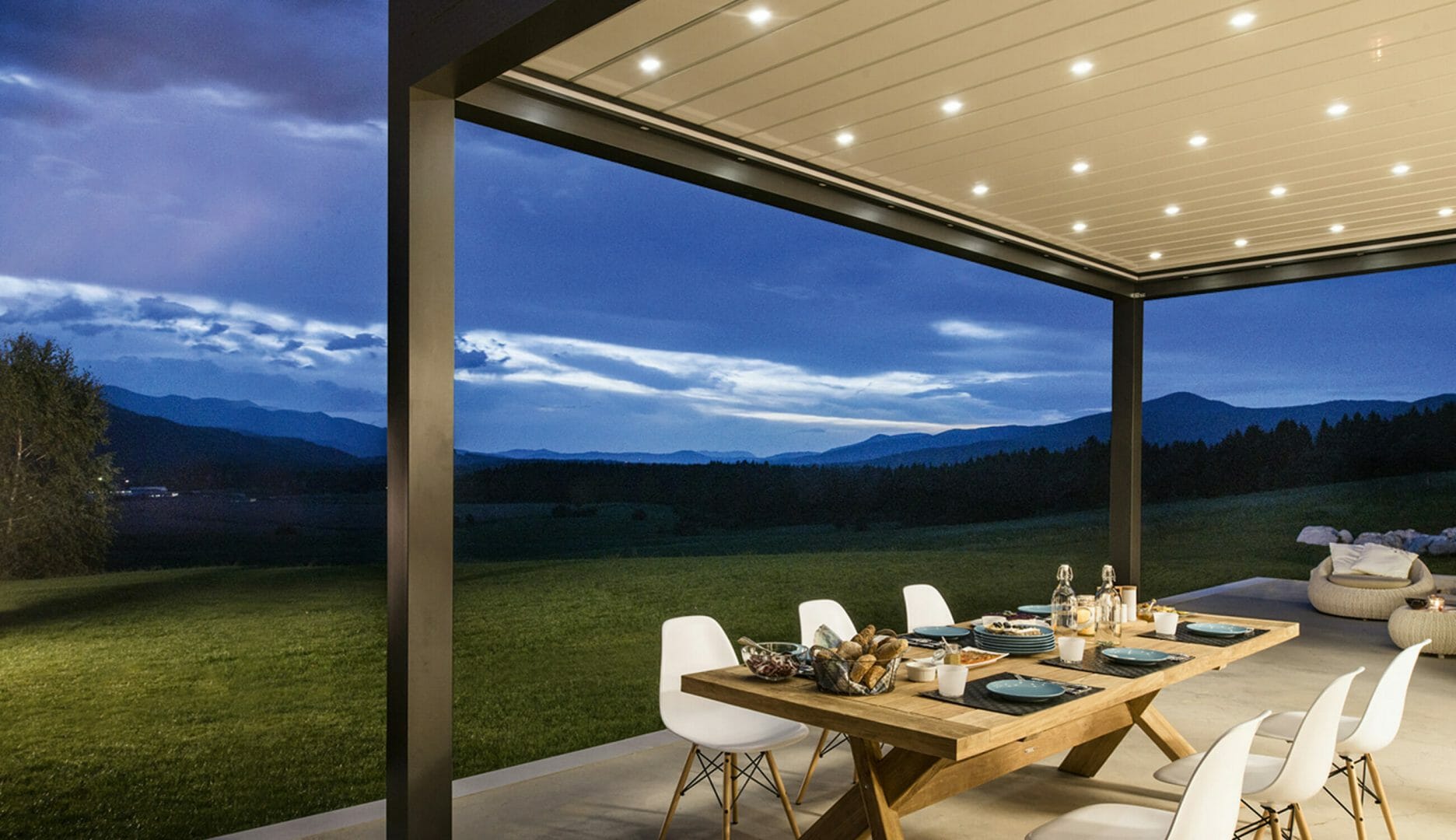 THE OPTIMUM MICROCLIMATE
Enjoy the outdoors in comfort
Our louvered roofs boast numerous technical innovations including a unique 135 degrees twist motion, which allows the individual louvre blades to remain in contact with the frame throughout the entire motion. This patented opening system, that we call 'Twist Motion', makes our louvered roofs stand out for their innovative design that is efficient and reliable. This design eliminates any light gaps, unsightly gutters or water leaks. Regulating the blade allows you to moderate the sunlight that filters into the area underneath, giving full control of the microclimate within your garden, with the simple touch of a button.
Our louvered roofs give you maximum design flexibility to find the ideal solution for every space. Glazing can be added to a louvered roof at any point to make an enclosed room that gives you a space that can be used whatever the weather. A range of optional extras are available including sliding glass doors, outdoor blinds, LED lighting and electric heaters. Internal blade insulation can also be added to reduce the sound of rain on the roof by up to 70%
THE QUICK FACTS
Our louvered roofs have several benefits to give you full control when it comes to enjoying your garden area
Great ventilation

Benefit from quiet, convenient and refreshingly cool ventilation by taking full control of the integrated motorised system. Our louvered roofs are able to seamlessly manoeuvre the tilted slats from 0 to 135 degree angle to quickly and easily ventilate your sheltered patio or garden space.

Shade on tap

The beauty about our louvered roofs is the ability to quickly and easily configure them to let in the amount of protection you desire. With the click of a button you can either enjoy the sun well into the evening or shut out the weather's extremities.

Freestanding structure

Relax and enjoy even the most isolated pockets of your garden as our louvered roofs are totally freestanding making installation achievable and creating unique expanses of space you to revel in.
Louvered Pergola with sides
Customer Vision
Customer vision
We had a large raised patio area that we loved to use immediately outside the kitchen. We had large bi-fold doors that opened out on the spot. We had looked at several solutions but did not want a glass roof and new the wind would make an awning unpractical. When we spoke to The Outdoor Living Group, we were convinced the Louvered roof was the correct solution. What made us more confident was the knowledge Martyn, the designer, had and that they seemed to be the only company that offers different solutions.
The design
Mr & Mrs Lane has ideas of how they wanted the space to be but were open to ideas on the design. They tried to close in one side to create privacy and wanted to proceed the area from wind in the winter months. Our solution was to install an automatic Louvered Roof with a cladded wall to sone side. This created an area where they can cook but also created the privacy form overlooking neighbours. On the front, we install perpetrated zip screen, which simply operated via remote control. This provides the wind and solar protection required but allows you to see out still. The system was sealed against the house to create a weatherproof seal.
Mr & Mrs Lane
Weybridge, Surrey

6.4m x 3.9m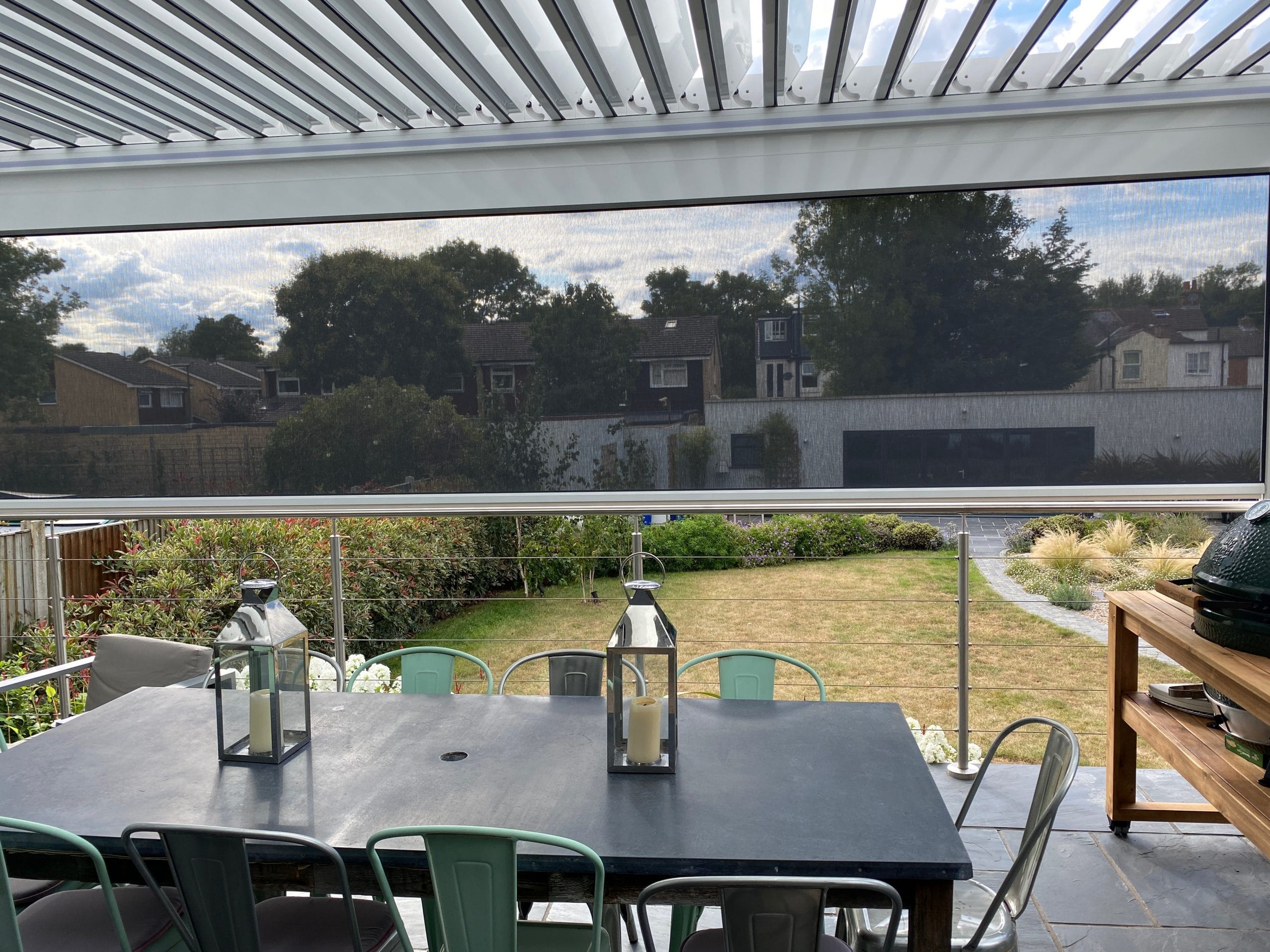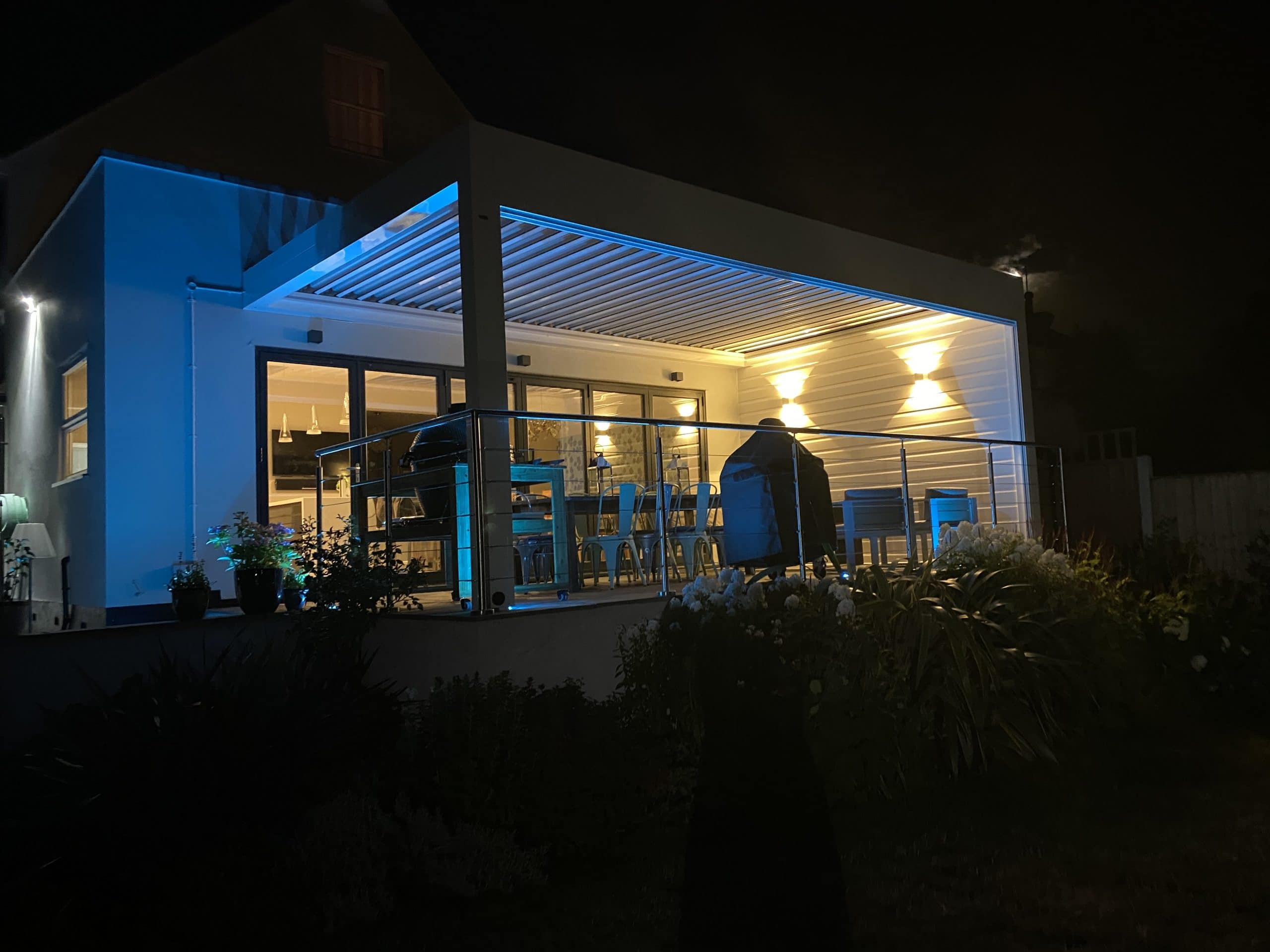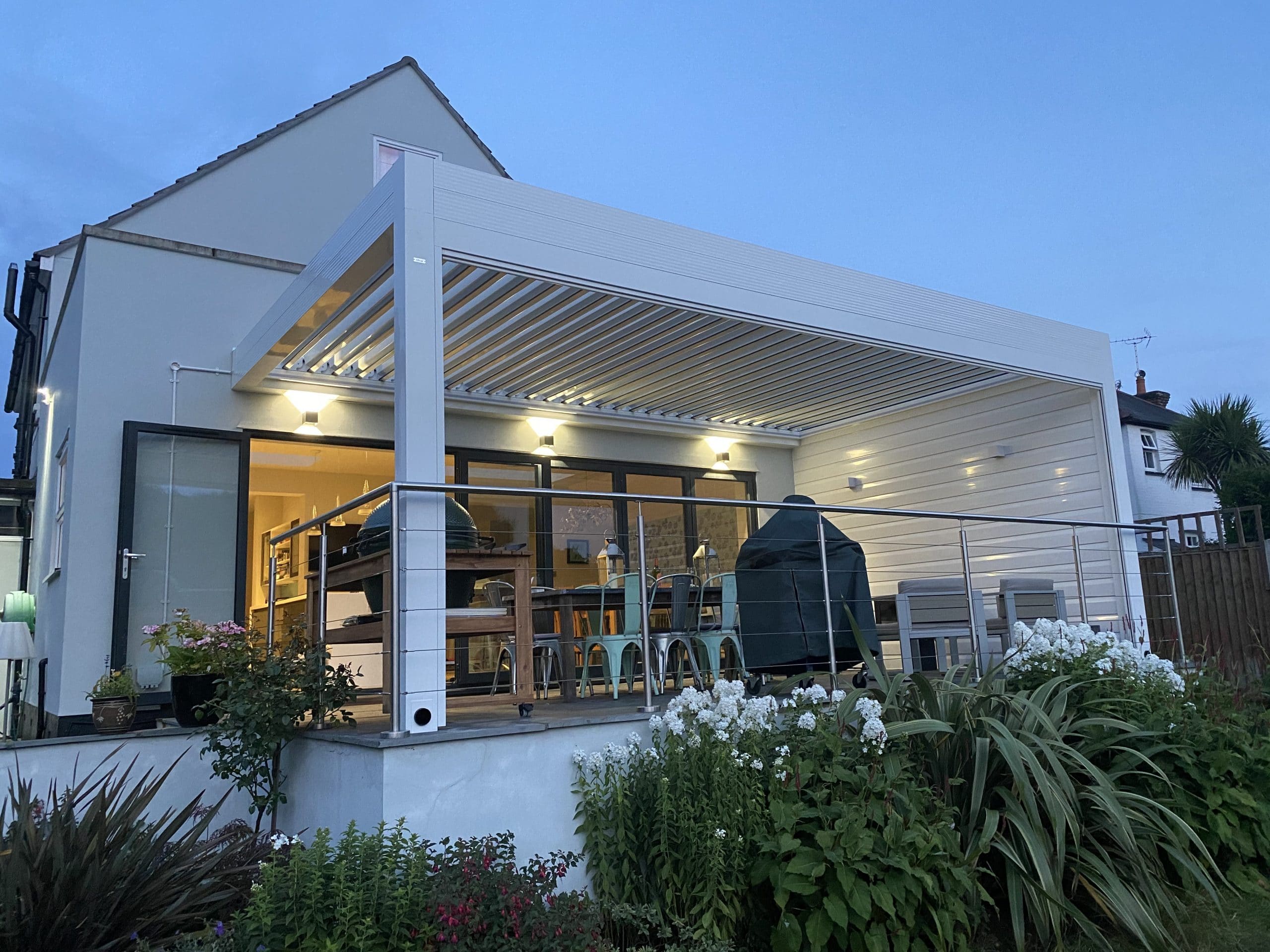 I have to praise all the staff for the great service we received. We were kept informed of the progress of our order and the fitters were a pleasure to have at our home. I would definitely recommend anyone looking for this style of product to buy from The Outdoor Living Group.
Mr & Mrs Stewart | Kent

Louvered Roofs FAQ's
Does it take long to install a Louvered roof?
Louvered roofs which are also known as bioclimatic roofs take 1 – 2 days to install dependant on the size. If side glazing and shades are purchased this may add an addition day to the installation in order to make sure we achieve a first class installation.
Do Louvered roofs require planning permission?
Most of the time the answer is no as the vast majority of properties in the UK will have permitted development rights allowing you go go straight ahead and order your louvered roof. However, we would recommend contacting your local planning department to check the rules for your area. If planning is required, we are more than happy to assist you with the application
Can I add doors to my bioclimatic roof?
Our bioclimatic roofs are modular in design meaning that glass sliding panel, side shades, lighting, & heating can all be added over time to make you louvered roof into a enclosed room for all year round use.
How do you operate a louvered roof?
Very simply via a hand held remote. Our Louvered roofs have 3 pre-defined positions and can also me manually adjusted to any position in between. This give great control of light and shade under your louvered roof which are also commonly known as bioclimatic roofs.
What is a Bioclimatic Roof?
Bioclimatic roofs also known as louvered roofs and louvered pergolas offer a versatile way of using your outdoor spaces by combining adjustable rotating louvers with stylish and minimal side glazing and integrated screens. Our louvers roofs can be installed against a wall or totally free-standing louvered pergola dependant on your specific requires. So if you want a shaded area outside your back door or an area at the bottom of your garden away from your home we have a solution.