Verandas
Enjoy more of your garden for longer with one of our elegant verandas
Your patio needn't become out of bounds in the autumn and can even remain access all areas during the winter months. The enduring attraction of our verandas are their elegant construction, easy on the eye design and high durability. With many versions available they are also suited to many different types of houses and requirements. So whatever style home you live in, and ideas you have for it, our verandas can enhance your outdoor living experience.
Book a free survey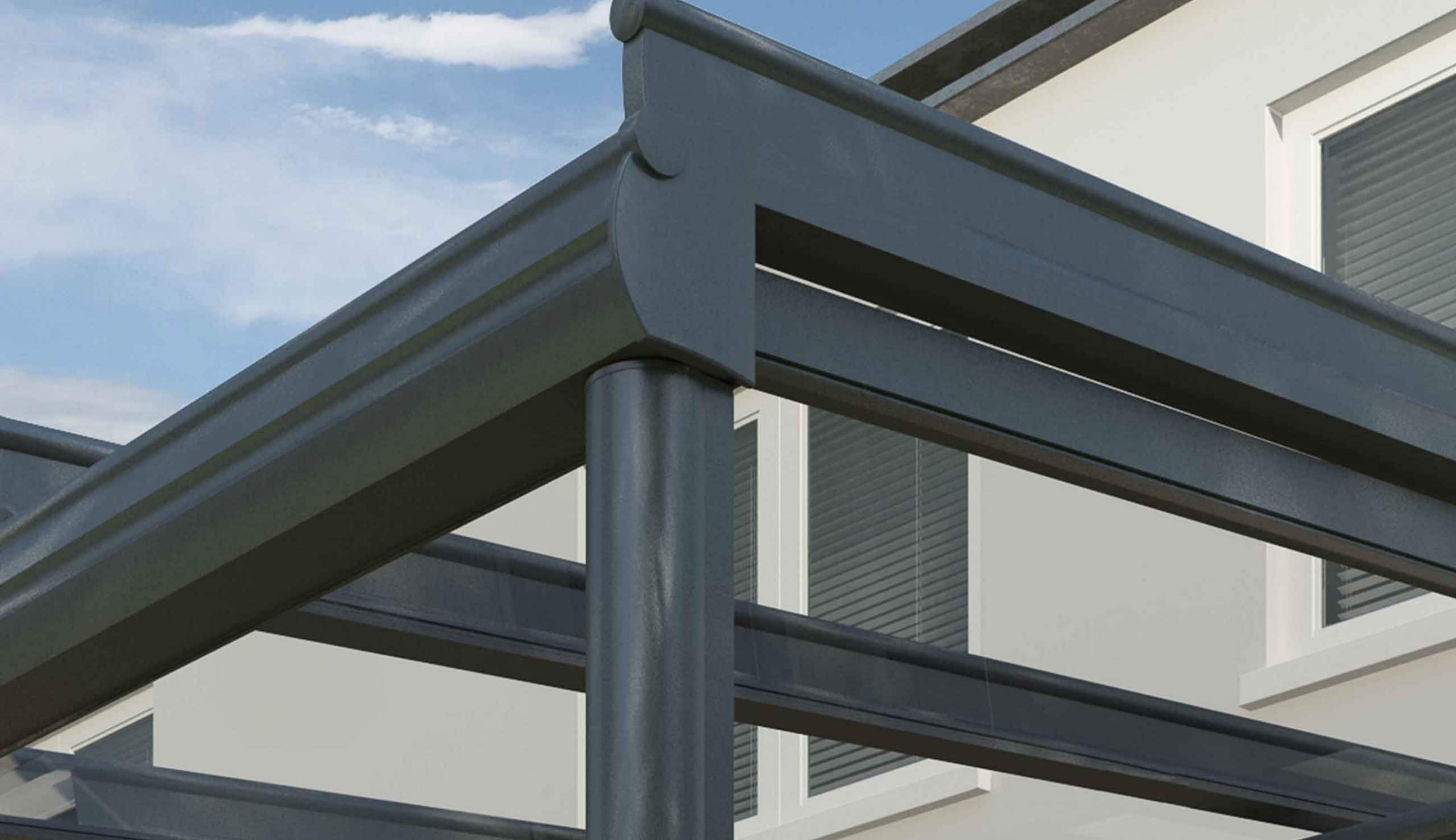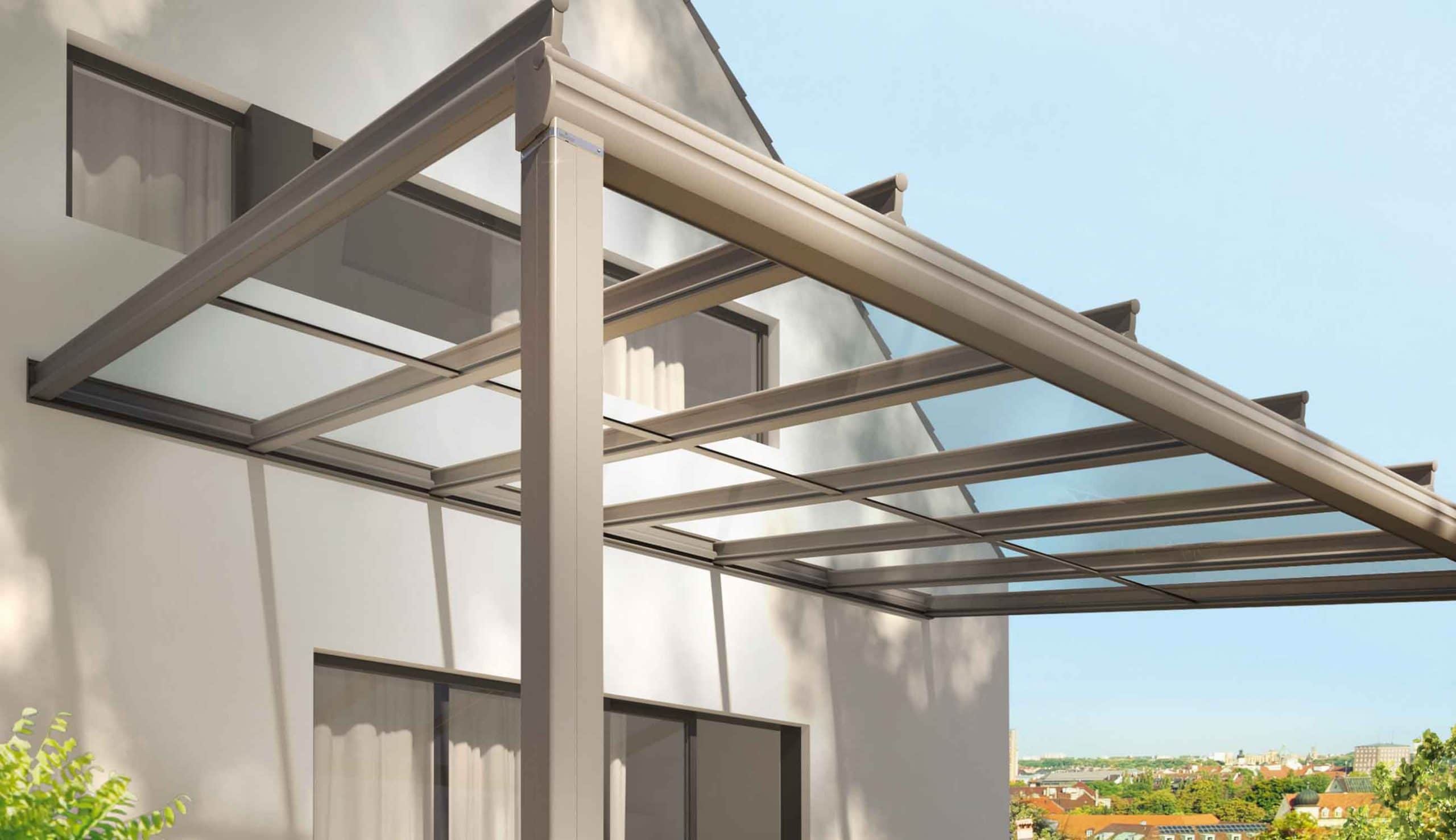 AN OUTDOOR OASIS
Enjoy life al fresco
Our verandas stand out not only for their elegant design and seamless, minimal look but also for their versatility. A completely modular construction allows you to start with the basic roof and then add shading products, lighting and additional heating at any time in the future. You can even add side glazing elements and convert your veranda into a full glass room.
The high-quality, laminated glass patio roof provides weather protection all year round. It is available with or without roof overhang both of which have fully integrated guttering which creates the minimal and contemporary finish. Our verandas are unique, thanks to the range of powder-coated colours and finishes included as standard. These include a huge range of colour options which are durable and long-lasting.
THE QUICK FACTS
Our verandas come complete with many carefully engineered features and accessories.
Elegant design

The elegant yet rigid construction is thought out down to the finest detail. Most fixings are concealed for a clean appearance and materials are corrosion-resistant.

Rigid roof covering

Our verandas are designed for use with high quality for high-quality laminated safety glass (LSG).

Invisibly integrated drainage

Rainwater is efficiently drained away by the discretely integrated gutters and drainage outlets inside the post.

Rigid aluminium construction

Our verandas stand out for their exceptional stability and durability. These durable constructions are based on static calculations run by a certified engineering company.

Integrated LED lighting

Our remote-controlled LED lighting options extend the amount of time you can use your veranda in the evening. Lighting can be wall-mounted or integrated into the roof support to help create a warm, atmospheric light.
FEATURED VERANDA PROJECT
A space for fine dining whatever the weather
Customer vision
For years we had dreamt of having a veranda in our garden so that we could dine and entertain outside, even in poor weather. The other companies that we approached either did not have the technology to give us what we wanted, or, even if they could, did not fully understand our vision. Martyn and the Outdoor Living Group did.
The design
One of the central design points was to create a way to invert the roof and make it pitch towards the bungalow, rather than away from it. This allowed the veranda to be made bigger, with a generous five metre projection out from the bungalow. This size gave the Carringtons the space and room they desired. It was a fusion of their vision and our expertise.
Mr & Mrs Carrington
Bracknell

6.5m x 3.5m bespoke veranda including a roof overhang and dimmable heaters.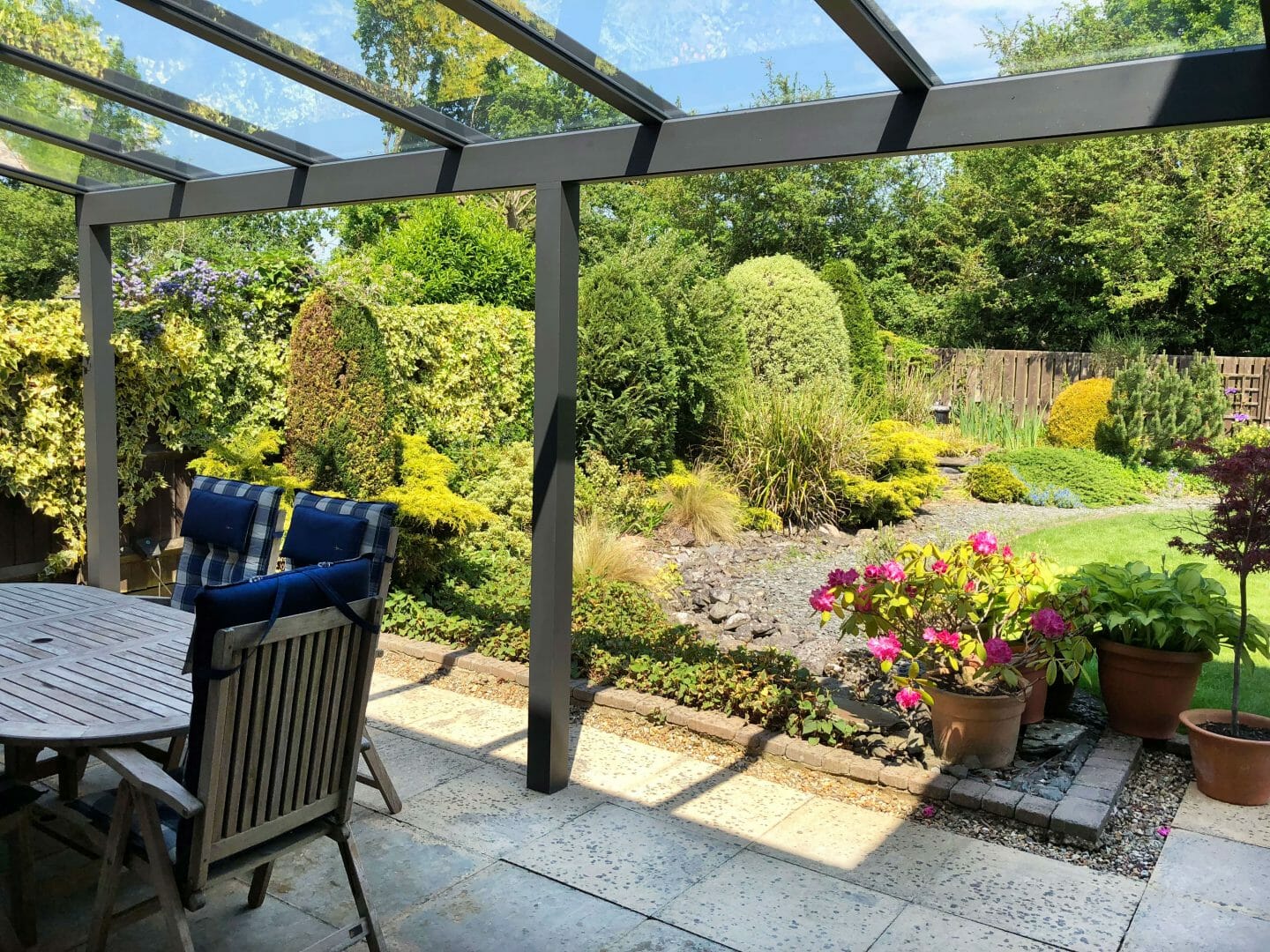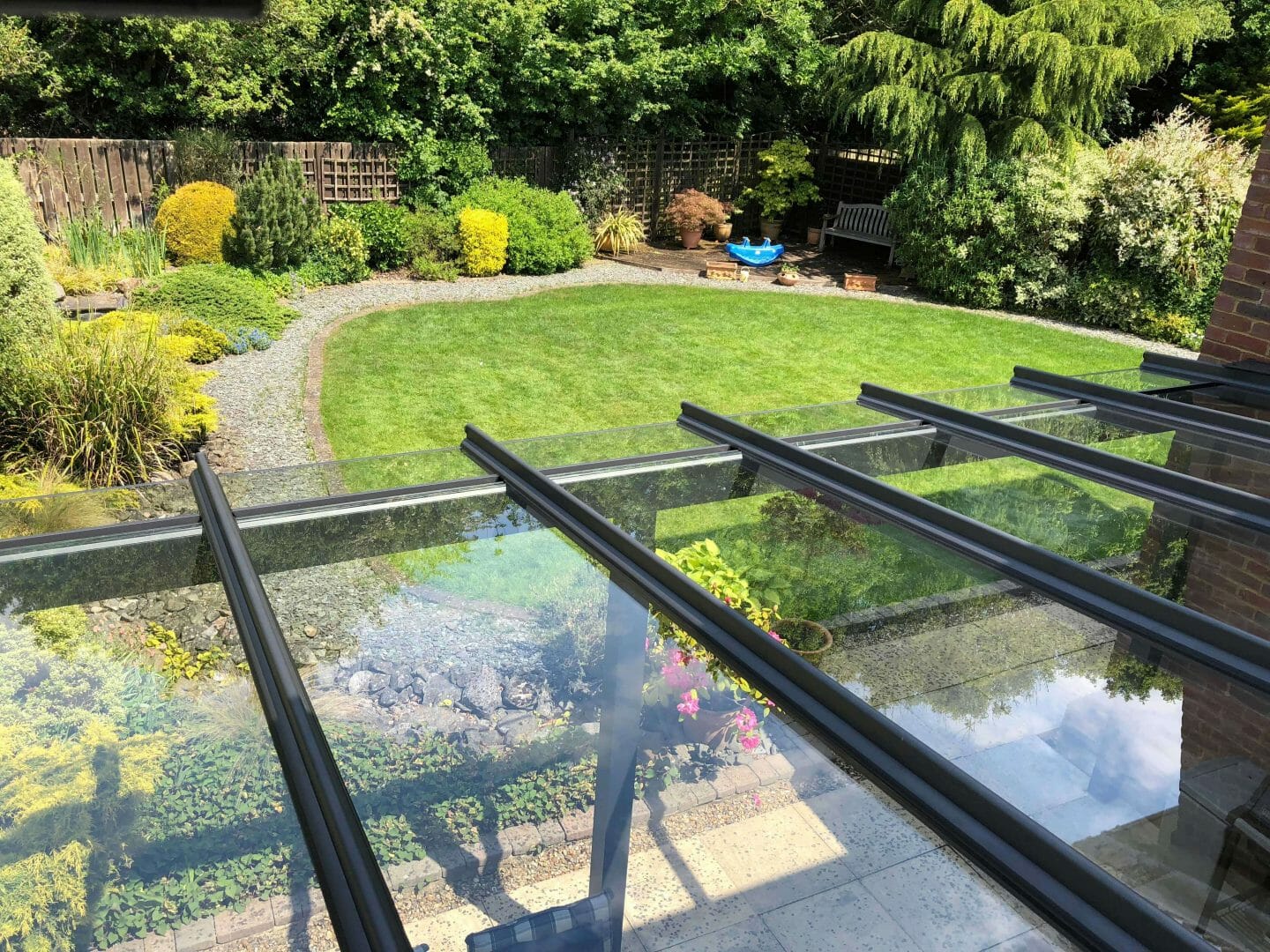 We have been using our veranda for over 5 months now and it has been wonderful. Adding lights and heaters even meant that we could entertain there over Christmas.
Mr & Mrs Carrington | Bracknell
Verandas FAQ's
Do verandas provide protection against bad weather
Enjoying your garden does not have to finish at the end of the British summer (as short as it is). By choosing a glass veranda, it will provide you with shelter from the elements. The lighting and heating options will create a cosy and atmospheric space to enjoy all year round.
Is planning permission required for a glass veranda?
Most properties in the UK will have permitted development rights so planning permission is not required for a glass veranda. However, we would recommend contacting your local planning department to check the rules for your area. If planning is required, we are more than happy to assist you with the application.
How long do you guarantee your products?
Our glass verandas carry a ten-year framework guarantee from the date of installation. Accessories have a five-year guarantee. This covers both manufacturing and installation defects. Terms and conditions apply.
How much does a glass veranda cost?
All of our verandas are made to your unique requirements and therefore we cannot provide prices without meeting with you. However, fully install verandas start from £7,000.00.
Are verandas worth the money?
Yes, they not only add worth and functionality to your garden, but also develop a great opportunity to have additional cover from the weather. What's more, they form the main roof structure of our glass rooms which means you are not limited to a veranda and can convert it at any sage into a full glass room. Whether you have moved into a brand-new house, or you are looking at revitalizing the design of your existing patio area, a veranda will create a relaxing outdoor environment that can be enjoyed all round. Nothing is better than having a outdoor living space for entertaining, parties for simply for romantic lighting and soft music to make every night a remarkable one.
What are the benefits of a veranda
One of the primary benefits of a veranda is that they supply shelter, allowing you to relax outdoors without worrying about the sun or rain. For extra protection, you can install an automated roof shade to make it more comfortable on warmer days. You can enjoy your veranda for entertaining, dining outdoors, or simply unwinding with a book any time of year. To make it even more pleasant in the cold months, the addition of heaters and lighting to make your veranda an all year space. Glass verandas increase the usability of your outdoor space, enabling you to enjoy your patio and garden area much more comfortable throughout the day and into the evenings. This is especially true when you pair glass verandas with heating and lighting systems, allowing you to keep both visibility and heating in the evening and during some of the colder months. Verandas have actually never been as popular as they are right now. These outside spaces are turning up all over the place, and there are many excellent factors to have one. So what are the advantages of a veranda? Is it time you produced your own? Here are a few of the primary reasons that believed need to turn into a truth. A veranda permits you to broaden your living location bringing the garden into the house while taking advantage of the natural environment. Enjoy being outdoors whatever the weather. With a veranda, you don't need to pull away from your garden when a bit of rain appears. They supply ideal weather protection all year round. Plan your outside parties and social gatherings with confidence that they will not be rained off. Our garden verandas can be provided with glass sides and sliding doors to create totally confined glass room for complete weather defence. The beauty of our verandas are the are modular in design so you can always add to it over time as your requirements change.
What is the difference between Gazebo and Veranda
The primary distinction between a gazebo and a veranda is that a gazebo can be situated anywhere in your garden. A permanent veranda structure that is usually connected to your house or property. This makes a Veranda a real extension of your home.
Do you offer Free Site Surveys
Our fully qualified veranda design consultants will provide free survey and design of your custom-made veranda tailored to your specification, accommodating all colour preferences and finishing touches. To arrange a visit, please complete our web contact form for a free, no-obligation consultation.
How much does a glass veranda cost?
All of our glass verandas are particularly designed to fulfil your needs. To assist us produce a quote that is bespoke to you, our qualified surveyor will visit you to take measurements of your property and discuss your requirements. The survey is free and will offer our group the information they require to produce a design and supply you with a no-obligation quote.
A Canopy or Veranda For Your Garden
The glass veranda systems we offer supply the most clear and light vision of any item and makes it possible no matter the size of your patio area to be under covered enjoying outdoor living throughout the year. A glass veranda will be considerably quieter in heavy rain than the polycarbonate roof. However, glass is greatly heavier than polycarbonate which is why we use a high-quality aluminium frame. Our glass verandas are strong enough to take additional products such as sides and front glazing to eventually fully confine the structure to form an "outside glass room." Bring the inside-outside. An attractive veranda will enable you to enjoy garden parties, barbecues and all kinds of family and social events, whatever the weather. Stylish, fully weatherproof outdoor structures to shelter your friends, family or car! Whether you're seeking to develop an outdoor entertainment location, a location to unwind in the sunshine or you just wish to keep your car secured from the elements, we can design a veranda, canopy or carport and tailor it to your home. Built from strong aluminium extrusions, our structures are elegant and designed to last a lifetime. They create total protection from the rain, and thanks to the powder-coated finishes will keep their stunning appearance for years to come with virtually no maintenance. Our verandas are perfect for many different uses, promoting outdoor living in a number of different ways. Suitable to develop protected patio dining or outdoor space to relax. They are likewise great for more practical solutions such as covered pathways, hot tubs and even as a carport.
What colours can I choose from for my veranda?
As standard we have 56 different colours and finished you can choose from. The most popular veranda colours are white, anthracite and various shades of grey. However you can pick whatever colour you like. All you need to do is provide us with a RAL code and our designers will do the rest for you (please note -there is a surcharge for this service).
Can a veranda be used all year round?
The simple answer to this is yes. Customers are acquiring greater use of their verandas throughout the year by having heaters and integrated LED lighting in the winter season and external shading solutions for the summer.