Glass Veranda Experts in The UK
The Outdoor Living Group is one of the UK's leading suppliers and installers of high-quality glass and aluminium framed verandas. No matter where you need our solutions in the country, , we are able to reach you, thanks to our nationwide services.
Our verandas are tailor-made to suit each house and match each other to provide the ultimate outdoor living experience. They come in diverse designs and colours, with different glazing options and a wide range of add-ons, so you can create your special spot. Our verandas are designed to blend with your home and enhance your current outdoor space. Made in the UK, with materials and components from top sources in Europe, you can be sure that your new veranda will be built and installed to last. Request our brochure to see what we can do for your outdoor space.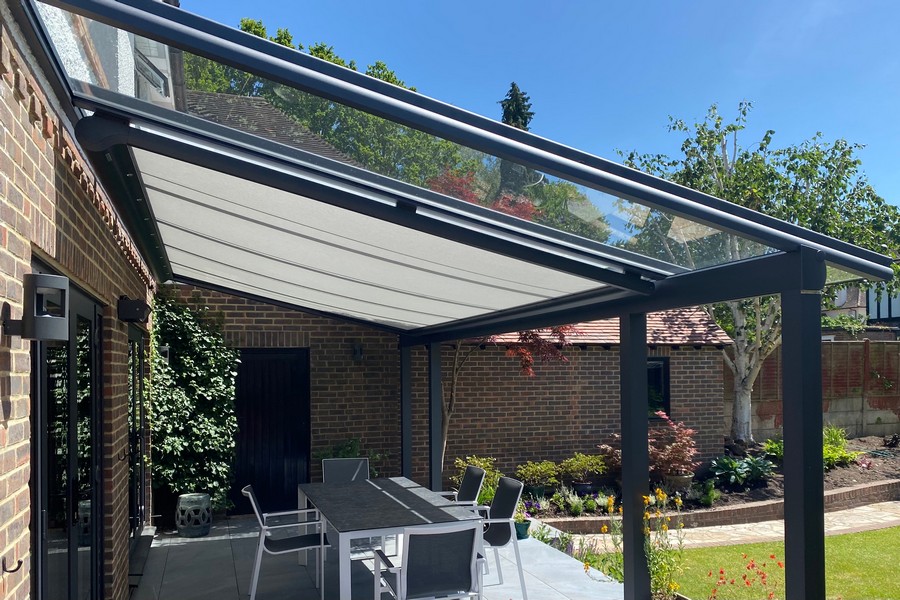 Why Your Property Needs a Veranda
A veranda is an excellent way to add value to your property. They are also a great place for you and your family to enjoy the outdoors. Not only can they be used as a space for entertaining, but they can also provide more living space inside.
If you're considering new construction or remodeling an existing home, consider adding a veranda so that you'll have additional outdoor living space!
Whether you're hosting a cocktail party for friends, or enjoying lunch with your family, our veranda is an ideal place to unwind outside. With elegant design, fresh air, and views of nature, our veranda brings such simple pleasures right to your doorstep while also boosting the aesthetic value of your property.
Verandas are perfect for homeowners as they provide you with the opportunity to enjoy fresh air while outside without being in direct sunlight. They also offer protection from the elements so you don't have to worry about being cold or wet when hosting guests on your property. A veranda will add value to your property and make it more attractive to potential buyers down the road.
Whether you'll be entertaining or spending quality family time, a veranda will ensure your property is always welcoming. Talk to one of our outdoor living experts today on 01737 570020 or send an email to info@theoutdoorlivinggroup.com to find out more about our services and the location of any of our distributors closest to you.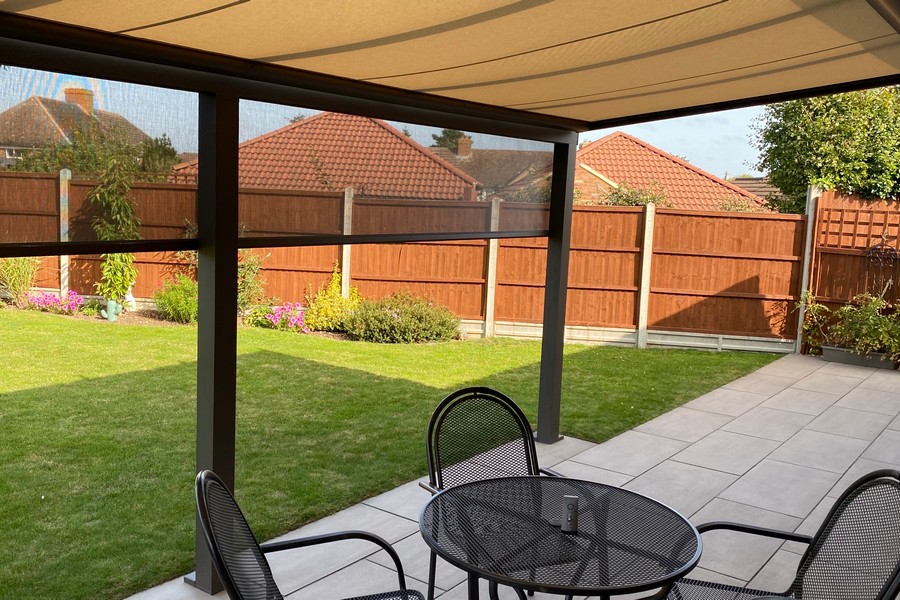 Why Choose Verandas from the Outdoor Living Group?
Designed to exude a sense of elegance, our verandas are a perfect addition to any modern home.
The verandas from The Outdoor Living Group will allow you to enjoy the outdoor living experience year-round, with innovative designs and high-quality materials that will keep your space looking great for many years.
Our veranda collection features an elegant design, high durability, and side glazing elements for an added sense of style you will love.
Our veranda is designed to make the most of your outdoor space. The high-quality, powder-coated aluminum construction will keep rainwater out and a rigid roof covering fitted with safety glass adds shade while protecting against heavy rain.
We offer 56 different colors that can match your veranda, and with a custom color option not included in the range. All you have to do is provide us with a RAL code for our designers to handle the rest! Plus, no matter where you are in the UK we will be able to reach you, thanks to our nationwide services.
What Makes Our Glass Verandas Stand Out?
Our stunning glass verandas are designed to provide a relaxing outdoor living experience for you and your family. Our skilled and trusted professionals tailor each project to the specific needs of the homeowner, ensuring an elegant design that fits with the character of your home.
Our glass verandas are sure to add beauty, sophistication, and safety to your home while providing the opportunity for some of the best outdoor living experiences. To get started, book a free site survey through the online form below or contact us through any of the following channels indicated on our contact page.
Elegant verandas with great outdoors experience
What have you always wanted to do in your back garden? Have a party with friends and family? Take naps on the hammock or just enjoy reading a book while listening to the birds sing for hours?
Well, now you can. With our elegant aluminium framed verandas, we provide homeowners with an outdoor space that is both comfortable and stylish. The wide variety of colours that are available will make it easy to find one that matches your home's exterior color scheme.
Bring friends and family into your back garden to enjoy a meal or talk about the day. Experience our elegant design and beautiful craftsmanship that can turn any space into an outdoor living room
Extra solid frames and roofing systems
Our verandas are manufactured from high-grade materials to ensure longevity and durability – they're designed to stand the test of time as well as withstand finicky English weather conditions.
All our products come with extra solid frames and rigid roofing systems for maximum protection against strong winds, heavy rainfalls or storms. It doesn't matter if you live in London or Southampton – we can help you find a way to enjoy your home all year round!
Beautiful craftsmanship with invisible drainage system
The secret of our verandas is the invisible drainage system. It's a hidden feature that has been designed to keep your space dry and comfortable.
Our team at The Outdoor Living Group can build you a beautiful veranda with a seamless drainage system that will protect your home from water damage, mold, mildew and rot.
Integrated LED lighting
Our collection of verandas will take your outdoor living experience to the next level. Featuring high-quality integrated LED lighting for nighttime relaxations, our veranda offers elegance, durability, and comfort.
Great customer service and all-round support
The Outdoor Living Group is made up of skilled and trusted professionals with a passion for outdoor living.
We are proud to provide our customers with the best customer service around. We've got you covered from start to finish, and we want to show you just how much we care.  We make sure that all of your questions are answered and that any concerns are addressed as soon as possible. You can see for yourself that this is part of what sets us apart from other companies out there.
Skilled and trusted professionals
Our veranda installers are skilled professionals who treat every project with the utmost care. From designing your custom outdoor living space, to crafting a tasteful solution that fits seamlessly into your budget, the team at The Outdoor Living Group has you covered.
Our products feature a quality finish and superior construction with attention to detail. Our high-grade building supplies, delicate hand workmanship, and design flair make us the best choice for quality verandas that will truly stand the test of time.
Quality and long years of experience
We are outdoor living specialists with decades of experience in veranda installation and design. With the rise of outdoor living becoming more popular for today's modern families, we pride ourselves on combining space-saving features for your verandas while providing you with exactly what needs.
We are proudly a family-owned and operated company with over 15 years of experience in the manufacture of quality textile roofs, awnings, verandas, glass rooms, and louvred roofs.
Our goal is to bring you the greatest design work along with professional service and all-around support of our products throughout England and the United Kingdom. Whether it be for an Integral part of your house or just a luxury extension, our expert team will manage every aspect to ensure your experience is trouble-free. Call us today to discuss your plans for a new veranda.
Areas we cover
At The Outdoor Living group, we provide nationwide veranda solutions. We cover the entire UK and offer a variety of services nationwide: from designing to delivering your bespoke project. Our team are experts in their field and have years of experience in providing customers with high quality service.
Get in touch if you'd like to know more about how a veranda can transform your home or if you would like a free quote on your project.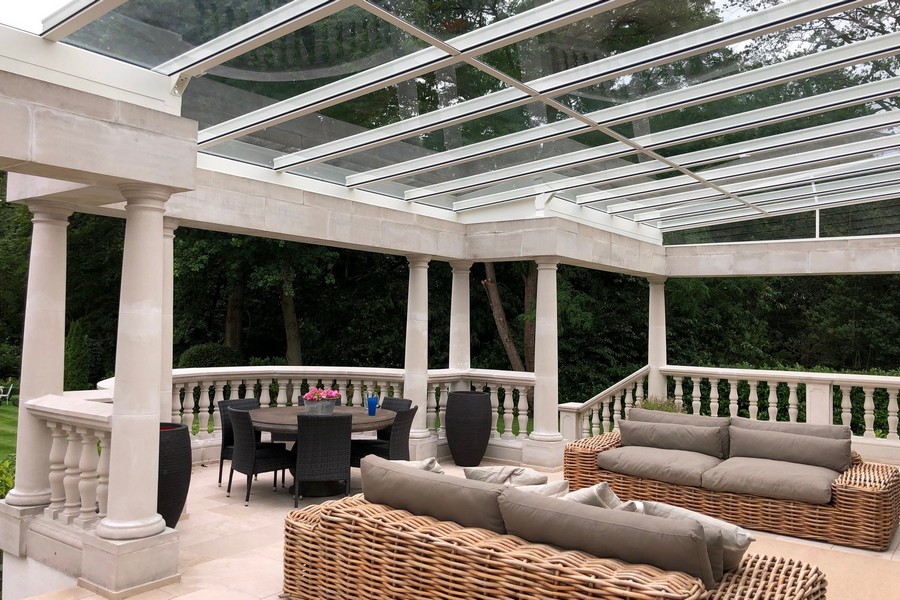 DIY or Call Experts from the Outdoor Living Group for Your Veranda Installation?
There are a lot of reasons why homeowners might want to install a veranda on their property. It could be for aesthetic purposes, or it could be because they need more room outside the house.
Whatever your reason may be, it is important that you know how big of a project this can be before deciding to do it yourself. A DIY installation can take up to 4 weeks and require many tools that most people don't have at home already. Doing it yourself can also end up costing you more, when you have to pay for damages and repairs caused by your inexperience. The Outdoor Living Group is here to help make things easy for you and your family.
Our team of expert designers will carefully work with you to clearly identify your needs and unique preferences to install the perfect veranda for your outdoor area. With years of extensive experience in every field, you can be assured of a stress-free and enjoyable experience.
Our qualified installation teams are second to none and expertly provide comprehensive installations, from start to finish. We offer a free site visit and analysis, as well as a full design and planning service or you can work with our designer at no extra cost. We pride ourselves on our long-lasting relationships with our clients and guarantee that we will not be beaten on quality or value by any other supplier.
To get started on your veranda installation, give us a call on 01737 570020 or send an email to info@theoutdoorlivinggroup.com. You can also fill the form below to book a free site survey, request a free brochure, or request a callback.
Features of Outdoor Living Group Verandas
Our aluminium framed verandas boast high functionality features and will have you enjoying your outdoor living spaces, all year round. Enjoying the cool breeze on a spring evening, or the sound of rain hitting your glass roof covering as you sip your favourite drink in the morning, enough for you to schedule an outdoor living experience every day!
High-quality materials
Elegantly crafted from the highest quality aluminium and glass materials, our verandas are designed to be aesthetically pleasing and durable for years to come. In addition to all of their outdoor living benefits, our verandas provide a strong sense of style and sophistication throughout the year. From contemporary and elegant to fun and whimsical, there's a veranda for every décor.
Protection against the element and unfriendly weather
The Outdoor Living Group's veranda is a place where you can relax and enjoy the outdoors. It provides protection against the elements, such as rain and wind, and also helps to provide privacy for your outdoor space. We have many different styles of verandas that will fit any style. Made to withstand harsh weather conditions and the longest of summers, our elegantly crafted veranda will transform your home into an open and inviting living space. Come take a look at our options today!
Easy Conversion Into a Full Glass Room
Our glass veranda is the perfect space to relax in. It's modern, but still comfortable and stylish with plenty of light from all angles. This spacious structure can be easily converted into a fully enclosed room when you need it without any hassle – making this an extra-special addition for those who want more protection against weather or wildlife!
Our Glass Verandas are Available Nationwide
New or remodel, it's never been so easy to enjoy your time outdoors with our beautifully created veranda. The Outdoor Living Group's veranda installation services are offered throughout South East England, including the following areas: Surrey, Kent, East Sussex, West Sussex, Hampshire, Berkshire, Buckinghamshire, Oxfordshire, Northamptonshire, Hertfordshire, Cambridgeshire, Essex, Greater London, and the surrounding areas. In fact, no matter where you are in the UK, you can enjoy our nationwide veranda service because we can always get a team to you.
FAQ's
What colour choices are available for my veranda?
We have 56 different colours and finishes for you to choose from, including our classic colour range. We also offer bespoke RAL colour matching and have an extensive library of examples for you to select from. We think you'll find this is the most comprehensive choice currently available by any manufacturer.
What is the cost or price of installing a veranda?
Since each veranda is unique and projects the beautiful taste of each client, it is difficult to estimate the price without first conducting some on-site survey. Therefore, in our bid to help determine a quote that is tailored to you, our skilled and certified surveyor will come to your property for assessments while noting your specifications. Not to worry, our site survey is completely free and non-obligatory and will give us the necessary information required to create a design suited to your home.
How long will the veranda last?
A true combination of form, function, and value, our veranda offers a fresh new look along with the durability you expect for a lifetime. With a 10-year framework guarantee, it's backed up by uncompromising workmanship and materials of the highest grade. The strong framework will keep your family comfortable for years to come.