We Offer Bespoke Veranda Designs
If you want a glass veranda that is different from the others in the neighborhood, you are on the right page. At The Outdoor Living Group, our bespoke glass verandas are designed with our customers in mind. Our company boasts a team of experts who deliver tailor-made veranda designs with the quality required by our clients.
We ensure that the designs we make are aesthetically appealing but at the same time comfortable to use. By choosing us, you can rest assured of the best in service in South East England, including Surrey, Kent, East Sussex, West Sussex, Hampshire, Berkshire, Greater London and neighbouring counties, any day.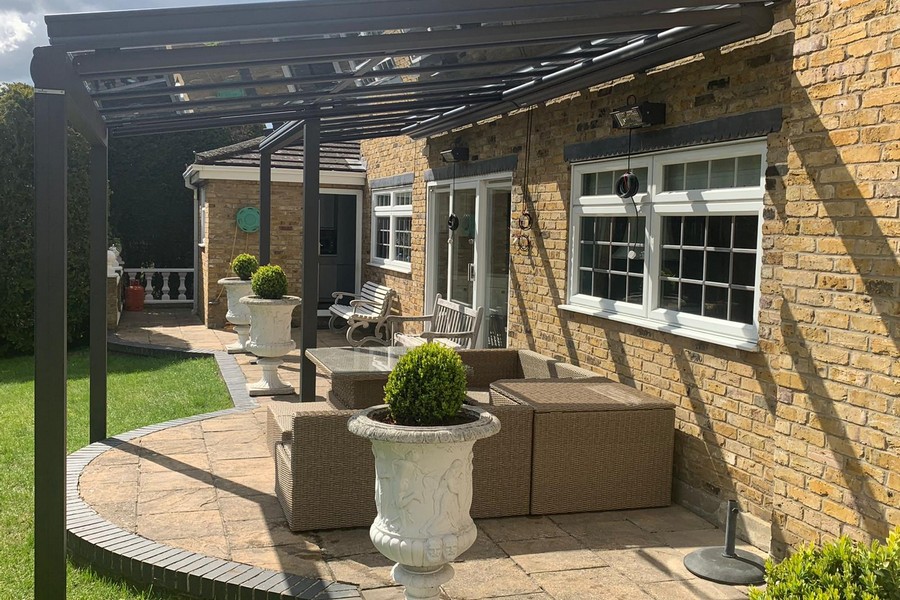 We take care of every detail of the process, from initial design consultation to project completion. With a vast range of colours, styles and designs to choose from, we are able to produce an attractive, modern look veranda with your needs as the first priority.
Our team can create an outdoor living space that will exude elegance and sophistication that can be enjoyed for many years to come. Whether you're looking for a traditional design, something more modern or contemporary, we can help. Contact us today.
Our Veranda Designs
Our veranda design collection is the perfect addition to your home. All designs come in a variety of sizes and colours to meet your needs. Whether you are looking for a place to keep your barbecue tools or to enjoy a cup of coffee outside, any of our designs will turn your outdoor space into a place to relax and unwind.
Rustic Veranda Designs
A charming blend of powder-coated aluminium and glass, our verandas can be designed to create rustic country style.
Our veranda styles give you the perfect finish to your outside living space. Whether you enjoy a lazy brunch or cosy evening with family and friends, our veranda has been designed for warmth, relaxation and entertaining.
Hi-Tech Veranda Designs
We are changing the way people perceive old style verandas by transforming them with the latest LED lighting technology.
Our products blend seamlessly into the aesthetics of a home; from showcasing your favourite plants, to creating an integrated safety system for children and pets. Our veranda styles combine energy efficiency and modern technology to enable you to tailor the layout for different uses in your home.
Modern Veranda Designs
Modern verandas can change the entire look and feel of your home. At The Outdoor Living Group, we are very good at modern veranda designs.
We can build you a modern verandah with the latest technology as well as optional features like; aluminium verandah panels, sliding aluminium doors, ceiling fans, glass sliding door patio doors and French doors.
Enjoy Quality and Comfort
Distinctively different, our veranda designs collection is not about a quick fix. It's a project – a passion – an investment in your lifestyle. Our verandas offer uniqueness and comfort, all designed to be easy to maintain so you spend more time enjoying your space and less time maintaining it.
If you're looking to build an outdoor living space for your property, the Outdoor Living Group veranda designs collection offers all the features needed, including pre-designed verandas that can be tailored to suit your needs.
Why Should I Choose The Outdoor Living Group Veranda Designs?
10 Years Warranty
At The Outdoor Living Group, we will never compromise on quality, so you don't have to worry about the quality of the veranda you buy as it will last for years. We are proud of what we do and if you are not happy with our products then neither are we.
If there is something wrong with any of our verandas, we will sort it out without delay – FREE OF CHARGE! All our verandas come with a 10 years on their operational lifetime warranty, giving you peace of mind that you are dealing with a company that has your best interest at heart.
Professional Team
We are not your everyday company. Our professional, experienced team will work with you to find the right options for your dream home. We offer one of the most professional, courteous and hassle-free veranda services in South East England, including Surrey, Kent, East Sussex, West Sussex, Hampshire, Berkshire, Greater London and neighbouring counties. The Outdoor Living Group has a top-notch technician team that will ensure that any issues you experience with your Veranda will be resolved quickly. We value your veranda project as if it's our very own and will work hard to see it get done, right, on schedule. You can always have peace of mind when working with the Outdoor Living Group.
Your Comfort is Our Priority
The Outdoor Living Group was founded with one simple idea in mind, how we can make our customers' outdoor living more enjoyable and comfortable. Our team will meet with you to discuss how we can help tailor a plan to make installing your veranda as smooth as possible.
Our design experts create an experience that is specific to your needs, wants, and budget, so you can focus on enjoying life in the space you created. We take the time and care necessary to ensure that the services offered meet your high expectations in a timely, professional manner.
Exceptional Customer Service
The Outdoor Living Group offers exceptional customer service and you don't need to pay extra. Everything from the sales process to technical support is included. We pride ourselves on being accessible, approachable and easy to talk to. We are available whenever you need us because we know that If something goes wrong with your veranda you're going to want it sorted out fast and without any stress.
We believe your customer experience should be exceptional. While some other brands have been known to give unsatisfactory treatment in their pursuit of profit, the Outdoor Living Group ensures that every member of the team delivers great service to you every time.
Built To Last Long
Installing a veranda is an expensive investment and should be worth it. Our verandas are well designed and made with the highest quality materials available. Our simple yet elegant verandas are tough and built to last long.  They are made of high-quality materials that will prevent warping and resist the effects of the UK weather. Our verandas are the kind of addition that will stand for years to come.
What Are the Key Features of Veranda Designs from the Outdoor Living Group?
Elegant Design
The elegance of our veranda design shows stunning attention to detail. The way each component is selected not only compliments the next, but also contrasts so it provides depth which helps make your veranda stand out.
Even if you only have enough space for a small outdoor coffee table and chair, there is no better place to enjoy the evening breeze on a warm night breathing in the scent of jasmine or lilies (or whatever your favourite flower happens to be).
Rigid Roof Covering
The Veranda Collection coverings are made of a rigid roof covering that is resistant to harsh weather, while still remaining lightweight and easy to install. This feature eliminates the common problem of typical roof covers that can leak and warp causing damage to your veranda.
The Outdoor Living Group veranda's roof is designed to withstand strong winds without affecting the material structure, providing an extra layer of safety for your household.
High-quality and long-lasting
Make your home more attractive with the use of our latest technology building materials. We use quality materials that provide visual and aesthetic pleasure for many years. They will stay beautiful during any type of weather making no compromise on their modern appearance.
When the question arises of what are modern glass verandas, our brand name stands out as a renowned choice. The high-quality design and craftsmanship, with elegant materials, makes our verandas an appealing item to own.
Trendy frame colours
We offer our customers an option to choose from a number of colours of glass tints, frame colours and a wide range of frame sizes, spanning from the very smallest to the very largest. You have several options in terms of design – classic, modern, industrial or any custom design you might be thinking about.
Besides, our company is open to any suggestions as we wish to make our verandas unique and special for every individual customer.
Invisibly Integrated Drainage
We take pride in doing things right. That's why we've always been on the cutting edge of exterior design and construction, installing verandas with invisible integrated drainage before it was even a thing. We're not just walking the walk; we're talking the talk as well.
Rain water is quickly drained from homes and yards thanks to drainage systems that were designed by our team of experts. We're proud to boast that we have invisible integrated drainage for your verandas!
If you want to have a patio that is dry, clean, and safe for your family without having to worry about water pooling or spilling onto the ground below, then you should call us today!
LED Lighting for Nighttime Visibility
Ever worry about walking out of your home after dark? With the Outdoor Living Group, you can choose to have LED lights installed in your veranda, you can have that extra peace of mind.
The outdoor lighting is low-profile and won't disrupt your aesthetic while also providing visibility within to keep an eye on any intruders who may be at large!
We Offer a Range of Glass Veranda Roofing Systems at the Outdoor Living Group
Our aluminium framed verandas provide a solid, reliable foundation for future outdoor additions, allowing your garden to become the focal point of your property. Regardless of what you choose, you know it will last.
Terrazza Pure
Terrazza Pure adds a touch of style to any garden. This square roof is crafted from unique high-quality laminated glass and offers a modern look while still blending in with your home's style.
Through the use of strong glass, a great deal of natural light will be allowed to filter inside, making the patio an extremely pleasant place to be.
Terrazza Sempra
Even though the Terrazza Sempra is a modern design, its straight-lined design and classic roof pitch make it an elegant addition to any outdoor sanctuary.
You can enjoy your garden or patio in any weather with this all-glass roof. From the inside as well as the outside, the Terrazza Sempra is created with only the highest-quality materials.
With its 20mm thick glass wall, heat and UV protection system on either side and integrated poles, the Terrazza Sempra guarantees years of enjoyment. For transportation safety, each unit is individually tested and certified.
Terrazza Originale
Terrazza Originale improves the overall comfort of your home and its energy efficiency. This innovative roof system consists of a large, transparent section that joins an openable roof to form a single unit. Call to discuss your veranda project with us today!
How Soon Can the Outdoor Living Group Design Install Your Veranda?
If you're looking for a custom veranda, we can get started right away. We begin work by visiting your home to see the potential dimensions, the outdoor space and skylights. Then, our designers begin to sketch.
However, the time frame varies depending on the size of the job and the product chosen, but generally, it takes 4-6 weeks to design and manufacture a new veranda. The construction crew will need to prepare your site then install it once it arrives at your home. We are committed to providing our customers with the best quality products available. That's why you can rest assured that your veranda will be expertly designed, using the latest technology available.
Some other companies may be able to quote faster, but they won't provide the same level of expertise and craftsmanship. Request a quote by calling us on 01737 570020.
Ready to create an appealing outdoor living space?
The Veranda collection from the Outdoor Living Group includes all of the essentials you need to create a multi-functional outdoor space. Each piece is crafted from high-quality materials that make it durable, easy to clean and comfortable.
Our team is committed to designing and creating spaces that allow you to fully enjoy your outdoor living experience. The Outdoor Living Group project managers have the skills to complete a custom project from initial design through construction, whether it's a veranda or glass room. Start your next project with the Outdoor Living Group today!
FAQ's
What sizes are verandas available?
What size veranda will suit my needs? There are two models of our veranda roof which allow different spans between the posts.
The wider span gives you more privacy and a better view and means that your deck can be of a smaller overall size. Just be sure to check height limits on properties where you are planning to use it.
Please reach out to us to know the available options that fit your home.
What maintenance is required for the Outdoor Living Group veranda?
The maintenance schedule for your veranda will depend on the external environment it is exposed to.
The aluminium frames are powder-coated and should be wiped down each time you clean the gutters.
The glass panels can be cleaned with a mild detergent and water. Keeping the gutters clean can be achieved by using gutter protectors such as bird guards, bug screens or gutter spikes.
Yes, we do undertake the sub-floor works. While it is not essential, we would strongly recommend that our clients lay plywood to their external decks prior to installation of the Veranda cladding.
What if something goes wrong?
We stand behind every product and service we offer with an unconditional satisfaction guarantee We also have a dedicated and friendly customer service team to assist you.
If you are not 100% satisfied, simply contact us and we will do everything possible to resolve the situation.
Can I add lighting/heating at a later stage?
Yes, it is possible to add lighting or heating at a later stage.
If you wish to do so, this will involve minor alterations to your conservatory, and therefore we would recommend that you discuss this with us as part of your initial enquiry.
Can you colour code your product?
Yes. Colour selection is one of the most personal elements of choosing your windows.
With the Outdoor Living Group, you can choose from an extensive range of over 200 different frames colours to suit your style, and therefore choose the colour that will harmonise with the architecture of your home.