By using the latest architectural trends, aluminium can be coloured and integrated with your property's features to provide an elegant transition from indoors to outdoors.
Entrusting the Outdoor Living Group to design and install an aluminium-framed veranda with glass cover brings a new world of possibilities for your outdoor space. What used to be just a place where you would store patio furniture or grill can now become one more living area that's perfect during every season, rain or shine!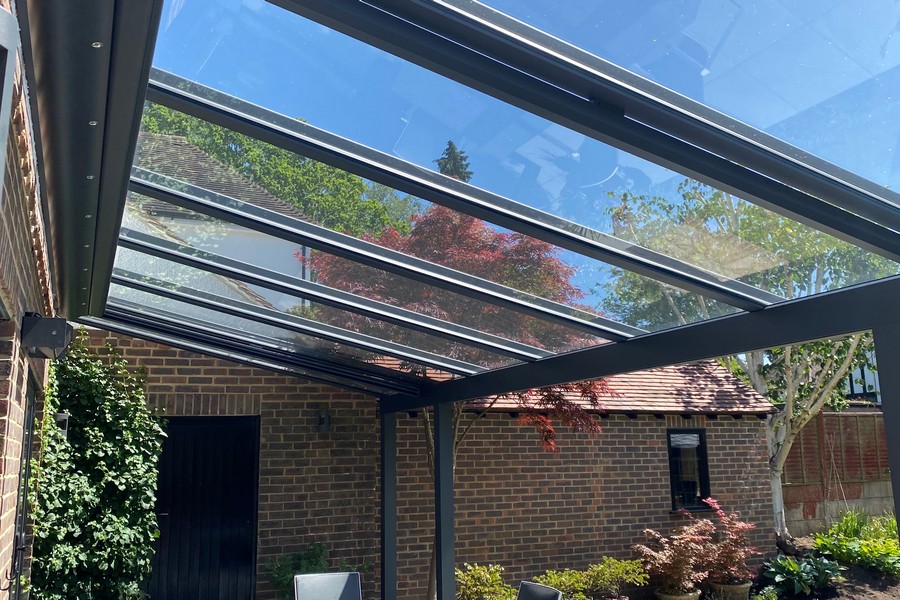 What is an Aluminium-Framed Veranda?
Aluminium-framed verandas are a standalone aluminium and glass-roofed structure attached to the home, normally over a patio or decking.
Our modern design features a powder-coated aluminium frame, tempered safety glass with fixed front panel. These verandas protect you from the weather so you can enjoy your garden area more of the year. Aluminium-framed verandas are extremely easy to clean, maintain, and are very durable.
What is an aluminium-framed veranda made of?
The Outdoor Living Group aluminium-framed veranda is made of glass and powder-coated aluminium. The glass provides a substantial look and feel, while the powder-coated aluminium profile is durable and will never fade. Together, these materials give the aluminium-framed veranda premium quality and an innovative design.
Our aluminium-framed veranda with glass cover will make you yearn for the sun in any season. Its powder-coated aluminium frame is built to withstand corrosion and rust. Its tempered glass panels can withstand wind and snow while offering a view of your space. Durable and easily movable, it stands as a secure and beautiful addition to your front or back garden.
Get in touch with us on 01737 570020 to learn more.
How long does it take to install an aluminium-framed veranda with glass cover from the Outdoor Living Group?
Installing an aluminium-framed veranda with glass cover can be as simple as a 1-day project. The larger and more complex the job, the more time it'll take.
On most installations, the panels fit so well that there's no preparation or cutting required, which saves valuable time when installing the veranda. Our skilled aluminium-framed veranda with glass cover installers have fitted hundreds of different verandas; so you are in safe hands. Call us on 01737 570020 to get started!
What are the features of an aluminium-framed veranda with glass covers?
Elegant Design
The Outdoor Living Group Aluminium-Framed Verandas stand out through their intelligent and elegant design.
The sophisticated design and finishes, along with careful thought of every component, ensure you have an elegant and stylish veranda that is maintenance-free.
The elegant and solid structure has been carefully planned. The majority of the fixings are hidden for a sleek look, and the components are corrosion-resistant.
Multiple colour options
Colour choices and a number of different matching options allow you to select the perfect fit for your home. You can pick from 100 different colours and finishes. White, anthracite, and different shades of grey are the most common veranda colours.
You can find a veranda in aluminium that matches every household decor. If this is your first project, you should ask about the different choices in order to make an informed decision.
Rigid roof covering
Our aluminium verandas have a rigid roof covering, which is fixed to the house roof some distance above it, making it less likely that wind or snow will break or move the glass.
Our aluminium verandas feature a slim profile that allows for access to any existing gutters and includes high-quality laminated safety glass (LSG) panels.
Invisibly integrated drainage
Our Aluminium-Framed Verandas come with Invisibly integrated drainage. Each and every structure is configured so rainwater is efficiently drained away by the discretely integrated gutters and drainage outlets.
With the Aluminium-Framed Verandas, rainwater can be channelled effortlessly away from the building via the in-built drainage system.
This creates an elegant and seamless look for your veranda while making sure the space will stay dry if it does ever rain. With its Invisibly integrated drainage, it will always be dry and ready to use
Sturdy materials
Our Aluminium-Framed Verandas are built to last. The materials we use are powder-coated aluminium which is rust free and tough enough to handle the harsh conditions that the UK can dish out over the coming months.
The veranda's strong aluminium construction is enhanced by powder-coated aluminium, designed to last a lifetime. The glass is tempered safety glass, ensuring safety and strength.
To learn more, reach us on 01737 570020.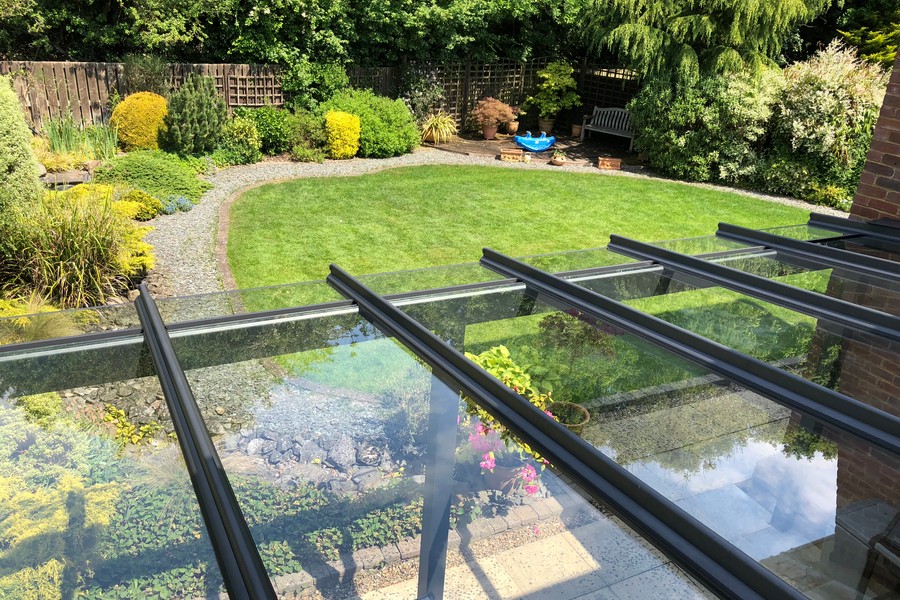 What are the benefits of an aluminium-framed veranda with glass cover?
High durability
Aluminium-Framed Verandas from the Outdoor Living Group boast superior durability and longevity. They have high quality and durability in any environment thanks to their solid aluminium construction.
Powder-coated aluminium creates a durable, corrosion-resistant surface that will not burn or discolour, and has a finish that stays fresh. When it comes to durability, aluminium-framed veranda offers more than steel – it resists rust and corrosion.
Improves the aesthetics of your property
Redefine your outdoor living spaces with Aluminium-Framed Veranda. Our railings and accessories are made from 100% rust-free, maintenance-free aluminium, designed to withstand the elements year after year. Our units are available in a range of finishes to match the look and feel of your property, giving you the freedom to transform any area into your dream space.
Adding an aluminium-framed veranda can dramatically enhance the aesthetic appeal of your property. An aluminium-framed veranda adds visual interest to your home and landscaping while enhancing the curb appeal of your home.
Extends your living space
Extend your living space into the outdoors with Aluminium-Framed Verandas. Create a comfortable seating area, or simply enjoy the view of open air.
These elegantly designed roof structures are privately tucked away from neighbouring properties for comfort, and their flat, efficient design cuts through winter wind and summer heat to stay cool in the summer and cosy in the winter.
The aluminium-framed veranda system is the perfect way to extend your living space and turn it into a fabulous outdoor spot. All you need to do is decide where you'd like to put them, and you'll be able to enjoy your new outdoor space all summer long.
Serves as a roof over your patio
The aluminium-framed veranda roof system is a great way to enjoy the sun on your patio when you're at home. The veranda is designed to be strong and built to last, meaning peace of mind for those looking to hang out outside.
No more fighting with weather to enjoy your outdoor entertaining space. The aluminium-framed veranda is the ultimate patio cover designed to fit securely over your existing patio. Turn your patio into a relaxing retreat protected from the sun, wind, rain and snow.
It serves as weather protection
An aluminium-framed veranda with glass cover is an ideal way to protect your porch, deck, ramp or other existing structure from the damaging effects of water. It reduces your exterior maintenance and protects all year long against water, rot and mildew.
You can enjoy time outside while still protecting your home from the weather. Not only does aluminium provide dramatic beauty in unlimited colour options, but it provides a protected space.
Your covered porch offers shade from the brutal heat of the sun, protection from thunderstorms and snow, and a cool retreat from the sweltering outdoors.
Our 3-Step Installation Process
Step One: Consultation
Our architects have a lot of knowledge and will pay close attention to what you desire. We would not place any obligation on you to purchase or make a deposit. We will explore all of your choices patiently with you in the privacy of your own home and get a true sense of the area and what it is capable of becoming.
Step Two: Design
Once we've clarified your requirements, we'll create a 3D visualisation and provide you with a final quote. This price is assured to remain constant during and after installation. A preliminary site inspection will be undertaken to ensure that the glass space is made precisely to the millimetre.
Step Three: Delivery
After the installation date is determined, our award-winning suppliers will supply finely designed, laser-cut components. Our specialist fitters will usually be on-site for one to two days – with our simplified approach, you can be sure that your aluminium-framed veranda with glass cover will be installed fast and safely.
Who We Are
The Outdoor Living Group is a locally owned and operated family company in the UK that specialises in the preparation, design, and development of outstanding outdoor living spaces.
We are approved suppliers for the goods we offer, so you can shop with confidence knowing you're dealing with a reliable company. Our company and credibility have been founded on our commitment to quality, service, and integrity. We started off as a blinds and awnings company before moving into luxurious outdoor living spaces.
Whether you live on a ranch, lake view property, or urban condo, our team of specialists is equipped with the knowledge and experience to create the perfect outdoor living spaces that meet your needs. Call us on 01737 570020 to learn more about how we can help you.
Request for a Free-Quote
Open your home to the outdoors and increase your living space with an Aluminium-Framed Veranda.
At The Outdoor Living Group, we value your time and understand that reviewing our competitive pricing will aid you in making an informed decision with regard to your Aluminium-Framed Veranda. Request a free no-obligation quote today to know how much it will cost you to install an aluminium-framed veranda on your property.
Years of experience
We are an aluminium-framed veranda with glass cover manufacturer with a sound reputation for about 15 years, specialising in architectural aluminium structures. We are extremely proud of the quality, durability and value of all our verandas. We have acquired knowledge and skills in every aspect of the industry during the last 15 years, from construction and fabrication to the production and installation of aluminium and glass verandas.
The Outdoor Living Group is your one-stop shop for top-quality Aluminium-Framed Verandas in We serve the whole of South East England, including Surrey, Kent, East Sussex, West Sussex, Hamshire, Berkshire, Greater London and the surrounding areas. With so many successful installations of our products, we provide you with excellent workmanship. We understand your need for quality products and cost-effective installation services to make your home improvement dreams a reality.
10-year guarantee
The Outdoor Living Group understands that choosing a new veranda is a big investment, which is why we offer a ten-year guarantee on all our aluminium-framed veranda installations from the date of installation.
Our guarantee is simple – if any parts of your aluminium-framed veranda fail due to the materials or construction within ten years, we'll repair or replace the parts free of charge. We stand behind our products and offer this guarantee to all our customers so that they can enjoy their purchase knowing it is protected for the long term.
Outstanding service
We pride ourselves on the quality of our service and the products we supply. From the initial planning stage to after installation, we are with you all the way. We listen to you, talk through every aspect of your image and recommend options tailored to suit both you and your designer.
Our network of suppliers ensures that you can always rely on us to have exactly what you need. We believe that relationships are built on trust, honesty and solid business practices. That's why we offer the best of service through every stage of the creative process.
Premium products
Our products are made for you, and exactly to your specifications. We have sourced world-class manufacturers who have been producing quality products to the highest standards. The products are tailored to your requirements.
We are renowned for our premium products and you can rest assured that all of our products are manufactured to the highest standards. Our factories adhere to the strictest quality control methods to ensure compliance with all standards.
Customised aluminium varanda
We know you want your house to look amazing and we are here to provide you with the finest aluminium-framed veranda solutions in the country. With our aluminium-framed veranda systems, we can ensure your house never falls short of the mark on visual appeal.
Our unique aluminium-framed veranda roof will give you a beautiful view of your outdoors while protecting you from the elements. Our expert aluminium-framed veranda delivery and installation specialists are available around the clock to help you design a beautifully aluminium-framed veranda that perfectly complements your property.
Looking for the best veranda installers in South East England, including Surrey, Kent, East Sussex, West Sussex, Hamshire, Berkshire, Greater London and neighbouring counties.?
Allow us to collaborate with you to generate the space you've always desired. For more details call us on 01737 570020 immediately. We assure you that you will not regret working with us.
FAQ's
How much does a glass veranda cost?
Because each of our verandas is custom-built to your specifications, we are unable to offer pricing without first meeting with you. Please get in touch so that we can survey your site and create a personalised quote for you.
What's the difference between veranda and balcony?
A veranda is a roofed space attached to a home. It is normally connected to the main building at the side or at the back. A balcony, on the other side, is an elevated deck attached to a specific space on the building's upper floors.
Does a veranda add value?
A well-constructed veranda will enhance the appearance of your home while still increasing its worth. That is why it is critical to install a veranda built of long-lasting, high-quality materials that complement the area.
Is planning permission required for a glass veranda?
Since most assets in the UK have approved building rights, a glass veranda would not need planning approval. However, we suggest that you review the laws in your region through the local planning agency. We will gladly assist you with the application if planning is necessary.