What is a Luxury Veranda?
A luxury veranda is a veranda designed to make your outdoor space look splendid and magnificent. A luxury veranda is not just a great place for entertaining guests in style, it is also a great spot for relaxing in the fresh air. Some people like a luxury veranda because it gives them doubled entertainment value; they can either chill out with some friends on comfortable patio furniture or use it as an extension to their home where they can engage in a wide range of outdoor activities. Investing in a luxury veranda is an attractive way to boost your home decor and extend your living space.
If you think a luxury veranda will go well with your home, you are on the right page. See our design variations at The Outdoor Living Group, contact us for your FREE consultation and get a quote based on your individual needs and budget.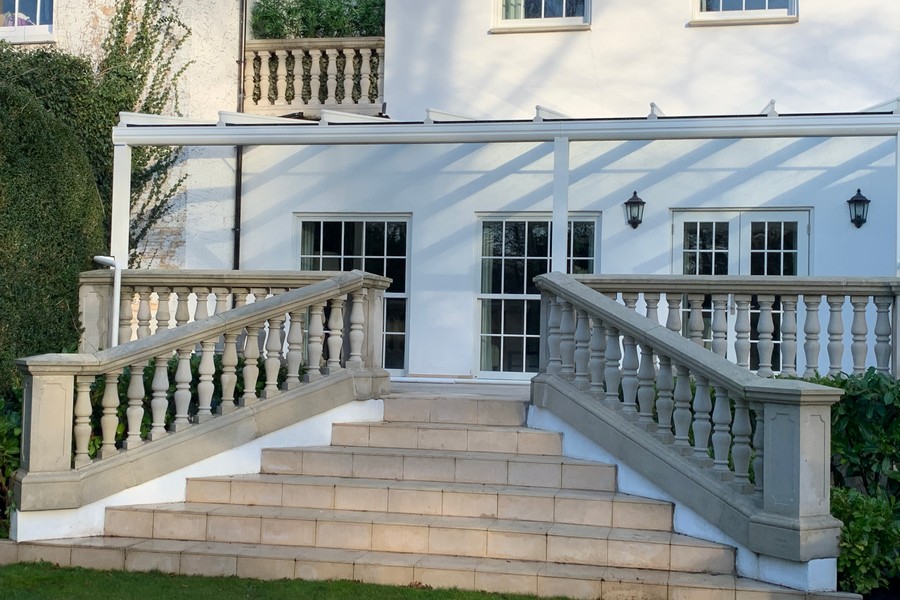 What is a Luxury Veranda Made Of?
At The Outdoor Living Group, we are proud to offer a variety of high-quality verandas, which are made with durability, style and functionality in mind. Our luxury aluminium verandas are designed to complement the aesthetics of your home and come in a variety of styles and colours.
The material of our luxury verandas is aluminium and glass. The glass used is either toughened, laminated, double glazed or both. Aluminium is a flexible and durable material that makes the manufacture of the veranda easier, plus it is powder-coated for increased durability. We can follow any shape or arch you require, providing you give us accurate drawings from your architects.
What are the benefits of a Luxury Veranda?
Are you looking into building a large usable space for your home? A luxury veranda is a great way to do that. But is an investment of this size really worth it? You may ask yourself that question. Here are top reasons why our luxury verandas are worth the spend:
Boost the aesthetics of your property
A veranda is more than just a simple extension. It's an additional architectural element that can boost the value of your property tremendously. It can also transform the aesthetics and even the overall ambience of your property.
Enjoy year-long protection from the weather
One of the best reasons to buy a luxury veranda for your property is it provides year-round protection from weather conditions. When built correctly, luxury verandas can protect you from all sorts of weather (rain, wind, etc.).
This is because they have guttering that will drain roof water away from your home and into a downspout. Not only does this keep your home dry inside but it also means you can continue to enjoy your outdoors no matter how bad to the weather gets.
Convert your outdoor into usable space
With the help of a luxury veranda, you can transform your outdoor space into a usable and entertaining area. The ability to extend your options for entertainment is an invaluable benefit.
Enjoy your garden all-year-round
Luxury balconies and verandas are a great way to make your garden more comfortable and inviting. This is because they let you take advantage of your outdoor space for more hours throughout the year.
Imagine dining, relaxing and having fun in your garden all year round.
You don't have to spend much money on expensive heating systems anymore. Just install a luxury veranda, with a roof and some glass in the sides. By doing that, you will have a beautiful space that can be enjoyed by your family even in the cold winter months.
Extend your property with a luxury veranda
The benefits of adding a luxury veranda to your home are clear. By extending your living space with an elegant outdoor area, you will make the most of the space that you have. Whether you stay in your garden throughout all seasons or only during the summer months, a luxury veranda will be appreciated by all.
Customise your patio
A veranda is a great option for customising your patio, particularly if you live in an apartment block where balconies are not permitted. Verandas are the perfect modern alternative to a traditional balcony and can be built to appear as inconspicuous or luxurious as you prefer. A luxury veranda from The Outdoor Living Group will provide an extra dimension to your home and add value to your property.
Our Luxury Veranda collection at The Outdoor Living Group is a range of exterior living accessories that offers the finest in design and construction. Our verandas will transform your outdoor living space into a place where you can enjoy the life you live. With every purchase, you will receive the unmatched standard of quality, innovation and legendary customer service we are known for.
What Makes The Outdoor Living Group Luxury Verandas Different?
Our luxury verandas are made to withstand the elements. They come standard with a strong, durable aluminium frame and incorporate all of your favourite outdoor living features.
Each set is custom designed to meet your tastes and needs and you can choose from a variety of finish options to coordinate with any home decor. But that is not all. Our luxury veranda also features: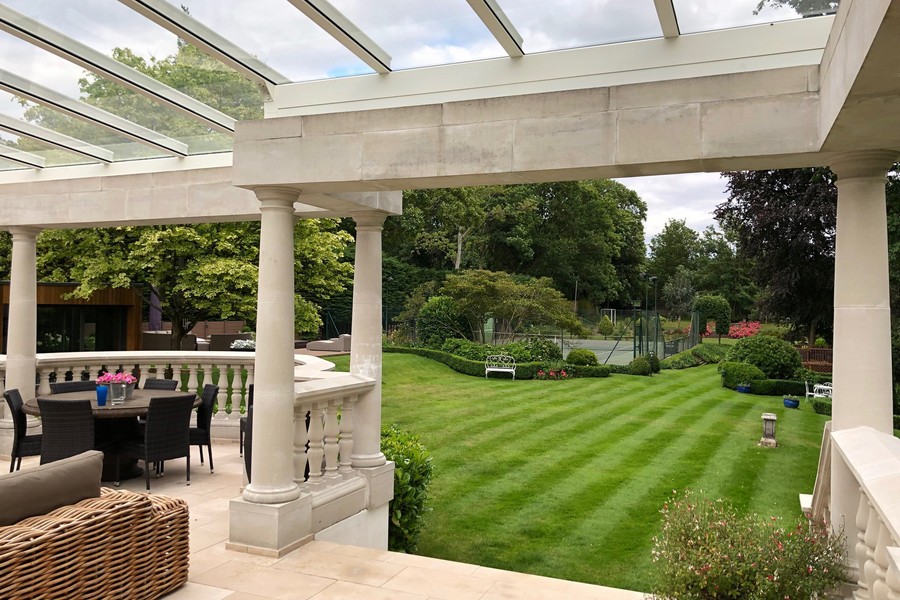 Integrated LED lighting
One of the top features of our veranda is the stunning glass elements that are integrated with built-in LED lighting. The stylish fittings enhance the overall look of your home, whilst also providing practical and convenient ambient lighting during the day and at night.
Rigid aluminium construction
Aluminium is a perfect choice for outdoor furniture. It will stand up to any weather and give you years of pleasure. Our luxury veranda is built from powder-coated aluminium in a stylish, ultra-rigid frame. Available in a range of styles, finishes and designs, it can be customised to perfectly suit your tastes.
Invisibly integrated drainage
Our luxury veranda brings an unparalleled dimension to outdoor living. Smoothly integrated drainage makes it effortless to maintain your veranda's beauty. The drainage is invisible and drains into the existing drainage system. No ugly hoses or oversized gutters are needed. This also saves up to the area required by a conventional gutter system.
Elegant design
Our luxury veranda boasts an elegant design that adds beautiful views and versatile entertainment space to any home. With a wide-open, panoramic space, it lets in sunlight while protecting your family from the elements. It is constructed with durable glass and powder-coated aluminium that is both water-resistant and easy to clean, so you'll be able to maintain its beauty for years to come.
Rigid roof covering
Our luxury veranda offers you peace and tranquillity in your own garden. Featuring a rigid roof covering and strong ceiling joists, it's easy to put together and sturdy enough to last for years before needing a replacement.
The rigid roof covering will protect the outdoor space from rain, snow and sunshine. That is to say that the living space would not be affected by the bad weather and makes people feel at ease while under the veranda. The rigid roof covering can protect against leakage and prolong the lifespan of the inside effectively.
Bespoke designs
Our luxury verandas are all individually designed and crafted to create a stylish alternative to more commonplace structures. From elaborate designs to more contemporary, minimalist styles, whatever your taste, we can create a bespoke structure that meets all your requirements.
Large selection of colours
Our luxury veranda doors are made with only the best materials to ensure that they stand the test of time. Plus, we have a wide range of designs and colours available so you can create the perfect finish for your home.
Choice of glass type
Our luxury veranda can come with heat-insulating, double-glazed glass to help keep the cold out, even more so than our standard glass. You can also choose from a variety of glass types that are designed to suit your taste. Whether you prefer sophisticated etched or textured glass, or you want privacy and security with a frosted or wire glass. We can give you what you want.
Easily convertible to a glass room
Our luxury veranda is easily convertible into a glass room, with specially designed double doors that give you access to the balcony while they are covered from rain and sunshine. The sliding doors feature invisible locks for complete security, as well as full-length panes of thermal glass that provide the ultimate in energy savings. Now you can enjoy the convenience of a room without the added expense.
The Outdoor Living Group is all about creating a place where you want to be. Whether it's the back garden, the patio or your balcony, we specialise in bringing the outdoors in and making them last. Our Verandas are a great way to bring that outside feeling into your life. Call 01737 570020 today to speak to someone about a free site survey for your luxury veranda project.
Why Should You Buy from The Outdoor Living Group?
What makes us the best place to buy a veranda from? We're glad you asked, because here is a list of reasons why you should buy your next veranda from the Outdoor Living Group.
Free Site Surveys
Here at The Outdoor Living Group, we offer a team approach to your new building project. Our designers look forward to working with you from the beginning, helping you visualise your new outdoor living environment.
We offer FREE site surveys for our professional installation. If it's a new or replacement Veranda you are looking for, one that offers outstanding design versatility and high-quality build qualities combined with years of durability — why not give us a call?
10 Years Guarantee
No matter where you live, you can enjoy the great outdoors year-round in your own back garden with a veranda from The Outdoor Living Group. At The Outdoor Living Group, we pride ourselves on quality products. That's why we offer a 10-year guarantee, with absolutely no questions asked.
We're positive that once you purchase products from our company, you will be so satisfied that you'll never want to shop anywhere else again.
Excellent Customer Service
The Outdoor Living Group provides excellent customer service by ensuring our customers are 100% satisfied.
Not only do we provide some of the best products on the market, we also deliver a great purchasing experience through professional service and technical support.
15 Years of Experience
For 15 Years, The Outdoor Living Group has been one of the leading UK suppliers and installers of outdoor living products. We sell to hundreds of customers and have a network of world-renowned manufacturers as partners.
We know our products, installation is available on every single item we sell (no exceptions), and we are committed to providing the best possible value for money.
European Based Products
The Outdoor Living Group is committed to offering only the finest outdoor accessories on the market; that's why we sell only veranda products manufactured in Europe. Stay comfortable and protected from the rain with a luxury veranda, or enjoy your back garden even in winter.
Extremely Versatile
The Veranda is the most versatile outdoor room you can own. Whether your space is big or small, our Veranda's stylish design will fit in beautifully. Your covered porch or patio will provide ample year-round living and entertaining space for enjoying your life to the fullest!
Designed by Professionals, Installed by Experts
The Outdoor Living Group is committed to helping you improve your outdoor living space. Our experienced design team will help you create the perfect outdoor space for everyone in your family, using our luxury veranda. Our installation experts will make sure that your veranda is properly designed and installed, and then show you how to enjoy it.
The Outdoor Living Group has been at the forefront of providing customers in London and parts of the South East with quality products that enhance their lifestyle since 2005. We stand for genuine customer service that goes beyond your expectations. We are committed to our customers' satisfaction.
Get in touch with us on 01737 570020 to request a free quote for your next luxury veranda project.
Request a Quote Today.
Treat your friends and family to a veranda they'll never forget. Our luxury veranda turns any space into a welcoming oasis. A place to gather, eat and enjoy the outdoors, all year long. With a wide array of outdoor living options to choose from, and a team of design experts to help you with every step of the process, we can create the room of your dreams right at home.
FAQ's
How long will it take for my glass veranda to be installed?
If you've settled on the look and feel of your glass veranda, it will take about 6 to 8 weeks to plan, build, and install. Your veranda will be custom-built in our factory using high-quality materials before being assembled on your house.
The installation will take approximately one day and will be performed by one of our engineers. We will make every effort to ensure that any disturbance is as small as possible.
Are there any limits on the size of the veranda?
Each of our glass verandas is custom-made and specially built to meet the specific requirements of our customers.
You are free to choose the size of your veranda. Additionally, during the initial free site survey, you will have the opportunity to explore the dimensions of your glass veranda with our surveyor.
Occasionally, our surveyor will suggest reducing or increasing the size of your veranda to best match the size or form of your house, but ultimately, you have a lot of say in how your veranda turns out.
How much does a luxury veranda cost?
Because each veranda is unique, it is impossible to estimate the cost without some on-site analysis. Therefore, to assist us in developing a quote that is exclusive to you, our certified surveyor will visit your property to take measurements and review your specifications. The survey is completely free and will provide our staff with the necessary details to create a design and provide you with a no-obligation quote.
Will a luxury veranda add to the value of my property?
While it is true that it would cost money to build a veranda or garden space, they will eventually increase the value of your home if you decide to sell.
It is well known that adding even a small amount of additional living space to a property will increase its value by up to 15%.
What is the difference between a veranda and a glass room?
Many people think that veranda and glass rooms are one and the same, they aren't. A glass room has its walls, ceiling, and doors made of glass. A veranda is sometimes covered, and it may also have a roof over it.
What colours can I choose from?
Choosing the right colours for your veranda is a big deal. It can make or break the style, decor, and safety of your veranda. This makes choosing the right colours for your veranda much more challenging than ever before.
Thankfully, we have a wide range of colour and style options for you to choose from. By choosing from our wide range of colour options for different elements of the veranda – including rails, brackets, middle posts and side panels – you can tailor the look to perfectly fit your garden or furniture.
Do I need planning permission?
If you are planning to build a veranda, then you may need a permit before you start the construction. The rules on what is classed as veranda differ from local council to local council. There are some councils who believe anything that extends past your property line falls under a veranda. However, there are others who only class structures as verandas if they have at least 50% of their structure past the boundary of the property.
To be on the safe side, it is best to inquire from your local council.