What is a Garden Veranda?
A glass-roofed garden veranda with powder-coated aluminium frames is a unique and stylish way to create additional outdoor living space for your home. It is a covered space that is open on at least two sides, usually roofed with a roof structure supported by columns or posts. It is open to the ground or garden, usually from the dining room and/or an adjacent sitting room.
Spend more time outside and enjoy the sunshine with garden verandas from the Outdoor Living Group.
Uniquely designed to fit your space, these roofed outdoor getaways feature durable aluminium frames, powder-coated or electrostatic painted finishes and plenty of space for a grill, fire pit or bar on one side with two benches for comfort and relaxation.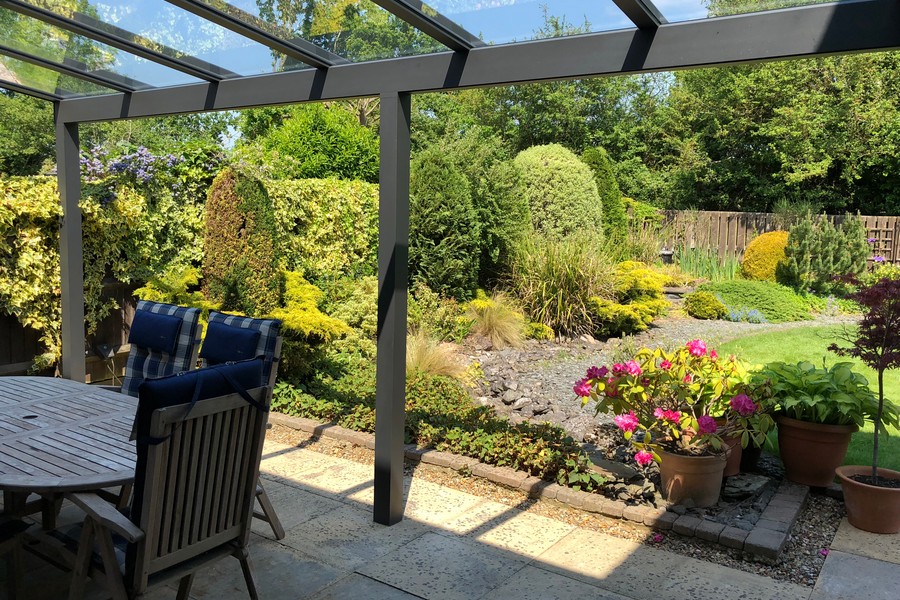 What Are the Benefits of a Garden Veranda?
There are many benefits to a garden veranda. Homeowners love them for their privacy, security and added value to their home. The best thing about them is the fact that they can be tailored to suit your personality and lifestyle, whilst providing you with a wonderful space to relax, entertain or simply do nothing! Thinking of investing in a garden veranda, here are some benefits you can look out for:
Cover Your Patio With a Garden Veranda
A Garden Veranda is a great way to cover your patio and create a relaxing environment for eating meals, entertaining friends, or just enjoying the evening outdoors.
Garden verandas create enough shade to keep your front, side or back garden usable during the hot summer months. In fact, customers who have installed our Garden veranda have reported that they use their patio more often during the summer months because it is more comfortable!
Enjoy Protection from the Weather With a Garden Veranda
If you are a proud owner of a garden, then you likely want to spend a considerable amount of time out in it.
Whether it is for relaxing or gardening, you will want to enjoy your time outside without getting caught in the rain or snow. For this reason, having an outdoor veranda installed can be beneficial for you and your family.
Improve the Aesthetics of your Property with a Garden Veranda
Often, people want to improve the aesthetics of their homes but aren't quite sure where to begin. Aesthetics can encompass a lot of different things but one quick and easy solution is by installing a garden veranda.
The construction of a garden veranda is an absolutely fantastic option for any property owner looking to enhance and improve the exterior look of their home. By installing an elegant glass-covered veranda with sturdy powder-coated aluminium frames from the Outdoor Living Group, you are simultaneously improving both the interior and exterior of your property.
The addition of a veranda will not only add value to your house but provide you with an area to enjoy the outdoors and have fun in.
Boost the Value of Your Property With a Garden Veranda
A garden veranda is a wonderful way to expand the living space of your home by creating a functional and decorative outdoor area that can be enjoyed throughout various seasons of the year.
But that's not all. Its main advantage is the considerable increase in property value. This extension could put an additional £5,000 in your pocket when you sell your home. At The Outdoor Living Group, we design beautiful garden verandas that are stylish yet functional and transform any outdoor space into a place of relaxation and fun. Our verandas can be customised to suit the needs of our customers.
We pride ourselves on our expertise and customer service in creating stunning outdoor spaces. Call us on 01737 570020 to learn more. Or Request a free, no-obligation quote here.
The Outdoor Living Group Aluminium Frame Garden Veranda Construction Service in London and the South East
Aluminium frame Garden Verandas provide the ideal way to extend your home living area. Verandas can enhance the value of your home and make it easier and more enjoyable to spend time outside. Our dedicated team at The Outdoor Living Group specialises in designing and installing bespoke Garden Veranda's in London and throughout Southeast England and will ensure you receive only the highest quality construction service possible. Our team will work with you to create a stunning space that you will enjoy for years to come. Get in touch today to transform the look and feel of your garden with an aluminium framed garden veranda. Click here to see a sample of our work.
Types of Garden Verandas We Offer
Our patio verandas are designed to provide a lasting, stylish structure that can be enhanced with future additions. Whatever you choose, you know it will be built to last.
Terrazza Pure
This simple design adds a lot of style to any garden. This modern roof blends in with your home's existing exterior design while offering a unique design.
High levels of natural light will filter through the glass panels from above creating a truly enjoyable experience on the patio.
Terrazza Sempra
Terrazza Sempra is a contemporary design with its straight-lined design and a timeless roof pitch that makes it a timeless addition to any outdoor environment. You can enjoy your garden or patio year-round with this all-glass roof. Terrazza Sempra uses only the best possible materials with outstanding quality, so it is as stunning on the inside as it is on the outside. A glass wall of 20mm thickness, heat and UV protection both on the outside and inside and integrated standing poles all ensure long-lasting enjoyment. Individual windows are rigorously tested for safety during transport.
Terrazza Originale
The Terrazza Originale increases your home's comfort level and energy efficiency. The roof system incorporates a large glass section that joins the roof itself into a single unit.
What makes the Outdoor Living Group's Garden Veranda Different?
Elegant design
Our glass-roofed garden veranda with aluminium frames is a great way to extend the enjoyment of your outdoor into the evenings. Constructed from top-quality, high-grade aluminium, it withstands weather while creating a beautiful, tranquil and warm outdoor space for hours of entertainment.
But that is not all. Our glass-covered garden verandas are den shelters, designed and made in Europe. Loved by gardeners, our shelters are designed to be excellent value for money and built to last. Our constructions use an elegant yet rigid design, with many of the fixings being concealed for a clean appearance which means it is adaptable to many different settings.
Rigid roof covering
Our garden veranda is designed to protect your investment. We offer the highest quality products using materials that are built to last. The roof covering is made from high-quality laminated safety glass (LSG) which gives you a rigid, durable and long-lasting roof.
Invisibly integrated rain gutter
Our garden veranda, an attractive addition to your deck or patio, allows you to enjoy year-round comfort with gorgeous panoramic views. Designed to withstand the elements, this veranda has a powder-coated aluminium frame for long-lasting protection and privacy.
The integration of a gutter and drainage outlet into the post is an important feature because it directs the water to run out to the sides and is very unobtrusive.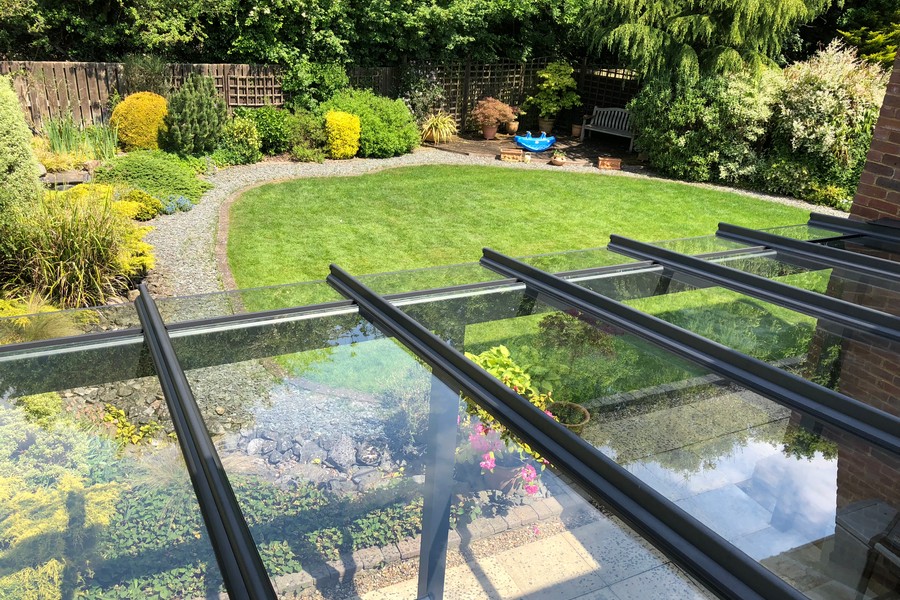 Rigid aluminium construction
Featuring a rigid aluminium frame and polycarbonate panels, our Garden Veranda is built to last. Whether it's exposed to salt air, wind, snow or debris, the Garden Veranda will resist corrosion and maintain its lustrous good looks.
Integrated LED lighting
Our sturdy Garden Veranda features a protected, integrated LED lighting system. It enhances the appearance of your garden and creates an inviting, relaxing atmosphere year-round.
Multiple colour options
From the railings to the frames, our garden veranda looks stylish in every colour. You can choose whatever RAL code matches your own style from our huge range. This includes a range of colours from neutral hues such as white and stone, to shades of grey and anthracite.
Clear or tinted glasses
Whether you want to block the sun's harsh rays through tinted glazing or keep your space open with clear glass, our diverse selection of garden veranda glasses will help you find a look you love.
Choose from various framing options, window styles, glazing options and colours, and details to find the perfect fit for your style.
As one of the UK's leading garden veranda installers, The Outdoor Living Group offers a complete service for all customers. We only use the best materials, and our highly skilled installer teams deliver a premium product that is durable, strong, attractive, high quality yet affordable.
Should You Hire Expert Garden Veranda Installers or Do-It-Yourself?
So, you have finally decided to transform your front or back garden into the beautiful oasis you have always wanted. You are thrilled to start the process because you know it will involve a lot of heavy lifting and time.
However, at some point along the way, a niggling voice tells you that installing Garden Veranda is not something you want to do yourself. Yet hiring expert Garden Veranda installers means shelling out thousands of pounds from your pocket.
The fact is that it is entirely possible to DIY your new garden veranda. There is nothing wrong with that. But when it comes to laying concrete and installing decking, you are going to want to use someone who knows what they're doing (specialists in garden structures).
Having the right Garden Veranda Installers is the key to having the perfect veranda. This is because these people have always been trained and skilled in doing all types of work on a Garden Veranda. Achieving a well-made one is no doubt everyone's dream.
With the Outdoor Living Group, you can just sit back, relax and let us take care of all your outdoor living and veranda needs. Our knowledgeable team of outdoor living specialists offers the very best in design, building, installation, customisation, and project management. All backed up by a guaranty on labour and material. Call 01737 570020 to plan your next veranda project.
Why Buy Garden Veranda from the Outdoor Living Group
You've heard about the benefits of installing a Garden Veranda on your property, now read why you should buy Garden Veranda from The Outdoor Living Group.
24/7 Customer Support
The Outdoor Living Group offers 24/7 customer support with a trained team available over the phone, live chat and email.
We have an extremely knowledgeable staff and have been selling and installing garden verandas for more than fifteen years. Our company was established to provide quality resources for customers regarding interior and exterior home improvement projects.
High-quality Powder Coated Aluminium
At The Outdoor Living Group, we take pride in providing high-quality products which is why we only use powder-coated aluminium for our veranda parts.
Powder-coated Aluminium is one of the best-established forms of corrosion protection for aluminium products. It has been around for a very long time and has since acquired a reputation for being corrosion-proof and highly durable.
Renowned Weinor Brand
It's all well and good to be on the lookout for an excellent product, but it's probably just as important to stick with a brand you can rely on, right? This is exactly what we at The Outdoor Living Group strives to offer our customers, and that is why we build garden verandas from the renowned Weinor brand.
The Weinor brand has been synonymous with quality for over years. This reputation comes from the production of only the best quality products, all designed to withstand the harshest environments and provide years of maintenance-free enjoyment.
Guaranty on Product and Installation
When looking for a new garden veranda, you'll want peace of mind that it will look great and last the duration. At The Outdoor Living Group, we stand by the quality of our products with a 10-year guarantee so you can be sure your new garden veranda will stand the test of time.
15 Years of Experience
The Outdoor Living Group is a family run company with over 15 years of experience in the home improvement industry. We have one simple goal, which is to provide you with the highest level of products and customer service.
From keeping our website up to date with new product information to a member of our customer services team being available on the phone at all times by simply dropping us an email, you can count on us to deliver.
Quality Installation
Quality installation – that's the standard The Outdoor Living Group sets for itself. It's why we only hire professional installation crews. It's why we won't settle for mediocre work from these crews.
Our commitment to you is that the product you buy from us will be installed, and it will be installed the way it is supposed to be installed with the after-service support you deserve. And, if you need any further convincing, read our customer testimonials or see for yourself what our customers have to say about the quality of our products.
Request a Quote Today!
Garden verandas are an interesting outdoor living space with a medley of options to choose from. It is an area that can include various outdoor furnishings and statuary as well as some plants. It also has some standing to be a part of the interior design of your home. At The Outdoor Living Group, we make it easy to buy and install a veranda. As experts in the field, we offer a range of styles that are designed by our team to last.
Talk to us now about how you can enjoy outdoor living with an original design from The Outdoor Living Group. Request a free, no-obligation quote today.
FAQ's
How long will a Garden Veranda last?
A Garden Veranda has the potential to last decades providing it is well looked after. The biggest factor in how long a Garden Veranda will last is whether it is made from Powder Coated Aluminium or not.
Will a Garden Veranda add value to my house?
Homeowners are concerned that a garden veranda will not add value to their home. After all, how can a new house addition have any impact on the resale value? Yet, it only takes a couple of successes to demonstrate that there are tremendous benefits to this kind of improvement.
In the long term, a new veranda is an effective way to increase the curb appeal of your property. It can also raise its market value because verandas make houses comfortable and valuable.
How much does a Garden Veranda cost?
Due to the bespoke nature of our verandas, all quotes are based on having an appointment with one of our experts. We'd be happy to help get you started with a FREE no-obligation quotation. Our aim is to offer completely tailored solutions to your garden veranda needs. How long does it take to install a Garden Veranda?
It depends on the size of the area, how complex the structure is, and how the home is built, so, it's hard to give a specific time period. It could be as short as 2 days or as long as a few weeks.
The area will need to be prepped for the Veranda so that it's structurally sound. There are also options such as framing in steps to assist with access for homeowners with mobility issues.
Do you need planning permission for a Garden Veranda?
Since the majority of properties in the UK have permitted development rights, a veranda does not require planning consent.
We will, however, recommend contacting your local planning department to ascertain the applicable rules in your area. If planning is necessary, we will gladly assist you with the application process.