From large extensive glass verandas ideal for creating an outside living area to more discreet home extensions that blend into a smaller space; we have a glass veranda with sides for every taste.
Bring the outside in and enjoy more of the space you already have with a charming glass veranda with sides from the Outdoor Living Group. Made of toughened glass, each roof comes with an aluminium framework that gives it strength while allowing it to blend with your home's existing architecture.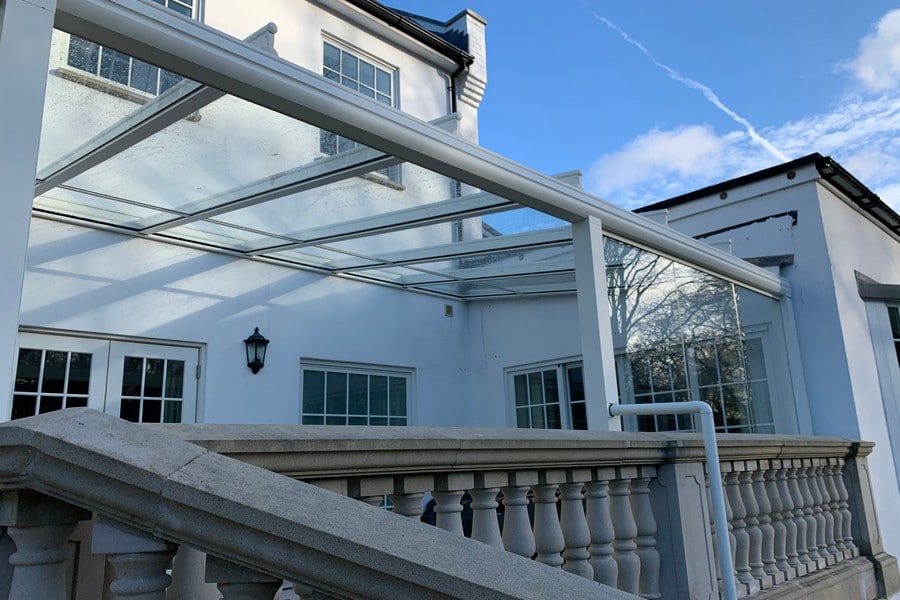 What is a Glass Veranda With Sides?
A glass veranda with sides is a room, which can be built into the side, front or back garden of a home. It provides natural light, improves the value of your home and helps create a spectacular indoor/outdoor living experience.
A veranda with sides on one side of your home can be as expansive as you want it to be. Plus, with its customisation options, you can add as many features and functions as you need – a patio heater, LED lighting and you could even incorporate smart speakers for entertaining.
Because our verandas use transparent materials, the glass veranda with sides lets in more sunlight than a normal roof or wall. The glass veranda unites the indoors and outdoors like never before.
The Outdoor Living Group offers glass verandas with sides, privacy panels and enclosures in various styles. Our clear vision for the future of this modern-day architectural product is to transform the way people live today. We love to talk about glass living.
What Are the Benefits of a Glass Veranda With Sides?
The benefits of a full glass veranda with sides are endless. With a view of an entire side of your home, both the interior and exterior are brought to life. Verandas with sides give you all the benefits that come with a veranda but also protect you from the wind, weather and other elements. They offer an unobstructed view, which is excellent for entertaining. This is a great addition to your home.
An additional room
A glass veranda is an elegant, yet simple structure that will create a unique social space in your home. It can serve several purposes–an outdoor dining space, a quiet reading place, or a spot to drink coffee. A glass veranda with sides is more than just a veranda that looks out onto the outside world.
Fun and relaxation
A glass veranda with sides will allow you to enjoy your outdoor space in all weather, from early spring to late autumn. It will let you indulge in entertaining outdoors more readily, especially when the weather is inclement.
A glass veranda with sides also provides natural light throughout the day and a feeling of greater space, allowing everything to feel brighter and warmer.
Aesthetics
The Outdoor Living Group specialises in installing glass verandas to compliment your home, providing an extra touch of style and retaining the original beauty of your property.
It offers a distinct advantage over conventional verandas- it looks like glass but is structurally designed like stonework. Unlike typical verandas, these have sidewalls made of glass that are backed by high-tech aluminium frames. The result is a beautiful outdoor space with built-in ventilation and little or no maintenance, simply wipe clean.
Space
The Outdoor Living Group offers glass verandas with sides that are perfect for giving your home or apartment a new, relaxing and luxurious outdoor space. By creating window walls and tension screens, we create a roomy relaxation spot that provides an ideal place for you to unwind with friends and family.
All of our systems are easy to install and include all the mounting hardware and instructions needed for a hassle-free set-up.
Higher Property Value
A glassed-in veranda makes a welcome addition to your home and is a delight for you and your family to enjoy. Buyers love the extra dimension this outdoor sanctuary provides and will enjoy the sense of light, space and openness. You can often increase the value of your home by more than the cost of installing a veranda.
How Does Glass Veranda With Sides from the Outdoor Living Group Standout?
A simple, elegant design
The Outdoor Living Group has built its reputation on providing elegant and innovative glass verandas for people who have fallen in love with the timeless appeal and simple elegance of a glassed-in veranda. Our designs blend perfectly with our clients' homes – however big or small your space.
Sturdy sides and roofing glass material
The Outdoor Living Group is recognised for constructing verandas with unique solid sides and roofing made from high-quality laminated safety glass (LSG). You can enjoy many seasons of enjoyment that the majority of traditional verandas are not designed to withstand.
Solid aluminium construction
A veranda with sides from the Outdoor Living Group features a solid aluminium frame that is powder-coated for longevity and designed to be self-supporting. The specially designed frame holds a double-glazed, toughened glass panel in place.
This panel is made from UV stabilised self-cleaning safety glass, which is treated to prevent solar or infrared heat build-up and can be cleaned from inside your home.
The glass is clear or tinted.
The Outdoor Living Group's bespoke verandas feature clear or tinted glass, giving you the freedom to create a stunning home extension that allows in natural light.
Different glass sides and roofing configurations
The Outdoor Living Group provides unique custom side and windowed veranda designs for you to choose from. These configurations allow you to capture the beauty of the outdoors while ensuring privacy.
We can offer you the stylish ambience of a traditional Grecian-style glass veranda with the practical weather-proof enclosure of a modern conservatory. We also have glass roofs to provide an enclosed space but with a side of the translucent sky. This means that your antiques, plants or pieces of art will always be protected from the elements without being subject to damage caused by water runoff.
Invisible drainage
Our glass verandas with sides are set up to ensure complete protection against all types of weather.
It allows you to keep your landscape intact, without any disruption of water–a feature that sets our company apart. We understand how much you love your home, and we want to protect its beauty when working on your project.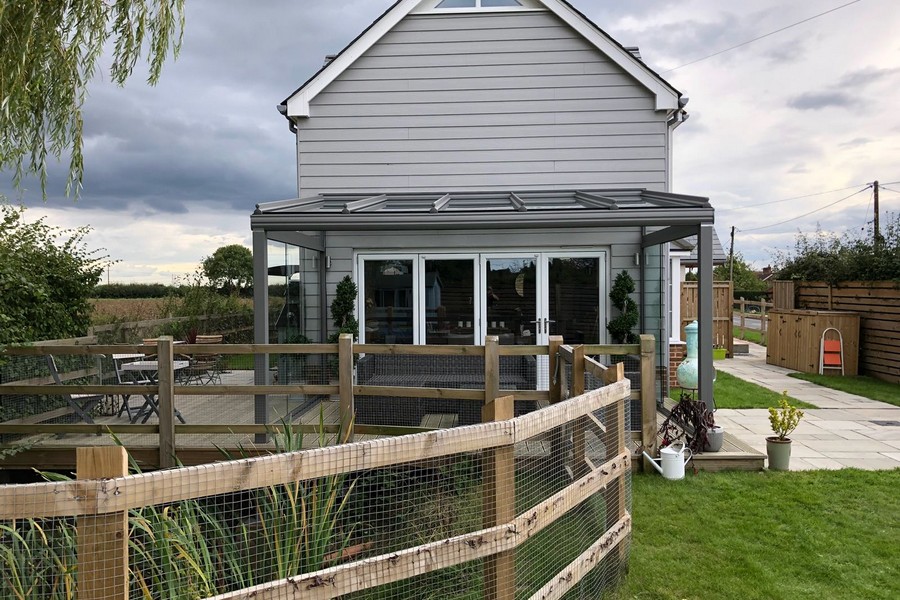 Built-in LED lighting
LED lighting is incorporated around all areas of the veranda. This means that no external electrical cables are required, making it the safest form of glazed verandas on the market – no electricity, possible electrocution or wiring faults. This low voltage lighting can be adjusted according to the desired level of brightness.
We can shape your veranda glass roof and sides so that they complement your home's unique architectural design
Veranda glass from the Outdoor Living Group is architecturally designed and manufactured to match the contour of your house. In addition, we can create custom designs for each side and roof, which adds another dimension and beauty to your lodge.
A Range of Customised Glass Veranda Types are Available at The Outdoor Living Group
All of our veranda types are constructed to withstand the elements and provide you with a stylish, functional addition to your home and garden for years to come. They are made using high-quality, double-strength, toughened glass with a superior-quality bronze fixing system, and built to the highest specifications to ensure stability and durability. Choose from our range and trust that you will be choosing a product that was built to last.
Terrazza Pure
The Terrazza Pure is a contemporary, frameless glass and aluminium veranda. The sturdy, extruded aluminium structure is clad with 3mm toughened safety glass on all sides to create an elegant sui generis structure.
Terrazza Sempra
Our Terrazza Sempra combines elegance with unprecedented practicality. This glass veranda with sides brings the landscape inside. Featuring energy-efficient weatherization, a self-cleaning heating and cooling system, and UV window film to protect surfaces—plants included! The hydraulically operated roof can be opened or closed to create an indoor/outdoor living space for you and your family.
Terrazza Originale
The Terrazza Originale is an energy-efficient glass veranda with sides where you can enjoy the beauty of the outdoors with the comfort of indoors.
Elegance and design blend in the Terrazza Originale. Glass panels are placed on the floor and walls of your veranda to create an indoor-outdoor sanctuary where you can entertain guests, dine alfresco or enjoy time with your family.
Why Should I Choose the Outdoor Living Group For My Glass Veranda With Sides in South East England?
At the Outdoor Living Group, each glass veranda with sides project is approached in a bespoke manner to ensure each customer gets exactly what they want, as every project, household and family are different.
We provide a complete design and installation service.
When it's time to transform your outdoors into somewhere special, there is only one number to call. No matter your personal preferences, at the Outdoor Living Group, we've got the perfect solution for you.
Quality products and services at an excellent price.
We will be with you there from the beginning to the end. From viewing to completion; we will guide you through the whole process and answer all your questions. We pride ourselves on providing a professional service throughout all stages of your project at the best prices.
A reputation for excellence and credibility in the industry.
The Outdoor Living Group has been designing and installing high-quality veranda and glass room units in South East England for over 15 years.
By using the highest quality materials and fittings, keeping modern technology up to date, coupled with high attention to detail with our craftsmanship, we have built a reputation for excellence and credibility in the industry. We work hard to make sure that you get exactly what you expect.
We have a selection of glass verandas and products to choose from.
We design, manufacture and install glass verandas with sides to suit every taste and budget, offering a complete service from initial design, estimate through to installation and aftercare.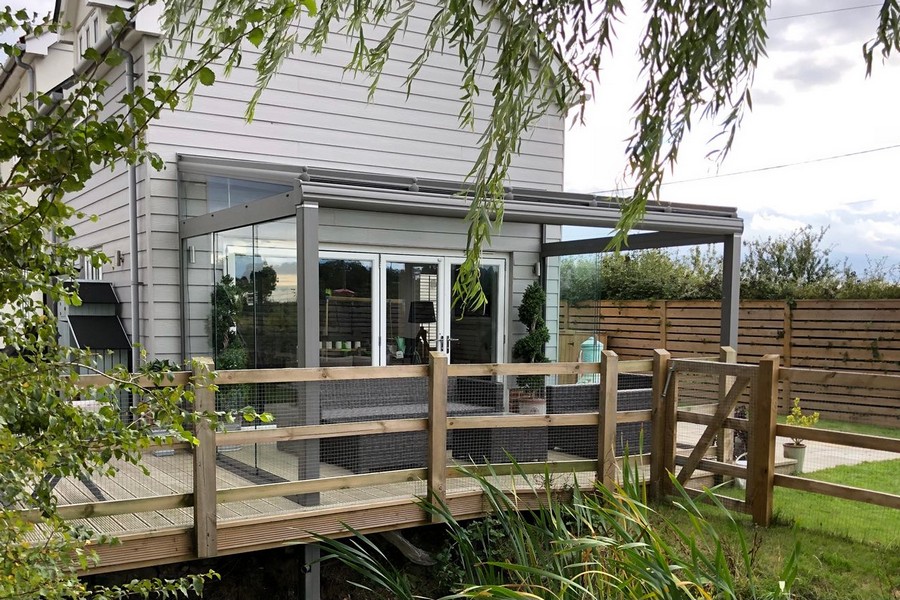 We have experienced and certified installers in-house.
Our veranda with sides projects are carried out by our experienced installers throughout South East England, including Surrey, Kent, East Sussex, West Sussex, Hamshire, Berkshire, Greater London and the surrounding areas.
We can install your custom unit for you, to be installed onto the side, front or back garden of your property, so you can enjoy panoramic views of the outdoors, all year round.
Excellent customer service and after-installation support
When you decide to have a glass veranda with sides installed by us, we never forget about you after installation. We will be happy to help out however we can and provide a high level of customer satisfaction for years to come.
You can rest easy knowing that you are in good hands.
Our veranda with sides installation services are available to both domestic and commercial customers in South East Egland and the surrounding areas. If you're looking for help with your existing installation or repairs following some damage, we can also help.
Our veranda with sides are custom built to our customers' needs and preferences, so you can rest easy knowing that you'll get the perfect spec for your home.
Request a Quote
For over 15 years now, homeowners across South East England and surrounding areas have been turning to the Outdoor Living Group for the construction and installation of their bespoke glass veranda with sides. We follow a very strict process for home visits and make no exceptions – there are no pressure sales. Instead, we take our time to get to know you and your lifestyle so that we can tailor your glass veranda product and installation perfectly.
We are one of the UK's leading sources for and installers of glass verandas. Our experience and expertise mean we can provide you with the very best in design, quality and manufacture – all at a competitive price.  All orders are individually tailored to suit your specific needs and wishes and we will discuss everything in detail with you before any work is carried out.
Call us on 01737 570020 or email info@theoutdoorlivinggroup.com. Fill the form below to book a free site survey, request a free brochure or a callback.
FAQ's
How is a glass veranda with sides useful?
The glass veranda is an extension of your fireplace, without the expense or function. It adds architectural interest and a modern look to the exterior of your home while allowing you to enjoy the view from inside any room of the house.
Will the installation of a glass veranda with sides increase the value of my home?
The installation of a glass veranda can increase the value of your home by as much as 15%. It also provides endless benefits for you and your family, including year-round access to sunlight and natural lighting — not to mention the new view from your deck.
What is the cost of a glass veranda with sides from the Outdoor Living Group?
We can help you make decisions that match your preferences with our free online design service. You receive a free quote and work directly with an experienced designer who wants to make your dream become reality.
What is the best way to maintain a glass veranda with sides?
The patio can be as functional and beautiful as the rest of your home. Glass verandas are low maintenance and require no painting or staining.
Does a glass veranda with sides require planning permission in the UK?
There is an exception in the Planning (Listed Buildings and Conservation Areas) Act 1990 for works that are necessary to preserve the building, but only where those works are not prohibited development.