The Outdoor Living Group has a wide range of glass verandas, which can be fitted to almost any existing home. We offer an innovative approach to designing and installing contemporary styled glass-covered patio verandas with powder-coated aluminium frames for your home and business space.
With the highest quality aluminium sections combined with glass panels, you can create a permanent all year round alfresco living space on your property. Your imagination is the only limitation.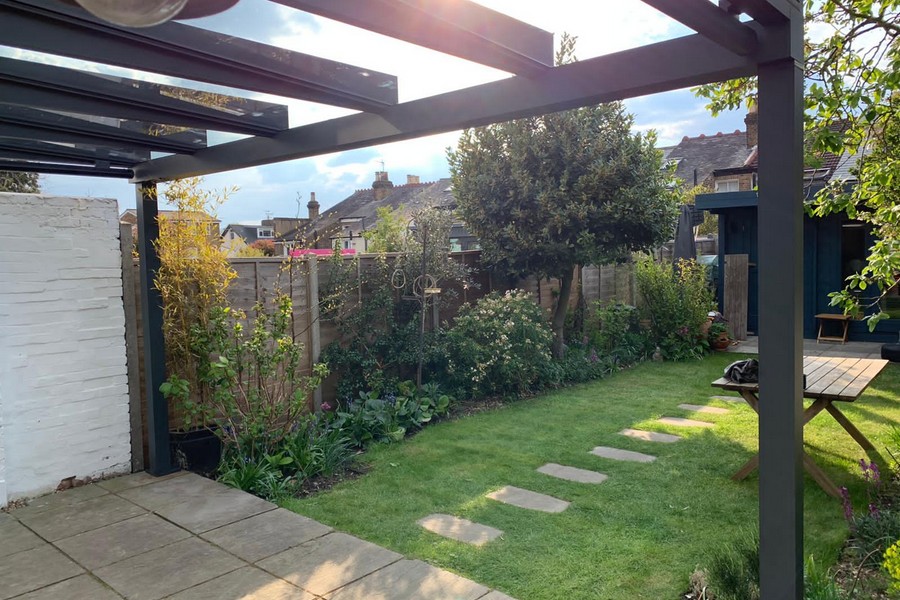 How Does a Patio Veranda Work?
A patio veranda is a roofed addition to a home or a room that has the appearance of a covered porch. It is a peaceful outdoor living area that is protected from the sun and rain.
All of our patios offer luxurious spaces in addition to the features you want to enjoy all year long. Conveniently located off your front or back door, they give you all the benefits and features of a sunroom or pool cabana – plus a convenient location near your home.
Why Should I Install a Patio Veranda?
Playing a relaxing game of cards on the veranda is one kind of fun you can experience with your friends or the whole family. Watch your kids as they play without having to worry about what they are doing on your front lawn. The installation of a veranda will be a great addition that you should never miss out on because of the variety of benefits it offers:
An extra room
Your patio veranda is an instant additional outside room for your home. It attaches directly to the front or back of your house, creating a sheltered, spacious area to relax in and enjoy. It's perfect for hosting BBQ's or as a place to sit with the family at the end of a long day.
Entertainment
Only an outdoor roofed space can bring you all the joys of an indoor room. Your patio veranda is more than just an extension of the home, it's a place where friends and family spend time together; chatting, cooking together, eating together, sharing life's special moments…
Aesthetics
Homes with patio verandas are more attractive and appealing than those without. A nice veranda provides a charming addition to your home. Our verandas come in different colours to match your property.
Space
A room with high-quality finishes is nice, yet it cannot match the comfort and elegance of a patio. A veranda is an easy way to add extra surface space or an extra living place inside your home.
Our selection of verandas combines the best materials in the world with unique designs that serve a simple purpose: make you relax.
Value
A patio veranda is the ideal accessory if you are planning to remodel your home. It is one of the best ways to increase your home's value and add a new dimension to your place.
Make it functionally as well as aesthetically pleasing by designing it according to your preference, and you'll be surprised at what an impact it'll have on your living space. This is among the most popular upgrades that owners are making today.
What Makes Patio Verandas from the Outdoor Living Group Unique?
Elegant design
Elegant design is only part of why our patio verandas are so popular. From the clever design, which incorporates a staggered, cantilevered roofing system and polycarbonate panels to create shadow-free zones throughout the day, to the high-quality materials used for both the framework and the finished surface, these verandas are built to last.
Rigid roof covering
The glass roofing on our patio verandas is made with high-quality laminated safety glass (LSG), which has been enhanced by a computer-controlled etching process, called sandblasting. This removes microscopic amounts of glass to create thousands of small suction cups that lock out the elements. The result is a very strong durable covering that will last the life of your patio veranda.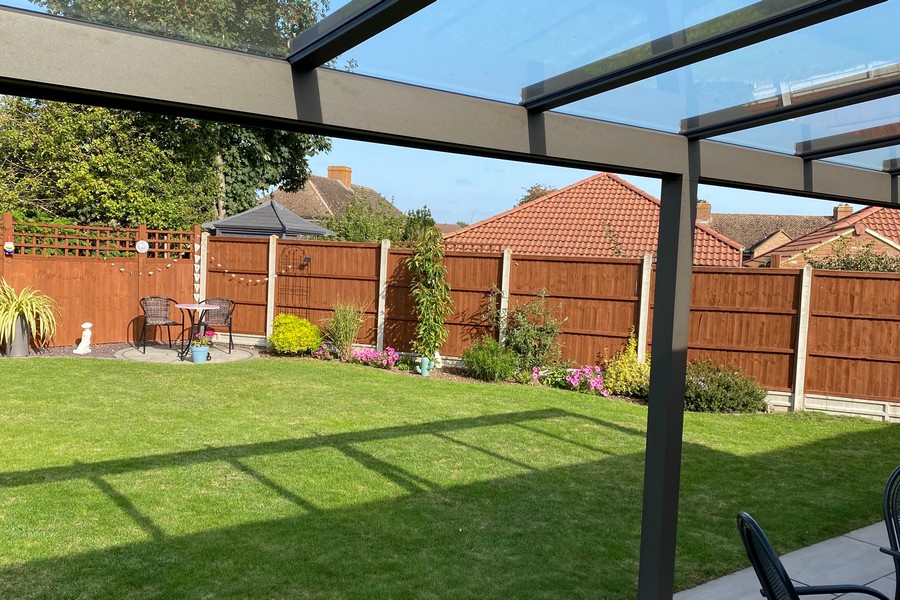 Rigid aluminium construction
Our verandas poles are made of aluminium, which is a lightweight but very strong material. Aluminium means less wind loads to your gazebo, so you can expect much lower maintenance and repair costs over time.
Clear or tinted glass
In addition to offering functionality and beauty, modern patio verandas with tinted glass make bright light mild, improve UV protection and reduce summer heat.
Varied glass roofing configurations
Patio veranda glass roofs are available in many shapes ranging from trapezoids to tapered walls, free-standing patios, and freestanding verandas for installation away from the house. You will be able to watch your outdoor room take shape while you relax.
Invisibly integrated drainage
The smartly designed patio veranda allows you to enjoy the fresh air at any time of year, rain or shine. Thanks to our innovative drainage system, the rainwater is invisibly drained away via the integrated gutters.
Integrated LED lighting
You can extend your veranda's use into the evening with our remote-controlled LED lighting options. You can mount lighting in the ceiling or fix it directly to the wall to create a warm, atmospheric light.
Bespoke roof sculpting
Our patio verandas are custom-built to fit any style of home or use. Whether you have chimneys, stepped walls or other architectural features, we can custom-shape your patio veranda roofing to get the best fit possible.
The Outdoor Living Group Offers a Range of Customised Patio Veranda Types
Our patio verandas are designed to be the focal point of your home and garden—a lasting, stylish structure that provides a solid, reliable base for future additions. Whatever you choose, you know it will be built to last.
Terrazza Pure
The Terrazza Pure is a great style addition to any garden. The square roof offers unique design and modern features whilst blending in with the style of your home.
The strong glass panels will allow for high levels of natural light to filter through from above creating a truly enjoyable patio experience.
Terrazza Sempra
Though the Terrazza Sempra is a modern design, its straight-lined design and classic roof pitch make it a timeless addition to any outdoor environment.
This all-glass roof is ideal for enjoying your garden or patio in any weather. Using only specially selected materials with outstanding quality, the Terrazza Sempra is as beautiful from the inside as it is on the outside. The 20mm thick glass wall, heat and UV protected system on either side of the glass and integrated standing poles, guarantee years of enjoyment. Each window is individually tested and certified for safety during transportation.
Terrazza Originale
The Terrazza Originale improves the overall living comfort and energy efficiency of your home. This innovative roof system consists of a large glass section that joins the actual, openable roof to form a single unit.
What Makes the Outdoor Living Group Right for My Patio Veranda in South East England?
Each patio veranda and client project reflects our attention to detail.
We offer a complete design and installation service.
Our patio verandas are custom-built to fit your needs and taste. We offer a variety of wood, coloured vinyl and aluminium profiles to choose from. To assist in your decision, we invite you to visit our showroom.
Excellent service at a great price with high-quality products.
All of our products are specially designed to ensure a safe and secure environment for you and your family. We focus on solid construction, ease of use, and peace of mind.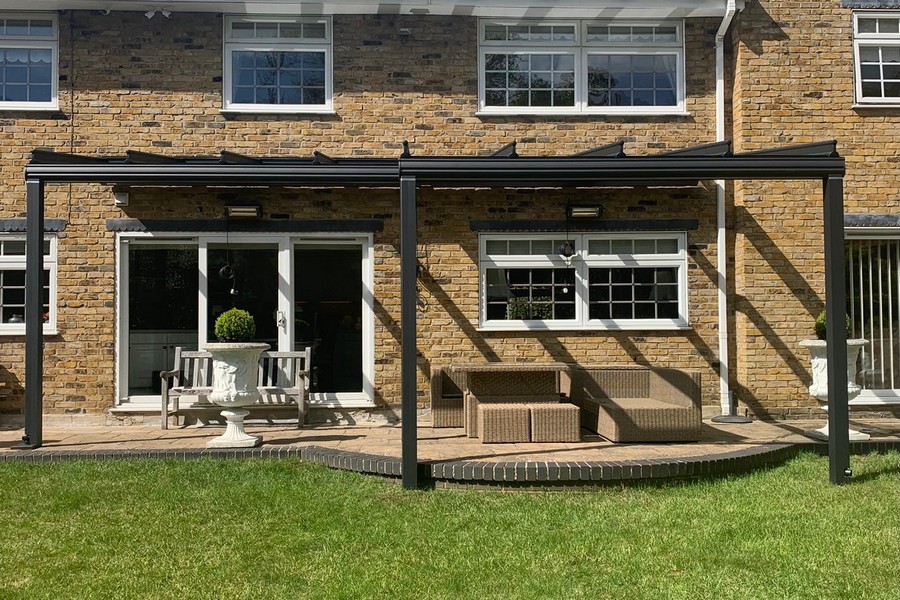 High credibility and reputation in the industry
Our mission is to lend you a hand in creating a redefined lifestyle. Our expert craftsmen are trained to give you advice on how to use your outdoor space, its components and furniture.
All of our products are made to order within 3-4 weeks, to ensure that we provide all of our customers with top quality enclosures and furniture. If you are interested in receiving a quotation for one of the products listed but would like it to be modified (adding windows, skylights etc.) please feel free to contact us and we will provide you with a quotation by return email. We offer very competitive prices for all of our work.
An extensive selection of patio veranda with product examples.
Our patio verandas are beautiful, solid and energy efficient, built to stand strong against the UK's harsh winter snow and ice. We offer some of the widest selections of patio options in South East England.
Expertly trained and certified installers in-house
Our professional installation team is dedicated to your satisfaction and will be on time, neat, well-groomed and will follow all UK industry codes and guidelines.
We serve the whole of South East England, including Surrey, Kent, East Sussex, West Sussex, Hampshire, Berkshire, Greater London and neighbouring counties. For extensive and large installations, our expert installation team can coordinate additional sub-contractors as needed.
Great customer service and after-installation support
Simply stated, our goal is to make you 100% satisfied with the screened-in patio room you choose. And we are willing to guarantee it with a 5-year warranty on all parts and labour.
Our patio room systems are custom-designed, built, and installed by our expert craftsmen. We don't rely on prefabricated parts, panels, or accessories but build everything in our shop from scratch to fit each client's particular needs. Nothing leaves our shop until it meets our standard of perfection, and no installation job is too large or too small for us to handle.
The peace of mind of our customers is guaranteed
Our experienced, licensed contractors are ready to help you build your dream outdoor oasis with our innovative patio verandas. Our verandas come with three separate roof styles- flat, low slope and cathedral- with many different options to choose from.
Our mission is to offer style and value. We guarantee high-quality products with great customer service, competitive pricing, fast delivery, and flexible purchasing options.
Request a Quote
Delight in the sound of gentle rain on your roof while you relax in your outdoor living space. Our experienced designers can give you everything you need to ensure that every aspect of your patio veranda is perfect.
Our professional team can help you design the perfect outdoor space for your home, and they stay with you through every step of the process. It sets an inviting, comfortable stage for entertaining, with beautiful features like wide-planked porcelain tile floors, decorative roofing accents and spaces designed for socialising and conversation.
Our services include patio veranda design and installation for commercial and residential spaces, pergolas, arbours, palisades, planters and more. Contact us today for a free estimate! Call us on 01737 570020 or email info@theoutdoorlivinggroup.com. Fill the form below to book a free site survey, request a free brochure or a callback.
FAQ's
In what way are patio verandas useful?
The patio veranda is much more than just a place to get away from the sun. It's a room that blends outdoors and indoors into a comfortable living space where you can enjoy the beautiful outdoors. It also provides a comfortable place for guests to gather and have drinks and food with friends.
Is there any difference between a porch and a patio veranda?
A patio veranda is a type of porch often found on high-end homes. The main difference between the two is that a patio has access to the outdoors, but still requires some kind of door or barrier to fully enclose the porch area, while a veranda is actually an extension of a home's interior, with no walls separating the inside from the outside.
Are patio verandas worth adding to my home?
A patio veranda can add significant depth to your home's functionality and aesthetic value. Consider how much more enjoyable important events will be when held on a charming, covered veranda. Many of our customers at the Outdoor Living Group have reported that their decision to add a patio veranda resulted in the realization of a major part of their dream home.
What sizes of patio verandas are available?
In the showrooms, you can find a wide range of size variations in different widths and lengths. At the store itself, you have a large display of different verandas for you to choose from. You can also order from our online catalogue.
Does the Outdoor Living Group patio veranda last for an extended period of time?
Your new patio veranda is built to last. With careful maintenance and upkeep, your veranda can last up to 15 years. However, improper care will cause premature weathering of your patio veranda.
How much is the cost of a patio veranda from the Outdoor Living Group?
The cost of a patio varies depending on a number of factors. The size of the area, shape, height and amount of maintenance involved are just some of the considerations that come into play when estimating the cost of your veranda.
The price quote you receive is both in-depth and comprehensive. It'll take into account an average to large budget, and will contain all elements required for your project to be complete.
How can a patio veranda be maintained?
A little regular maintenance (sweeping dirt, sprucing up your potted plants, and cleaning your glass windows) is required to keep your patio veranda looking its best. Remember to clean the glass windows in the spring and fall to remove any built-up grime and dirt that may have accumulated throughout the year.
When will my patio veranda be delivered and installed?
We have a standard delivery and installation period of 4-6 weeks. If you have an urgent installation requirement, please let us know at the time of reservation and we will try to accommodate you.
Does a patio veranda need planning permission in the UK?
No. There are no planning permission requirements for domestic structures up to a maximum height of 3m (10ft), with a total floor area of up to 30 sq. m. We specialise in building verandas that are low rise and are therefore not classified as extensions under The Building Regulations Act 1991.