What is a veranda?
A veranda is an outdoor living space, with its own unique feel and ambience. It can be open-sided or partly enclosed, andl allows you to enjoy the great outdoors with privacy and protection from changing weather conditions. Whether it's for lounging with a good book, having a glass of wine with friends, or just sharing tea and cake in the afternoon – it's all about creating an environment that captures the essence of being outdoors without having to actually be exposed to the elements. If you are thinking of investing in a veranda, you are on the right page. Order your new veranda from The Outdoor Living Group and receive free professional installation. With the large selection of veranda types, configurations and styles, we're sure you'll find one that's right for you. Not sure which veranda model is right for your needs? Our veranda experts are happy to talk through veranda features and options!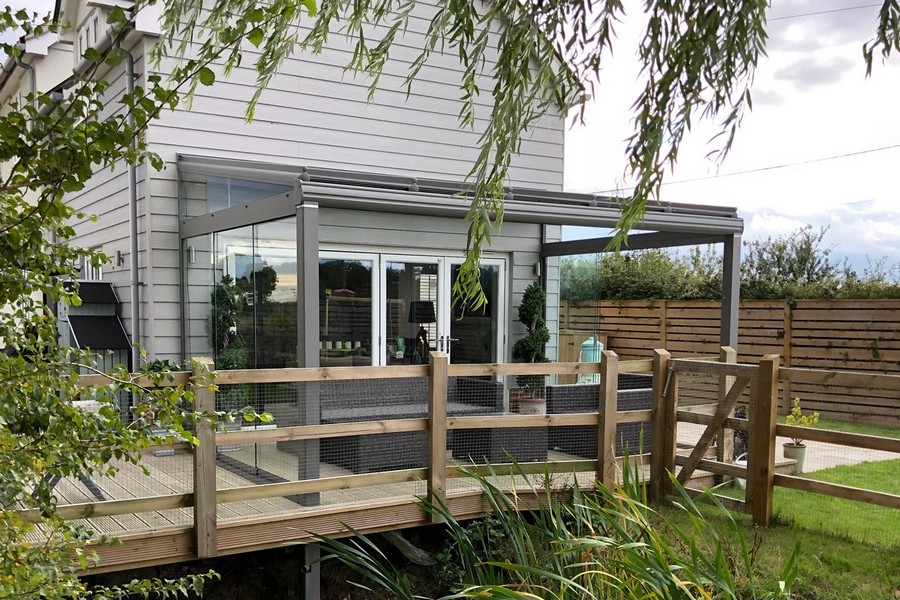 Why do you need a veranda?
Verandas are designed to blend easily into your home. They match the design of the house without standing out too much and they provide access to a large portion of the exterior areas from within your home. As an outdoor extension, it offers practical and aesthetic benefits that can increase the value and appeal of your home.
A good veranda can also offer an inviting shelter from the weather as well as enhance your home's curb appeal. Many people who look for a new house tour at least three or four homes before they find one that is right for them, and this happens because they are looking for a property with the most curb appeal.
Finally, if you do decide to add a veranda to your property and it is built correctly and has the necessary planning permission, you can count on this extension to add £10,000 to £20,000 to the value of your house. If you're searching for a veranda in the south east, don't just take anybody's word. Speak to the veranda experts at The Outdoor Living Group.
What makes our veranda different at The Outdoor Living Group?
Open a new world of outdoor living with attractive, functional and weather-resistant verandas for your home. Few other companies in London and the south east have the capability of providing so many different styles and feature options for your outdoor living space. If you are looking for verandas that boast a plethora of functional and aesthetic features, our products are designed to transform your patio or deck into an outdoor space that is both practical and beautiful. Some of the top features of our verandas include:
Elegant design
The elegant design of our Verandas brings a touch of classic sophistication to your property. Enhance the look even more with a custom matched aluminium or powder-coated aluminium frames. Composed of high-quality components and finished with premium surfaces, these verandas will ensure that your home is a unique showplace for years to come.
Rigid roof covering
All of our aluminium framed verandas are equipped with the high-quality and durable rigid glass roof covering. This means that even in the worst weather, your guests can comfortably mingle outdoors without worrying about the elements or crushed hats.
Invisible integrated drainage
No one wants water pooling around their veranda and spoiling the look of the yard. This is why our verandas feature invisible drainage systems. Our engineering team has designed the gutters to be invisible, and recessed into the decking so that water flows down and out when it rains.
Not only does this solve the problem of rainwater pooling on your porch, but it gives a clean look not often found in typical veranda designs.
Rigid aluminium construction
Our glass verandas are constructed from rigid aluminium and heavy-duty glass which ensures perfect insulation from heat, cold, rain and wind. The strong but lightweight frames make them easy to erect and dismantle time after time.
Our extremely versatile roof system not only allows for easy adaptation of the area covered but also gives you the ability to change your mind at a later date – a subtle nod to our belief that style should follow function.
Powder-coated aluminium
Our verandas are crafted from powder-coated aluminium. This offers great structural strength and durability, while at the same time having a long life and easy maintenance without any special treatment. Because of this, our verandas will last for many years to come.
Multiple glass options
Our Verandas are made from a variety of glass options to help you find the perfect fit for you. From clear glass, to tinted glass, etched glass and so on, each option has different properties that help to bring out the best in your space.
Wide range of colours
Our wide range of colours makes it easy to find a veranda to complement your home's colour scheme. Plus, when you're renovating or rebuilding, you can easily colour match our verandas to the exterior of your house.
Bespoke accessories
Our range of bespoke accessories was designed to complement your veranda and provide you with a variety of ways to make your home into a beautiful and functional space – all while adding value. Whether you need ideas for your own design or want to create a stunning project for your home, we have accessories that can help.
Integrated LED lighting
Our aluminium framed verandas are built with the luxury of integrated LED lighting. With this feature, our verandas illuminate with vibrant and natural light perfect for creating the "wow factor." The LED lighting provides a warm white light to make it feel like you are outside even when you are inside!
Products from top European manufacturers
Our glass veranda range is made from only the highest quality materials from the world's leading glass veranda manufacturers.  We carefully selected only those manufacturers, which could ensure us the best technical quality, architectural design and aesthetic refinement of their veranda products. This means that you can count on us to supply only the finest, most stylish ranges that offer a high-end designer look for your home but are also practical and easy to maintain.
The Outdoor Living Group is the only place to go for everything you need to customise your home outside. Our Veranda Collection was designed with an eye to premium quality and modern lines. The intricate detailing in many of our pieces will make your veranda a standout.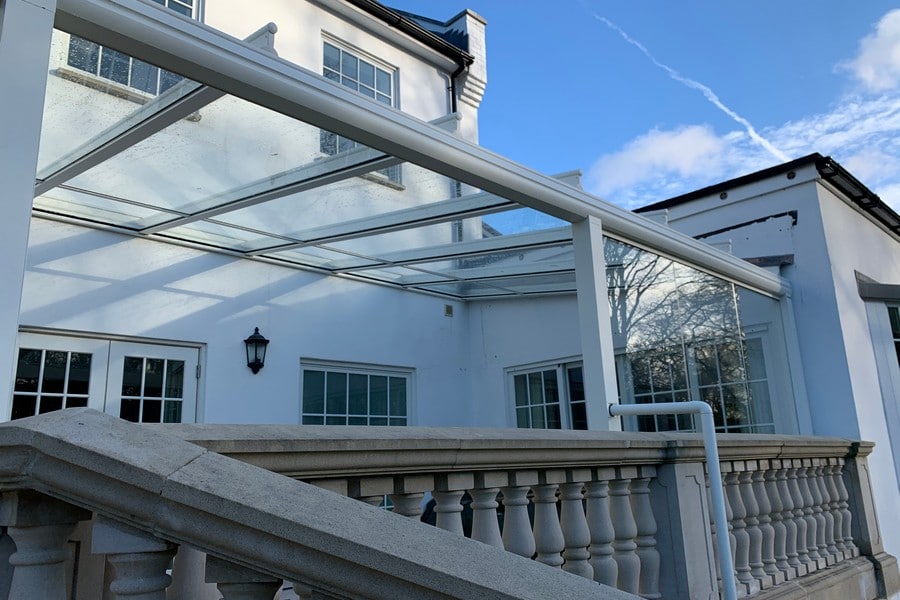 Why choose The Outdoor Living Group?
What sets us apart from our competitors? Why choose one of our veranda products? These are really good questions, and we'd love to tell you more…
Outstanding customer service
At The Outdoor Living Group, our first priority is to offer outstanding customer service. We do that by ensuring that every detail of each and every veranda project is handled with love and craftsmanship. From the management team to installation crews, we hire only the best people and train them to deliver superior quality installation services and aftercare.
10 Year Guarantee
Our aluminium framed verandas are designed to withstand the harshest UK weather. All of our verandas have been through a series of rigorous engineering and product tests, which has resulted in high quality, low maintenance, aesthetically pleasing verandas.
We guarantee your purchase will last for years, and we are willing to put our money where our mouth is, by backing it up with a 10-year guarantee.
Premium products
At The Outdoor Living Group, our job is to provide the largest selection of high quality products for outdoor living.
Because we believe that a successful veranda should be built with passion, and constructed with a unique level of craftsmanship, we work hard to make sure that only premium materials are used to install your veranda correctly, so you can enjoy it for years to come.
Trained and experienced team
The Outdoor Living Group has a trained and experienced team, all of whom have at least 15 years' experience each in the veranda design and installation industry. We can help with your design and installation project from concept to completion as well as offering after care services that are unrivaled within the industry.
Bespoke design
We know that living spaces should be styled to suit individual tastes. This is why we offer a wide range of glass veranda designs, allowing you to create your own bespoke space.
From design through to installation, we can help and advise on any project. Our team of experienced architects will guide you through every step along the way to ensure that you get exactly what you're looking for in front of your home. If you have any questions about our services or any other aspects of your plans, please do not hesitate to contact us.
Fast and efficient delivery
The Outdoor Living Group not only cares about sales and customer service but also cares about delivering the products as quickly and efficiently as possible to make your purchase experience a memorable one.
We want to be your last stop for outdoor living so we've worked hard to provide you with convenience, excellent customer service, and speedy delivery.
24/7 Customer support
Our customer support specialists at The Outdoor Living Group are highly skilled and available to offer you round the clock assistance. We are committed to providing you with the highest level of service, so you can relax knowing everything is taken care of.
With over 15 years of excellence in design and installation of outdoor living spaces, The Outdoor Living Group is one of the top resources for homeowners in the south east looking take full advantage of their outdoors.
Our highly trained staff features experts in construction, design and engineering as well as in-house landscape and installation professionals who have helped us establish the highest standard of quality in product, design, service and care.
When it comes to investing in a veranda for your home, no other company does it better. Get started today by requesting a free survey. Call 01737 570020 to discuss your project with one of our experts.
Areas we cover
The Outdoor Living Group has an established reputation for recording exceptionally high levels of customer satisfaction. Our skilled and experienced designers and installers work with clients to create bespoke verandas which will totally transform how they use their outdoor space.
Offering a variety of different materials and styles, we design verandas to complement the style of your home. Our experts are available to work anywhere in Berkshire, Buckinghamshire, Cambridgeshire, Essex, London, Hampshire, Hertfordshire, Kent, Northamptonshire, Oxfordshire, Surrey, and Sussex.
With a 10-year product guarantee on all our systems, and a nationwide team of experienced builders, we offer homeowners across the South-East a bespoke service to suit their individual tastes and needs.
View our portfolio
Our Outdoor Living Group is dedicated to providing a full range of quality porch, patio and outdoor living solutions. Our verandas' meticulous design, detailed craftsmanship and superior materials result in an exceptional outdoor living experience. Don't take our word for it. Click here to visit our veranda portfolio.
Customers reviews
We're one of the UK's premier veranda company, and we know that it doesn't matter how good the product is if you don't back it up with great service. When installing a veranda for our customers, we make sure that everything is done to their individual requirements and are available to assist them with any queries they may have in the future.
To see why The Outdoor Living Group can help you transform your home, check out these reviews from our past customers.
"We are absolutely thrilled with our new veranda, it has transformed what was a dull and unusable area at the back of the house into an integral part of our home. We now have a wonderful space to entertain and welcome family and friends."
"I am very pleased with the service I have received from The Outdoor Living Group. They delivered on every detail of the project, whether that was in terms of quality of workmanship or punctuality. The verandas they built are an absolute treat and I am so delighted that I chose them to help me realise my dream of a veranda." – Mr K. Bellamy.
"What an improvement to the house, the veranda is really great addition. It fit the house well and looks sensational. The service from everyone in the team has been fantastic, they were professional and friendly." Mr and Mrs C, Cammeray.
"This company has a great passion for producing quality outdoor verandas. There is always somebody that can speak with you about your project and they look for ways to improve the end product. Quality work and products, who could ask for anything more?"
The team from The Outdoor Living Group was fantastic throughout the whole process. They were very knowledgeable and helped us select the right veranda for our new house. I would highly recommend their services.
As you can see from the reviews above, design, style and commitment to quality are at the heart of our products. These are the foundations behind all of our verandas and accessories.  We engineer innovative designs that add luxury, beauty and functionality to your outdoor environment. Our solid surfacing options are built to last and withstand the elements year-round for a lifetime of enjoyment. Request a demo today to see what we can do for your outdoors.
Ready to order?
The Outdoor Living Company are experts in creating beautiful, relaxing spaces that can be enjoyed for years to come. Our team of Veranda and Bespoke roof designers have helped thousands of homeowners transform their outdoor living space, and we look forward to doing the same for you.
To talk to one of our experts about getting a new veranda for your home, please call 01737 570020 or send an email to info@theoutdoorlivinggroup.com. We look forward to hearing from you.