What is a modern glass veranda?
A modern glass veranda is a glassed-in addition to your home that blends in seamlessly with the existing structure. Paired with a modern outdoor patio or deck, this spacious living area can be added to both new construction and remodelling projects.
The beauty of a modern glass veranda is that it makes the transition from indoor to outdoor areas natural and effortless. Each type of modern glass veranda has its own unique design characteristics which enable them to fit seamlessly into any type of architecture.
Modern glass verandas offer functions such as protection from harsh weather conditions and durability. In addition, the simplicity of this structure gives it an inherently clean and modern feel which can be used to enhance the aesthetic values of any property.
Why does your home need a modern glass veranda?
Modern outdoor lighting on your veranda
Outdoor lighting is one of the features that people often have on their wishlist when they buy a new house. Why? Because a pleasantly lit outside leisure area can be so relaxing and great for unwinding after a long day. A modern glass veranda makes it easy to add a wonderful ambiance to your garden.
A veranda brings elegance and luxury to your home
Have you ever stood in awe of a beautiful house and asked yourself why it looks so appealing? It's probably because those homeowners installed a modern glass veranda. Every homeowner wants a home that they can be proud of. When you add a modern glass veranda, you will give your home an elegant and luxurious feel. You will begin enjoying the pride homeownership brings to your home.
An additional open air space
An additional space, with a view. That's what having a modern glass veranda gives you. A modern glass veranda can be your home's new favourite indoor/outdoor space.
A veranda adds a wonderful visual dimension to your garden and allows you to spend your outdoor time in a modern and inviting way, with a panoramic view and plenty of light entering the space. Modern glass verandas are versatile as well and can be used for dining, entertaining, reading, working or just enjoying the comfort of being sat undercover.
A modern glass veranda is an investment that will last long
An outdoor living space featuring a modern glass veranda will make your home coveted by many. This particular type of veranda is built with sturdy aluminium frames and made in such a way that each glass sheet of the veranda is secured to each other with rubber gaskets which will help ensure your safety.
There are so many benefits to having this for the home. Think about it- a modern glass veranda is made to last long. And this incredible glass veranda will no doubt increase the value of your home if you plan to sell your home in the future.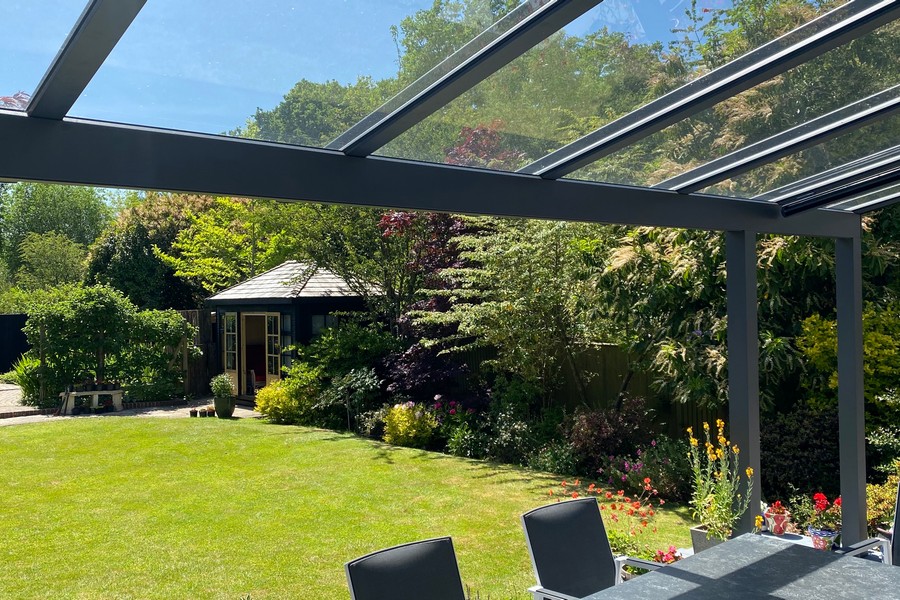 Contemporary verandas are very low maintenance
Tired of dealing with a regular veranda? Why not treat yourself to a modern glass veranda for your home? While traditional verandas are often exposed to harsh elements like rain, wind and direct sunlight, a modern glass veranda is designed to repel the elements effectively and keep your family and décor safe and sound.
Simply put, a modern glass veranda improves indoor-outdoor flow in the home while being durable and low maintenance. Do you have an amazing idea for a design or project in mind? Get in touch with us today on 01737 570020 or email info@theoutdoorlivinggroup.com.
Our Product and Services
Why should you buy from us?
Elegant design
One of the first impressions of your home is made from the outside. You want that first impression to be as attractive as possible. We are well-known for the elegant design of our modern glass verandas.
Our glass verandas are made using state-of-the-art technology. We maximize the use of space in every apartment, with an emphasis on providing natural light that makes spaces feel bright and welcoming.
The design of our verandas also incorporates innovative ideas that make living in our apartments as comfortable and easy as possible.
Clever construction
Understanding how our modern verandas are constructed is important for you to appreciate the timeless quality of our glass verandas. If you are intrigued by the enlivening concept of getting a beautiful space that's built to last, you should not joke with clever construction.
Our modern glass veranda is cleverly constructed to ensure your enjoyment for years to come. It should be there whenever you need it and where you expect it to be. In addition, we pay attention to detail when constructing our verandas, which will significantly improve the quality of your entire house.
High-quality and long-lasting
Make your home more attractive with the use of our latest technology building materials. We use quality materials that provide visual and aesthetic pleasure for many years. They will stay beautiful during any type of weather making no compromise on their modern appearance.
When the question arises of what are modern glass verandas, our brand name stands out as a renowned choice. The high-quality design and craftsmanship, with elegant materials, makes our verandas an appealing item to own.
Trendy frame colours
We offer our customers an option to choose from a number of colours of glass tints, frame colours and a wide range of frame sizes, spanning from the very smallest to the very largest. You have several options in terms of design – classic, modern, industrial or any custom design you might be thinking about.
Besides, our company is open to any suggestions as we wish to make our verandas unique and special for every individual customer.
Convenient control
Whilst having a glass veranda for your house is great, making sure that you have control over it is even better. Our modern glass veranda systems are fitted with the latest security systems which make sure that you can control access to your veranda without giving someone direct access to your property.
It is quite convenient to control and use. Our modern glass verandas are equipped with motors, so you can change the lighting and temperature at any time or lock it to keep your family members safe.
Contemporary shading
Shade is an essential factor in creating a comfortable living or workspace. Our modern glass verandas offer a heightened sense of privacy through the use of high-quality vertical blinds.
These stylish shades are made from a combination of transparent and opaque materials that allow you to control light levels, while still enjoying views outside your home or office. These blinds can also be used with additional lighting, for added comfort.
Key features of our modern glass verandas
Integrated LED lighting
Our modern glass verandas are offered with integrated LED lighting. This means you get the floor to the ceiling light. It will flicker gently and you can control it from inside your property.
LEDs are elegant, hardwearing and energy-efficient. This technology showcases the entire structure, making it easy to show off your modern glass veranda.
Rigid roof covering
The roof covering is an integral part of a veranda and therefore we have ensured our structures are constructed with rigid high-quality laminated safety glass (LSG) roof covering, which has been improved with a computer-controlled etching process called sandblasting. These are sloped towards the veranda and prevent water accumulation on the roof. Our architects have also designed it in such a way that it is aesthetically pleasing to look at.
Heating
A modern glass veranda must provide means for heating, regardless of the climate. Our glass verandas are equipped with a panel of glass that provides solar protection and thermal insulation.
We provide you with a system where you can control the temperature and manage costs by making small adjustments to reach your desired effect.
European based products
Our products are made from fine European products and meet the strictest environmental standards in the world. European manufacturers are known for their high standards in production and quality control, making them the first choice for many construction purposes.
When you choose European products, you will get better quality with the latest designs at your disposal. Our quality products are designed for peace of mind and offer you a range of options to suit your tastes and lifestyles.
Invisibly integrated drainage
One of the central features which set our glass verandas apart is their invisibly integrated drainage system. Water does not pool on the surface, instead, it drains directly into a hidden chamber, and from here infrequently onto a chosen part of your lawn or garden.
How invisible? We are talking about having drainage that is completely integrated into the planting system, so no paintwork or sealants to be seen as with conventional verandas, no little tubes running through the planting- just a nice natural finished look.
Rigid aluminium construction
Our modern glass verandas are built from aluminium. This has several advantages as aluminium is lightweight and durable, which makes it perfect for an outdoor application.
It also comes in a range of different finishes, so you can have the colour that you want. The benefit most relevant to a veranda is how easy aluminium is to clean as it will not rust, stain or decay.
Constructional materials for our modern glass roof veranda
Glass
The key material to construct a veranda is of course the glass (tempered). Using tempered glass for the roofing panel is one of the most durable safety glass types. This is due to its extremely high strength and resistance to breakage. What's more, it can be used for a very long time and does not require much maintenance.
The use of glass is often preferred in construction because it creates natural lighting for the area below the veranda. This makes it ideal for creating an outdoor dining space under the roof space of your home or office. The glass also gives your veranda an attractive appearance and provides unimpaired views.
Powder-coated aluminium
We use powder-coated aluminium for our modern glass veranda to bring about the best possible natural effect. Aluminium has a great aesthetic appeal and is highly durable. It is also light yet stable, which means we can use thinner and lighter structures to achieve our aesthetic while still having a solid structure.
Glass verandas were one of the most popular trends of the 21st century. Today, you have a great opportunity to enjoy the best thing about this trend: contact with nature. So do not miss your chance to contact us and let us make your glass veranda dream come true.
We Provide a Range of Customised Patio Verandas at The Outdoor Living Group's Villas.
We design patio verandas to be the focal point of your home and garden, providing a sturdy, solid foundation for future additions. Whatever you choose, you can count on it to last.
Terrazza Pure
The Terrazza Pure brings elegance to any garden. The square roof offers unique design and modern features that complement your home's style.
The strong glass panels will allow high levels of natural light to enter from above resulting in a truly enjoyable patio experience.
Terrazza Sempra
While the Terrazza Sempra is a modern design, its classic roof pitch and straight-lined design provide a timeless element to any outdoor environment. The all-glass roof makes it ideal for enjoying your garden or patio in any weather. The Terrazza Sempra is built from supremely high-quality material. Its interior is as beautiful as its exterior. Our 20mm thick glass wall, combined with heat and UV protection system, and integrated standing poles, guarantees years of enjoyment. Each window undergoes individual tests in order for it to be safe during transportation.
Terrazza Originale
The Terrazza Originale enhances the overall living comfort and energy efficiency of your home. The roof system consists of one large glass panel joined with an actual, openable roof to create one single unit.
Why choose The Outdoor Living Group?
Customer vision
At The Outdoor Living Group, we put our customers at the centre and provide services for them. We are willing to listen to customer's needs carefully and try our best to meet their requirements. Meanwhile, we also keep improving professionally, in order to provide customers with conveniences. Whatever you expect from us, just let us know!
Years of experience
Years of experience in the market, on construction sites and working with architects gives us an edge over our competition. This experience allows us to focus on the needs of today's trends while providing high-quality products. We're more than happy to prove it with our portfolio of projects and references.
Bespoke customer service
For a customer-centric company, The Outdoor Living Group offers bespoke customer service to ensure our clients' needs are met. We will meet with you to discuss your requirements, and work closely with you to ensure your glass veranda fits exactly into your garden's layout.
We don't believe in a "one size fits all" solution, so that's why each project is unique. No two installations are alike, and yours will be completely bespoke.
Ongoing support
The beauty of veranda and roofline projects is that they continue to evolve. The longevity of the project makes ongoing communication a necessity, so you can work together to make changes as needed. Our clients' satisfaction leads to their approvals.
Our guarantee
We guarantee that by the time we finish our work your project is fully completed and will also be 100% functional. If for some reason you are not happy with the result, we do not charge the extra fee. We guaranteed the installation of our 'made to measure products and promise that all of our products will last long with maximum durability.
Affordable prices
Many will be surprised to learn that glass verandas do not have to cost the Earth. It can often be hard to find reliable glass veranda products at an affordable price, but here we take pride in our products and so we genuinely strive to keep prices as low as possible in order to broaden our reach.
Add a personal touch to your home with The Outdoor Living Group. Contact us today to find out how our modern glass veranda can add a unique style to your home.
What is the purpose of a modern glass veranda?
The purpose of verandas can vary based on their placement and their intended purpose. Despite these factors, the main purpose is to create an outdoor shelter for your outdoor area, where you can enjoy your outdoor area regardless of the weather.
In addition, verandas make your home more appealing. It is our goal to assist you in choosing the right design for your property so as to provide an outdoor veranda that complements the overall appearance of your home.
Contact us today at 01737 570020 or email info@theoutdoorlivinggroup.com to discuss your needs.
When is the right time to use a modern glass veranda- Is it right for me?
Does the look of a modern glass veranda appeal to you? If yes, one might ask when is the right time to start using a modern glass veranda. The right time to start using a modern glass veranda in your home is right now.
However, if you want to know more about how a modern glass veranda can make a difference in your home, call us today on 01737 570020.
Request for a FREE quote
It's time to enhance your lifestyle! Our modern glass verandas will increase your current living space. The Outdoor Living Group experienced team will examine your property and provide you with a quote for the installation of a modern glass veranda.
The Outdoor Living Group offers a FREE no-obligation quotation for all our modern glass veranda services. You can also fill the form below to book a free site survey, request a free brochure or a callback.
FAQ's
Does a modern glass veranda require frequent maintenance?
Modern glass verandas require very little maintenance. Even with all of their sleek beauty and sophisticated features, modern glass verandas rarely require maintenance. They are built to last for years with basic care.
Can a modern glass veranda be used all year round?
Yes. The glass veranda is the best choice if you like to spend time outside during all seasons. You will be free to enjoy natural sunlight and fresh air even when it is rainy or snowy, so you can choose a modern glass veranda even during wintertime.
How much is an average modern glass veranda Installed?
Modern glass veranda is a new trend in the UK. It is hard to put an exact or average figure on glass veranda installation costs due to the range of factors that can be involved. We have tried to maintain price with high quality.
A standard modern glass veranda will cost approx £10000 – £30000. Modern glass veranda installation is best done by professionals as it requires advanced skills, tools and techniques.
Can you cover large areas?
Yes. No matter how large your project is, we can cover it.
Do I need planning permissions for modern glass verandas?
It is not always necessary to obtain planning permission for glass extensions and patio covers. Is this still unclear? Talk to our experts today about possible planning permission requirements and the plans for your veranda.