12.12.18
Flexible Family Living
Space is always an issue in our homes, especially for a growing family. Our living areas can feel very overcrowded and once our children get bigger and families expand, our homes can feel very small. If our weather were more reliable with longer summers similar to the Mediterranean, then outdoor life would support the need for more space, and our gardens and back yards would then act as an extra room. However, even with the amazing heatwave we've enjoyed this year, the evenings have more often than not been too cool to stay outdoors, and with the onset of autumn and sporadic showers, it can be very demoralising to set up all your garden furniture only to have to dismantle and abandon it at a moment's notice.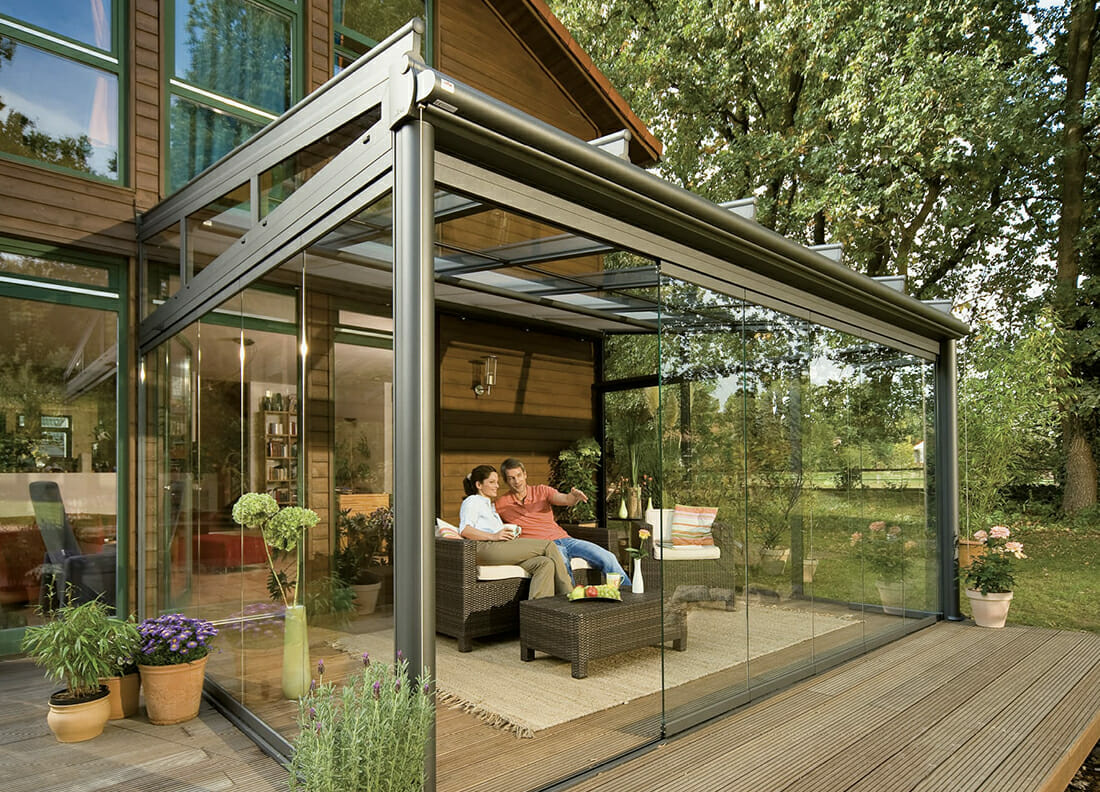 Hidden teens
When my son hit his mid-teens, and the hormones were rising, he became very withdrawn and subdued around adults, in his Dad's words, "moody". Suffice to say communication with him, became more limited, as he confined himself to his bedroom like a bear in a cave, communicating only online with his virtual Play-Station buddies or via social media. It was clear that he needed some fresh air and real company, however, coaxing him out of his festering teenage hovel wasn't that easy. We needed a carrot to lure him out…
Party inspired
The idea was sparked one Saturday afternoon, during a summer BBQ hosted by our friends, Jenny and Paul, inspired by this heatwave had decided to invest in some creative renovations for their garden, including a beautiful, new louvered pergola erected at the end of their back garden.
The space was stunning and so stylish with a slick modern feel to it and ultimately, transformed their semi-detached, generic terrace house into something much more chic and interesting.
Stylish outhouse
Whilst Paul busily prepped and served up delicious food from their outdoor pizza oven and BBQ, Jenny proudly demonstrated for us, their newly erected, ultimately flexible outdoor living space; a free-standing pergola with adjustable rotating louvers, stylish minimal frameless side glazing, retractable screens and roof which gave them the option to use the canopy all year round, offering both shade and directed sunlight. In the evening, the stylish led lighting gave a very slick architectural feel to the space and also the integrated heating system, especially admired by all their guests, once the sun had gone down. A nice additional feature to the party, was the integrated Bluetooth audio connectivity, so that music could be streamed all day.
This was truly a very unique outdoor living space providing comfort and flexibility for whatever weather conditions, mood or occasion.
Glass carrots
Jenny and Paul's own teenage children, Ben and Ella, were also at the party with a few of their friends, who all seem to be enjoying their new glass lounge immensely. Jenny told me how much her kids loved this space as it had so many carrots, including music, Wi-Fi, pizza, comfy furniture, space and privacy to hang out with real-life friends and also much better access and engagement with their parents too. This was just the ideal carrot we were looking for to lure our own son out of his dark cave and back into the light.
For more information on our bespoke glass room designs contact us today.